2019 Club Heroes Golf Scramble (presented by Peoples State Bank)
July 19, 2019 @ 1:00 pm

-

8:00 pm

$300
[et_pb_section fb_built="1″ admin_label="section" _builder_version="3.22.3″ custom_padding="2px|||||"][et_pb_row admin_label="row" _builder_version="3.25″ background_size="initial" background_position="top_left" background_repeat="repeat" column_structure="4_4″][et_pb_column type="4_4″ _builder_version="3.25″ custom_padding__hover="|||" custom_padding="|||" parallax="off" parallax_method="on"][et_pb_text admin_label="Text" _builder_version="3.25.3″ background_size="initial" background_position="top_left" background_repeat="repeat"]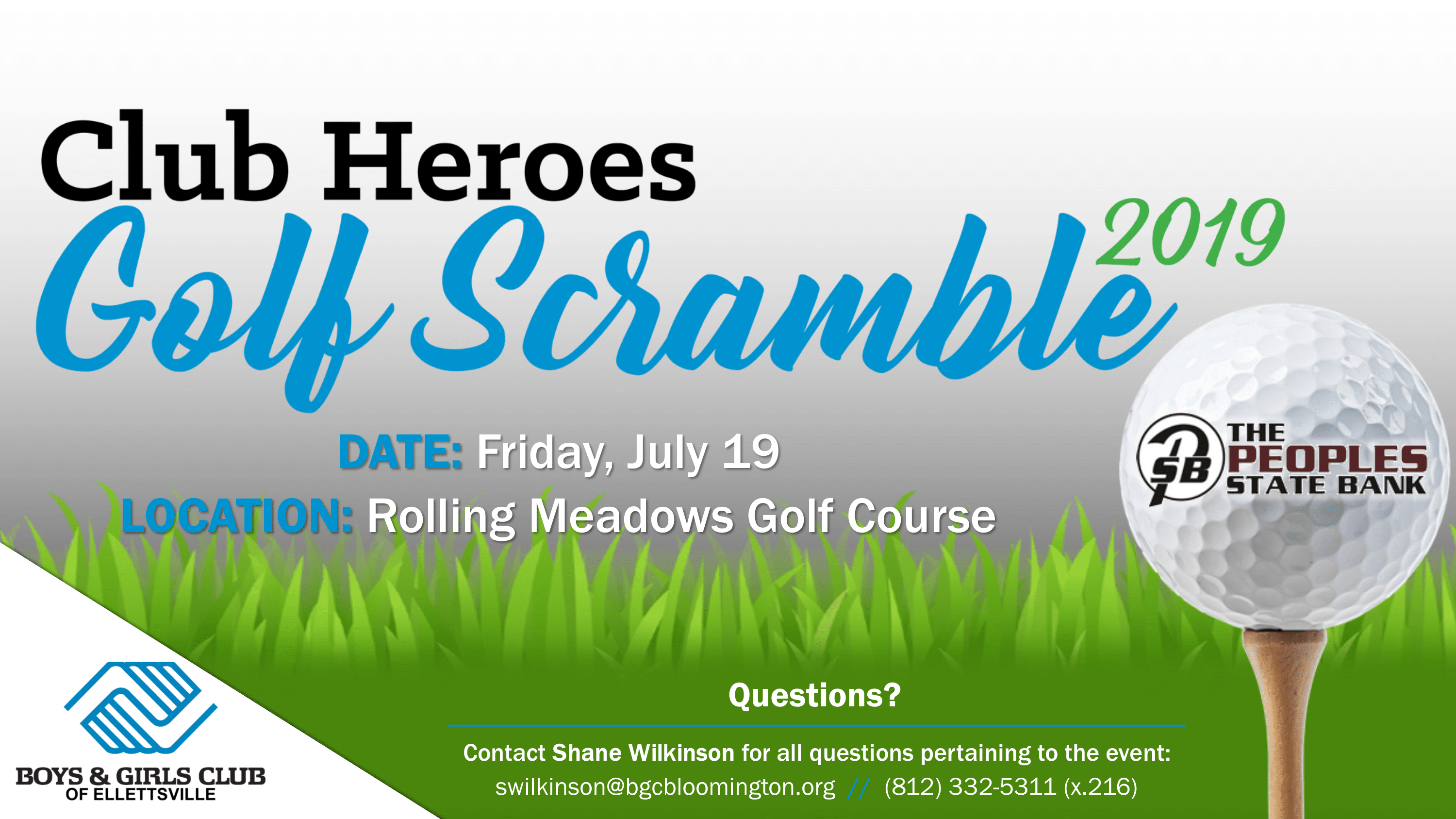 The 2019 Club Heroes Golf Scramble (presented by Peoples State Bank)  //  Friday, July 19th
Registration: 12:00-12:45 p.m.  //  Shotgun Start: 1:00 p.m.
Rolling Meadows Golf Course
The Entry Fee and Fundraising
Each team of four pays a $300.00 entry fee and selects a Team Captain to lead their fundraising efforts. Each team also agrees to raise a minimum of $500.00 to directly support the Ellettsville Club's programming. To easily meet the fundraising goal, Club staff will help each team set-up a fundraising web page here on Fundly!
Prizes will be awarded to the three most successful fundraising teams!
Competition and Prizes
Cash prizes will be awarded to the top-three scoring teams. Hole contests will exist with prizes being awarded at the dinner. Prizes and recognition will also be awarded for the top teams that raise the most money to support the Ellettsville Club. There will also be door prizes for all participants!
Format/Registration/Food
Teams will be playing best-ball scramble. Shotgun start is scheduled for 1:00 p.m. with team registration from 12:00-12:45 p.m. During registration, box lunches will be available, and dinner will be provided after the event's conclusion.
Need Help?
Shane Wilkinson  //  Email  //  (812) 332-5311 ext: 216
Jeff Baldwin  //  Email  //  (812) 332-5311 ext: 212
All funds raised go directly to support the Ellettsville Unit.
[/et_pb_text][/et_pb_column][/et_pb_row][/et_pb_section]