MAKE YOUR DONATION BELOW TODAY!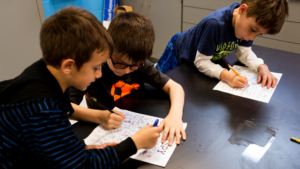 Opening opportunities.
that is what your giving does for hundreds of kids In Monroe County who would have to go home alone every day after-school without the Club. Despite the difficulties of the pandemic, the Boys & Girls Clubs of Bloomington serves as many as 490 of these kids and teens each day at our three locations – downtown Bloomington, in Ellettsville, and in Crestmont. Prior to the COVID-19 pandemic we were serving as many as 565 kids and teens each day and are optimistic that we will soon be back up to, or above, those numbers again.
Throughout 2021, the Club provided programming to 2,000 different kids between the ages of 6 and 18 despite ongoing challenges brought on by the COVID-19 pandemic. Our programs give young people the resources and support they need to achieve academic success, choose healthy lifestyles and become caring, productive, & responsible citizens.
SPONSOR A CHILD
You can support local youth through a gift to the Boys & Girls Clubs of Bloomington. The annual cost to the Club to serve a child each year is $720. This cost is much too high for many of the families we serve. This is why the Club charges just $20 a year for a child to receive our after-school programming. Your support fills the gap – opening opportunities to all kids in our community, especially those who need us most. Thank you!
SPONSOR 4 CHILDREN: $2,880
SPONSOR 3 CHILDREN: $2,160
SPONSOR 2 CHILDREN: $1,440
SPONSOR 1 CHILD: $720