STEVE & CONNIE FERGUSON CRESTMONT CLUB
1111 W. 12th Street | Bloomington, IN 47404 | (812) 336-6501
You won't find a better organization in Bloomington that cares about kids from all walks of life. The Club creates programming for children that promote self-respect, education, and community service while providing a foundation for kids to prepare them for their futures.
We invite you to join us at the Ferguson Crestmont Club for Summer Center 2021!
Fees for Summer Camp can be paid with debit or credit card online or over the phone. You can also pay with a check or cash. Once we receive your Registration Forms, we will contact you about payment.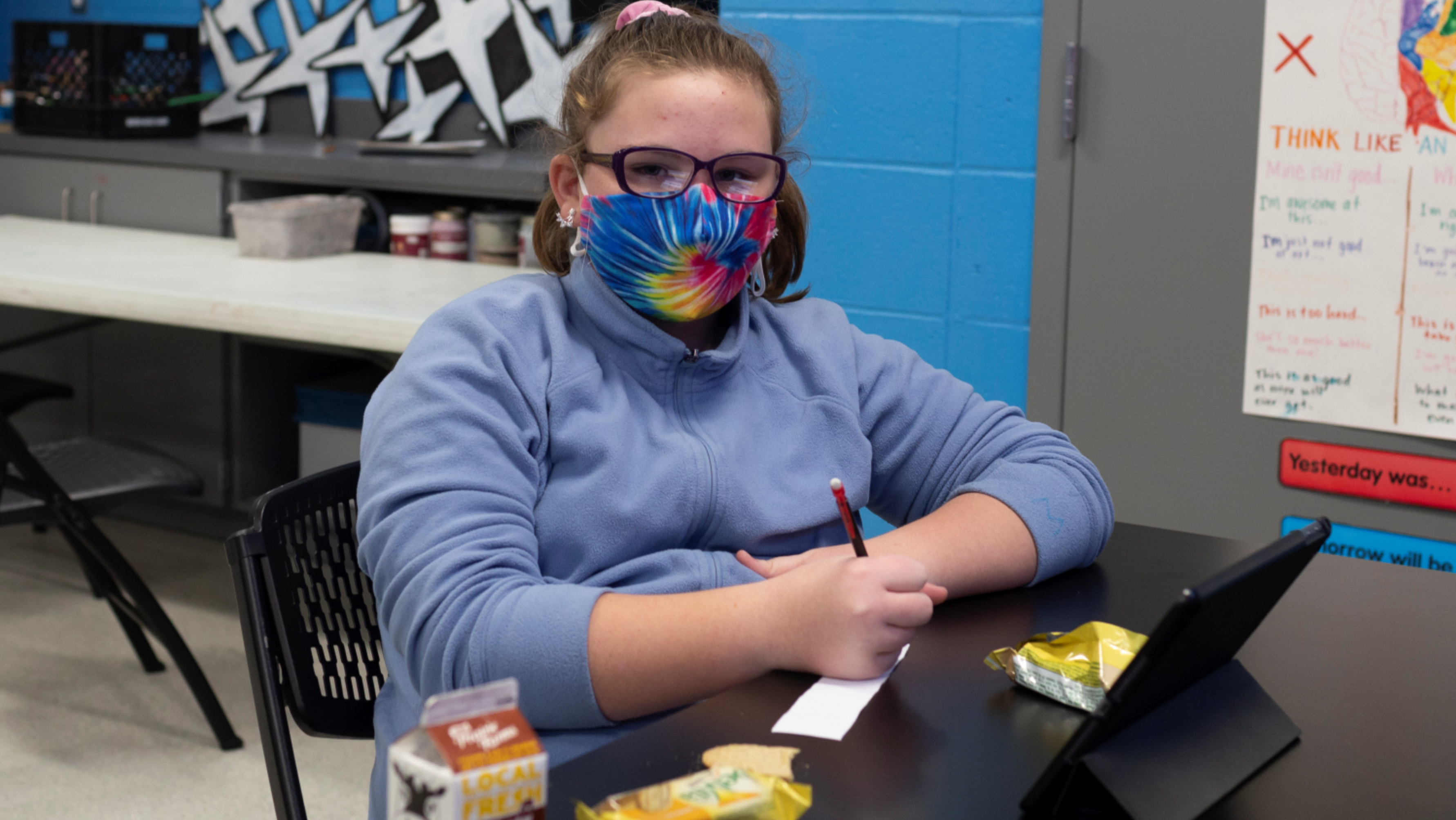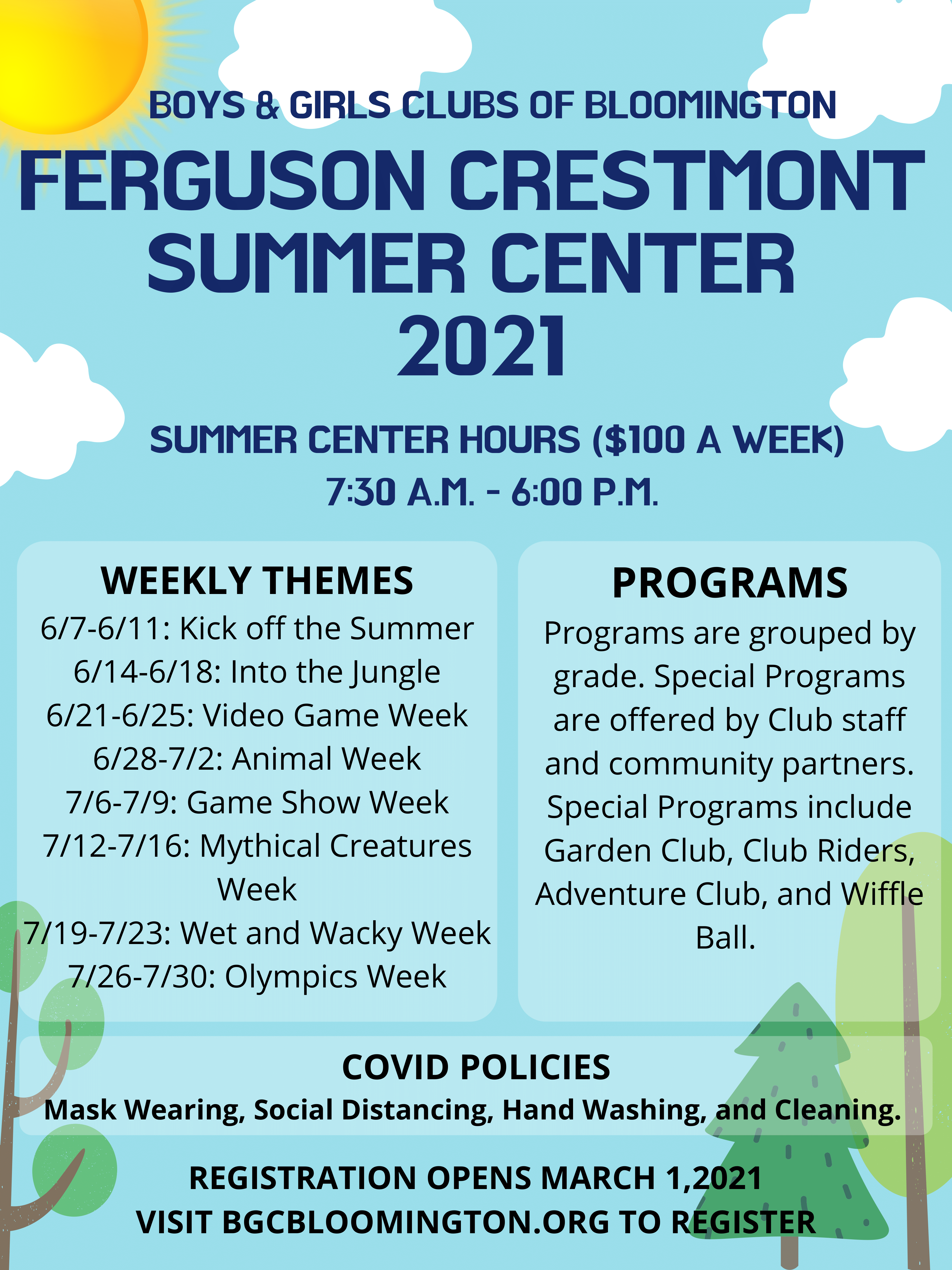 The original Crestmont Boys & Girls Club opened in 1990 to serve kids in the Crestmont Public Housing neighborhood located near Tri-North Middle School. The Club formerly operated in one of the duplex units in the Bloomington Housing Authority. With nearly 40 children in attendance each day at the original location, the Club was simply no longer large enough to serve the 240+ kids who live in the Bloomington Housing Authority – not to mention the nearly 700 kids who lived within a 10-minute walk from the Club's former location.
So, it was time to expand – and expand we did! Thanks to overwhelming community support with donations through the
BIG Futures Capital Campaign, the Steve & Connie Ferguson Crestmont Club opened its doors in September 2017!
This state-of-the-art facility – which can house 200+ kids each day – includes an extensive library, technology lab complete with multiple computer stations, large art studio, ample space for the Teen Club, an entertainment room, teaching kitchen, cafeteria, full-size gymnasium with six basketball goals…plus so much more!
Additionally, the Club features extensive world-class programs covering areas of Academic Success, Healthy Lifestyles, Good Character and Active Citizenship.
FERGUSON CRESTMONT CLUB PROGRAMS
Ukulele Club
Mindfulness Club
First Tee Golf
Rugby
Girls Who Code
Adventure Club
Passport to Manhood
Garden Club
Volleyball
Chess Club
FREQUENTLY ASKED QUESTIONS
WHAT SCHOOLS DOES THE FERGUSON CRESTMONT CLUB SERVE?
Schools Served: Fairview, Arlington, Marlin, Tri-North, and Bloomington High School North
Transportation by MCCSC from school to the Club is available from Fairview, Arlington, and Marlin at this time.
We are walking distance from Tri-North.
HOW OLD DOES MY CHILD HAVE TO BE? 
Ages: 6-18 years old. 
WHAT IS THE ANNUAL FEE FOR MY CHILD TO ATTEND?
$5.00/year
WHEN CAN KIDS ATTEND THE CLUB?
After-School Hours: 3:00 p.m. – 7:00 p.m. | Monday – Friday
(Exception: August, December, and May | Close at 6:00 p.m.)
Break Camp Hours: 7:30 a.m. – 6:00 p.m. 
Summer Hours: 7:30 a.m. – 6:00 p.m. | Monday – Friday
Summer Drop-In Hours: 12:00 p.m. – 6:00 p.m.
Registration is required for all attendance options.
2021 BGCB Calendar
Click Here
WHERE IS THE FERGUSON CRESTMONT CLUB LOCATED?
1111 W. 12th Street | Bloomington, IN | 47404
HOW DO I CONTACT THE CLUB?
Membership Desk: (812) 287-7423
Unit Director: Tabitha Cassani | tcassani@bgcbloomington.org
HOW DOES MY CHILD BECOME A MEMBER OF THE FERGUSON CRESTMONT CLUB?
To register a new Ferguson Crestmont Club member, please complete the Membership Form, Acknowledgements & Agreements, and Indiana Kids Form, and turn the form – along with the annual membership fee ($5.00) – to the Ferguson Crestmont Club anytime Monday through Friday between 11:00 a.m. and 4:00 p.m. You may also set up a time to come in to complete the registration by calling (812) 287-7423 or emailing Tabitha Cassani, Unit Director.
 Fees for your annual membership can be paid with debit or credit card online or over the phone. You can also pay with a check or cash. Once we receive your Membership Forms, we will contact you about payment.
You may also start the registration process by completing the Online Membership Registration.  There will be additional forms you will need to complete along with the payment of the membership fee before receiving your approval to attend.
PLEASE NOTE: There is a 24-hour waiting period from the time a completed membership form is turned in before the member is allowed to begin attending the Club. Staff will follow up to confirm your registration once we have a spot open for your member to start attending the Club.