SMART Girls, STRONG Women
A Marquee Fundraiser to Help Support Programming for Girls
Make plans to join the Boys & Girls Clubs of Bloomington on Thursday, June 25th at 6:00 p.m. for the annual event:
SMART Girls, STRONG Women
Presented By: Comprehensive Financial Consultants
This will truly be "A Virtual Evening of Resilience & Hope" as we share stories of overcoming difficult times in the face of an unprecedented pandemic that has altered normal life for many people. We hope you join us for this unique and heart-felt event from the comfort of your own home as the Club attempts to raise the necessary funds that will enable our continuous effort to provide world-class programming.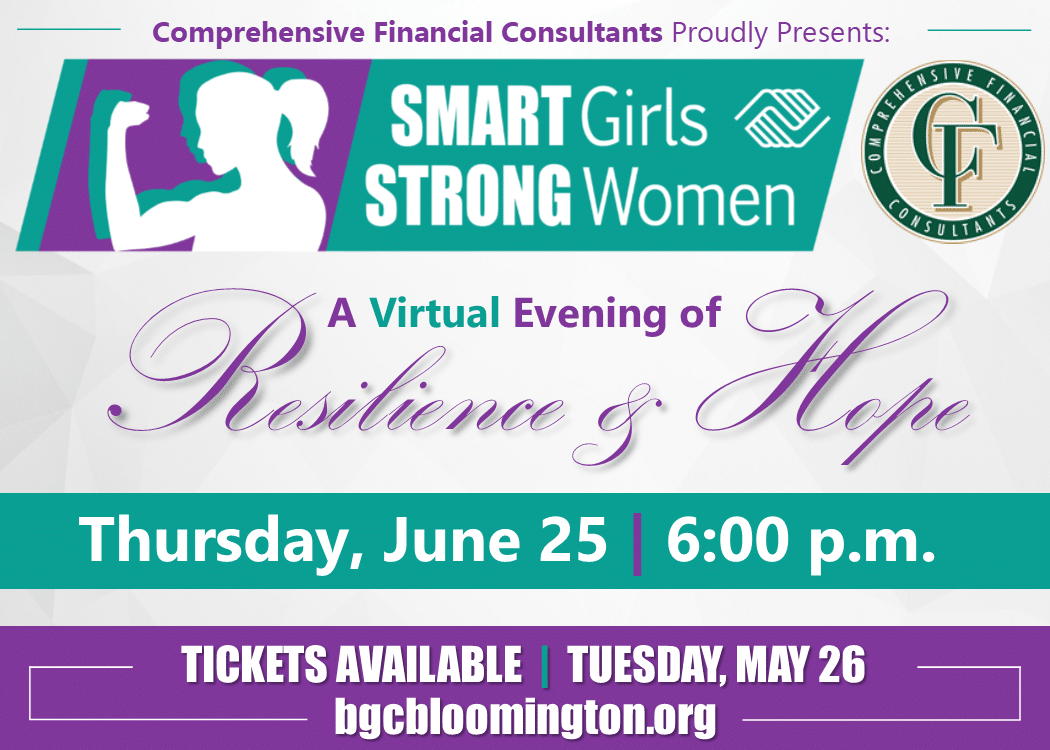 TICKET OPTIONS
1 Ticket = $40.00 | Event Link + One Meal ($20.00 = Club, $20.00 = Food)
2 Tickets = $75.00 | Event Link + Two Meals ($35.00 = Club, $40.00 = Food)
3 Tickets = $110.00 | Event Link + Three Meals ($50.00 = Club, $60.00 = Food)
4 Tickets = $145.00 | Event Link + Four Meals ($65.00 = Club, $80.00 = Food)
WHAT DO I RECEIVE WITH A TICKET PURCHASE?
–> An Event Link | An hour of inspirational stories, music, and fun! Don't miss this entertaining and uplifting night!
–> Dinner | Enjoy a meal from a local restaurant during the show. By purchasing a ticket to this year's event, you are supporting local restaurants! For each ticket purchased, you will get your choice of meal to pick-up from one of our partners on the night of the event. This year, instead of restaurants donating or discounting food for our event, we are buying meals from them – so half of your ticket price goes to the restaurant whose meal you choose. It's a win-win-win for us all!
By purchasing a ticket for this virtual event, you are making a donation to the Boys & Girls Club and our 2,000+ members that benefit from Club programming each year. Additionally, you are supporting local restaurants who have banded together to support SMART Girls, STRONG Women this year by offering various meal options to enhance your virtual experience! While we wish we could be together in-person, we hope you consider supporting the Club by "attending" this unique event online! 
WHAT IS SMART GIRLS PROGRAMMING?
An immensely beneficial program that directly impacts Club females, SMART Girls is a health, fitness, prevention/education
and self-enhancement program for young women ages 8-17. 
"SMART Girls taught me how to be myself and have fun!"
Julie B. | Age 12
SMART Girls Club Member
SMART Girls helps young women reach their full potential. Through dynamic sessions, group activities, field trips and mentoring opportunities with adult women, Club girls enjoy life-changing opportunities to build skills for eating right, staying physically fit, getting good health care, and developing positive relationships.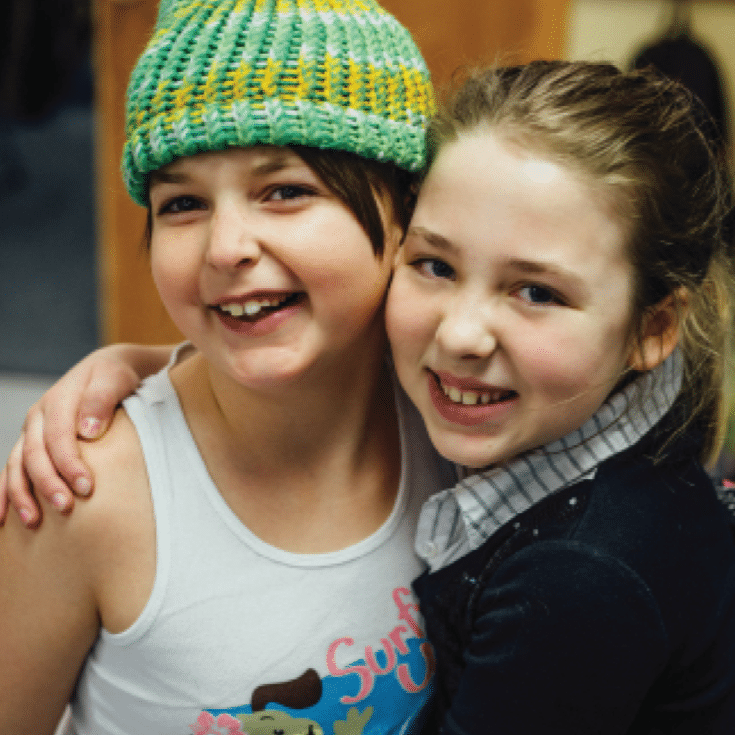 Other topics addressed through the SMART Girls programming with older girls include how the media influences attitudes about females, date rape and sexual harassment, sexually transmitted diseases, sexual myths and truths, getting regular gynecological care and the physical and emotional changes girls experience in their lifetime.
"You are you, and what you do matters. You can't be someone else while you're trying to be yourself. That's what SMART Girls gave me!"
Sasha A. | Age 14
SMART Girls Club Member
WHAT IS THE SMART GIRLS, STRONG WOMEN EVENT?
SMART Girls, STRONG Women is an annual event where funds to support SMART Girls programming are raised through various avenues including ticket sales, sponsorships, a live auction component and a concluding fund-a-need. This specific event, typically held during the springtime, has been a staple for the Club since 2016, and is traditionally a sold-out spectacle with nearly 300 people in attendance. 
During the business-casual event, various community female leaders spearhead a panel-style discussion, which focuses on the importance of positive female-imagery to young girls in today's world. The event also includes a buffet-style dinner with dessert.
In 2020, the COVID-19 Pandemic is forcing SMART Girls, STRONG Women to be a virtual event – a first for the Boys & Girls Club. Despite the unusual virtual circumstances, the event will focus on stories of resilience and hope among Bloomington and Monroe County's women leaders. 
The Club has allowed me to grow a strong relationship with peers and staff members over the time I have been here. Being a member has also given me confidence outside of the Club to try and do more in life.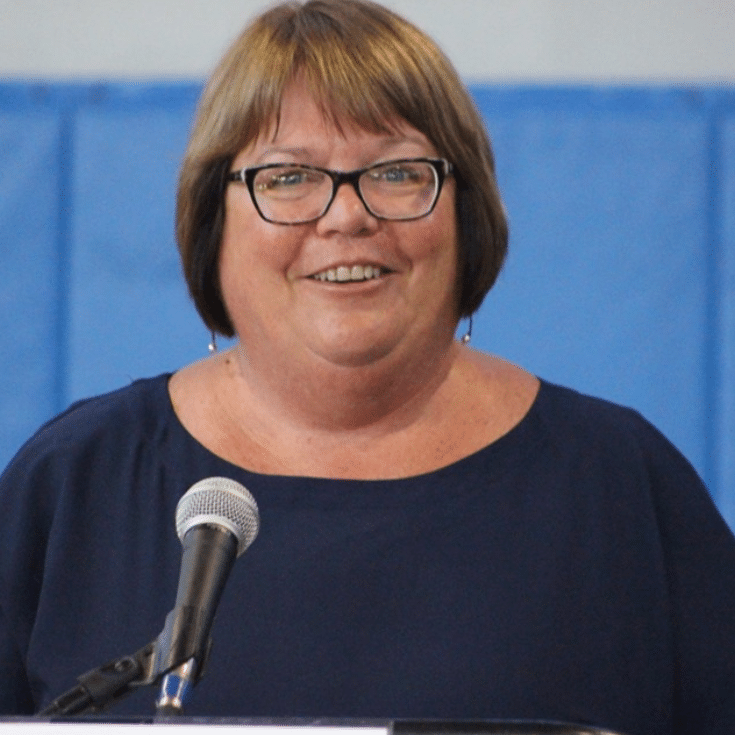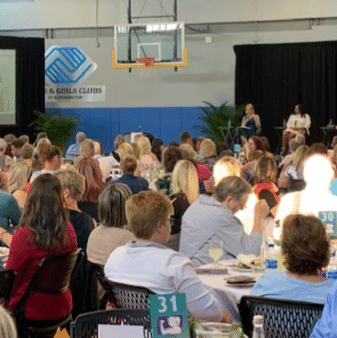 PREVIOUS SMART GIRLS, STRONG WOMEN SPEAKERS & PANELISTS