8045 W. State Road 46 | Ellettsville, IN 47429 | (812) 935-6970
2022 Summer Center Registration Opens Tuesday, March 1st! 
The price each week is $100 per member. This price is pro-rated for any sessions shorter than five days (i.e Memorial Day, Independence Day, etc). This year we will not be accepting deposits until after March 15, as we will be changing our registration platform to MyClubHub (MCH). After March 15th, families will be asked to pay the $20.00 deposit for each week on MyClubHub. Deposits will be applied to the $100 per week fee. The remaining balance will be due before the start of each registered week of Summer Center.
After March 15, the MyClubHub link for membership and camp registration will be posted on this website and be sent to current families with instructions on how to register.
2022 SCHOLARSHIP APPLICATION
Families can apply for scholarships by downloading and completing the2022 Summer Center Financial Assistance Application You may return this form to the Club's front desk or email to evdesk@bgcbloomington.org. Families may also apply for scholarships on the MyClubHub platform after March 15. Scholarship applications are due on April 1 and parents will be notified by April 15. If in the event a family does not receive a scholarship or the scholarship does not make camp financially possible, deposits will be refunded.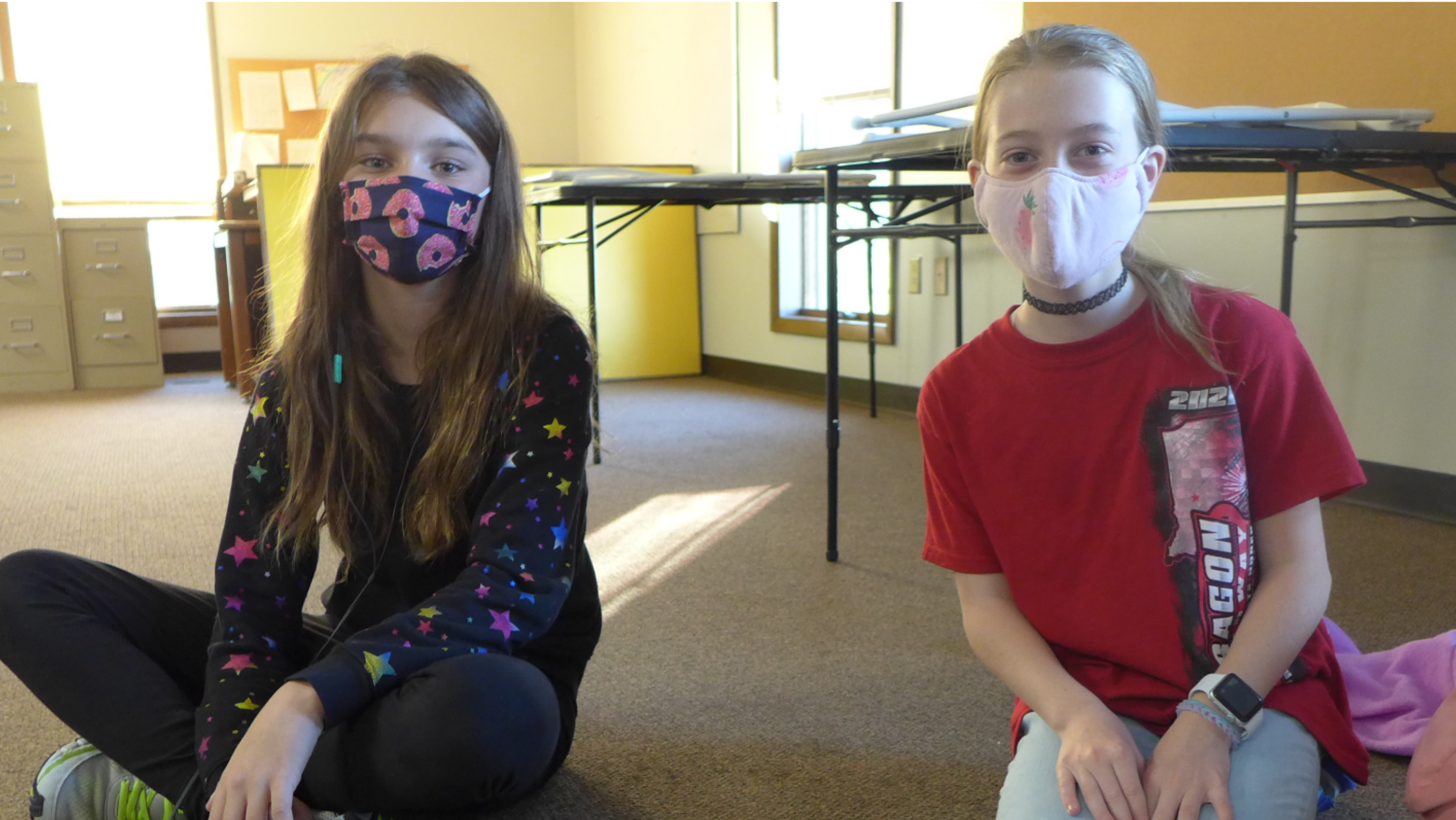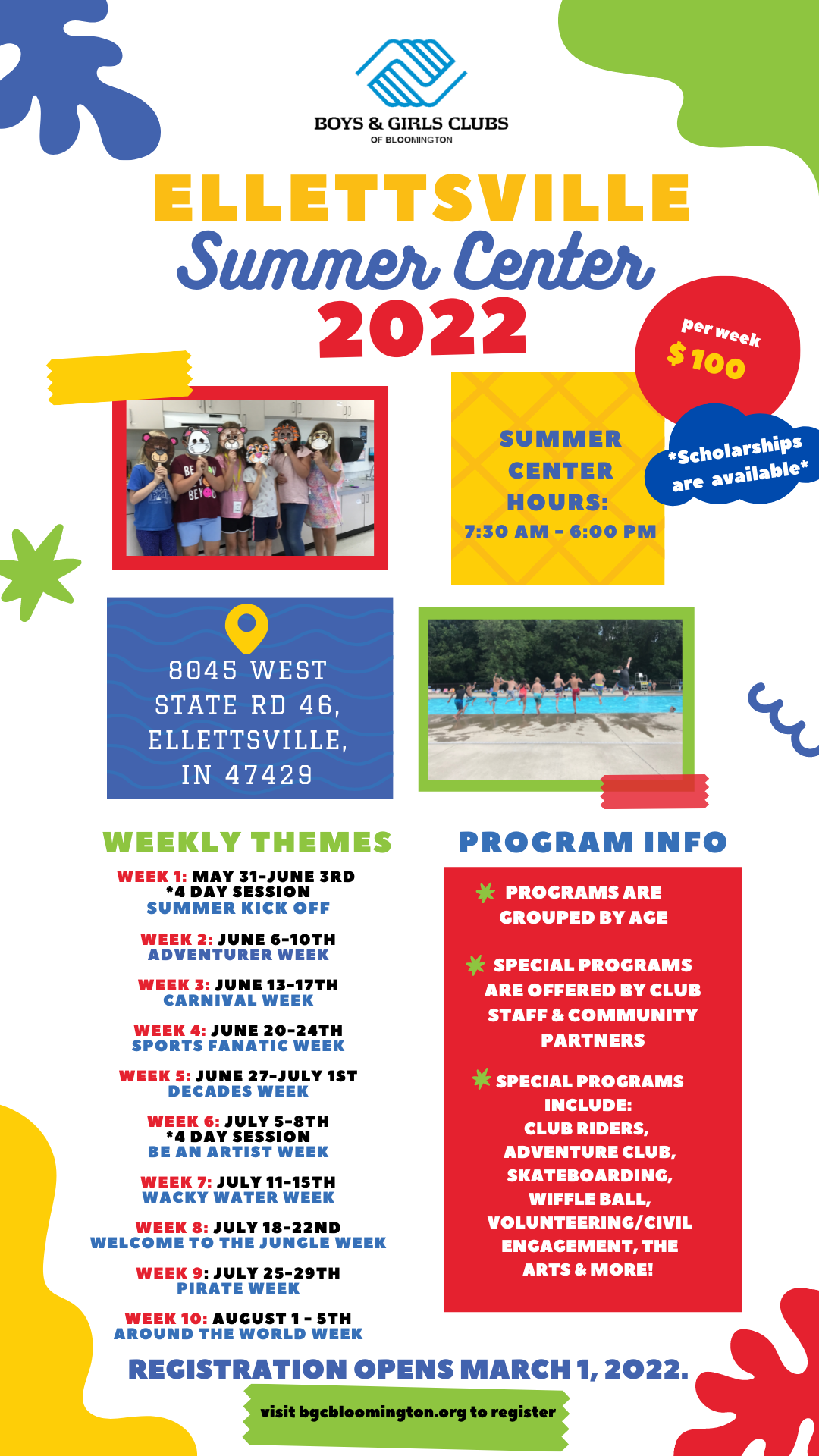 ELLETTSVILLE CLUB PROGRAMS
STEAM Club
Lego League
Builders Club
Passport to Manhood
Cutters Soccer Community Outreach Program
SMART Girls
Triple Play
Teach IT
Goal U
Youth of the Year
Flag Football
Garden Club 
Triple Play
Art Club
FREQUENTLY ASKED QUESTIONS
 WHAT SCHOOLS DOES THE ELLETTSVILLE CLUB SERVE?
Schools Served: Richard-Bean Blossom Community School Corporation & Seven Oaks Classical School
HOW OLD DOES MY CHILD HAVE TO BE?
Ages: 6-18 years old
WHAT IS THE ANNUAL FEE FOR MY CHILD TO ATTEND?
$20.00/year
WHEN CAN KIDS ATTEND THE CLUB?
After-School Hours: 3:00 p.m. – 7:00 p.m. | Monday – Friday
Break Camp Hours: 7:30 a.m. – 6:00 p.m.
Summer Hours: 7:30 a.m. – 6:00 p.m. | Monday – Friday
 Summer Drop-In Hours: 12:00 p.m. – 6:00 p.m.
Registration is required for all attendance options.
2021 BGCE Calendar 
Click Here
WHERE IS THE ELLETTSVILLE CLUB LOCATED?
8045 W. State Road 46 | Ellettsville, IN | 47429
HOW DO I CONTACT THE CLUB?
Membership Desk: (812) 300-0102
Unit Director: Marissa Subar| msubar@bgcbloomington.org | (812) 330-0100 
HOW DOES MY CHILD BECOME A MEMBER OF THE ELLETTSVILLE CLUB?

To register a new Ellettsville Club member, please complete either the Online Membership Form or Print Membership Form AND the Acknowledgements & Agreements, and Indiana Kids Form, and turn the print forms – along with the annual membership fee ($20.00) – to the Ellettsville Club anytime Monday through Friday between 11:00 a.m. and 4:00 p.m. You may also set up a time to come in to complete the registration by calling (812) 300-0102, or emailing  Marissa Subar, Unit Director.
We also ask that you sign the 21st Century Consent Form – This waiver is for an Indiana Department of Education grant that we receive that provides funding to the Boys & Girls Club of Ellettsville, and allows us to work closely with the school to help ensure academic and social success. We ask that you sign this form to help by signing this waiver, so we can provide all of the tools necessary to ensure the success of your member.
Fees for your annual membership can be paid with debit or credit card online or over the phone. You can also pay with a check or cash. Once we receive your Membership Forms, we will contact you about payment.
PLEASE NOTE: There is a 24-hour waiting period from the time a completed membership form is turned in before the member is allowed to begin attending the Club. Staff will follow up to confirm your registration once we have a spot open for your member to start attending the Club.
The Club has been such a blessing to my family. The kids love coming and both have been involved in various clubs and leadership opportunities. I've seen their self-esteem build through activities at the Club. The staff is amazing; I hear wonderful things from both of my kids about the staff. Thank you for all you do!
Proudly serving the Richland-Bean Blossom Community School Corporation and Seven Oaks School, the Ellettsville Boys & Girls Club is the newest unit within Boys & Girls Clubs of Bloomington organization.
The Ellettsville Club was born back in 2007 through a community collaboration that recognized a need for after-school youth programming based out of Bloomington's neighboring community, Ellettsville. The Youth & Community Center of Monroe County (YCCMC) first opened their doors to satisfy this need at Eagles Landing on April 13, 2009.
One year later, the YCCMC officially changed its operating name to the Ellettsville Boys & Girls Club, thus solidifying the Ellettsville Club as the premier child-development center in the Richland-Bean Blossom community.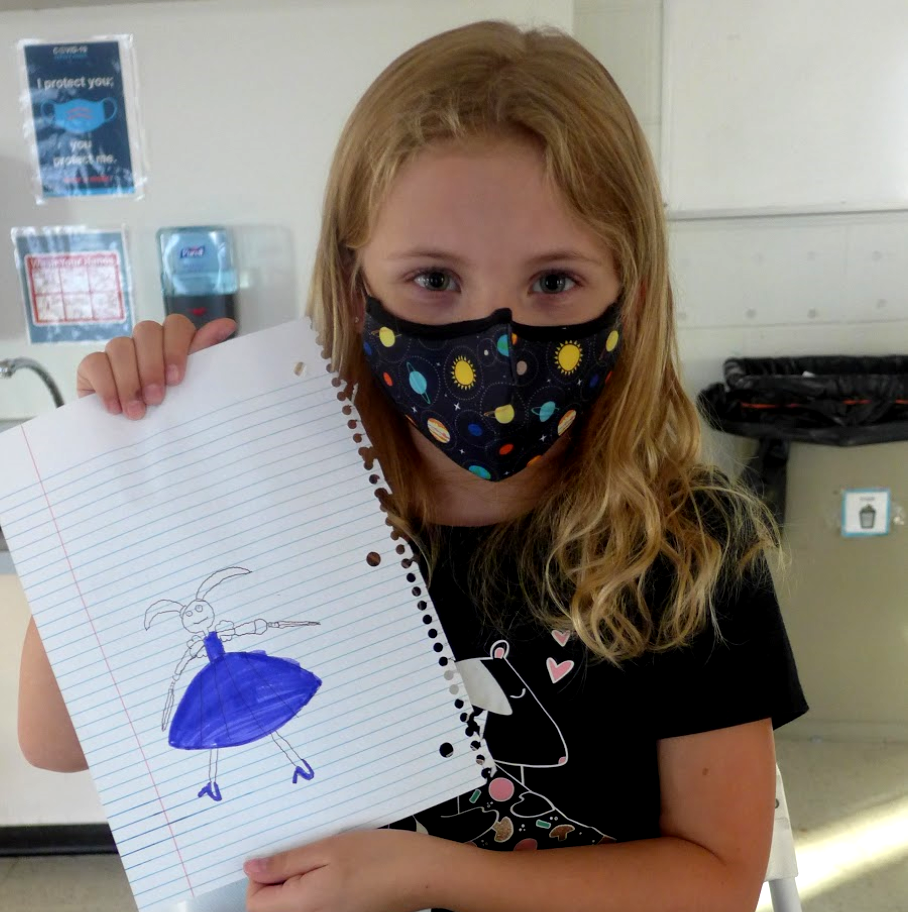 Once leaving the former Eagles Landing location, the Club temporarily moved inside Edgewood Intermediate School before finally landing at their own Club-space on the west-side of Ellettsville. In April 2019, the Club celebrated their 10th Anniversary of serving the Ellettsville community!
Today, the Ellettsville Club has become a popular destination for kids in and around the Ellettsville community. The Club is open for after-school programming; summer, fall, winter and spring break camps; and a summer drop-in program.
The Club features extensive world-class program options for members including educational activities and homework help; leadership and member volunteering opportunities; health and wellness education;
sports, recreation and fitness activities; and arts, drama, music and dance programs. Additional space and programs are offered for junior high and high school age members. The Richland-Bean Blossom Community School Corporation provides transportation for members from RBB schools to the Club after school each day, and a healthy snack is provided to all members. Additionally, the Ellettsville Club is supported by the Ellettsville Council for Youth, a volunteer-based group of committed community leaders who are dedicated to meeting the needs to the Ellettsville Club while promoting the Club's mission.