Club Heroes Golf Marathon
A Summer Fundraiser to Help Support Programming at the Ellettsville Club
We had an Un-fore-gettable & tee-rific Club Heroes Golf Marathon this year!
Thank you to our Club Heroes Golfers, Sponsors, and individuals who donated and helped us raised over $62,000 for the Ellettsville Club.
Stay turned for details for the 2024 Club Heroes Golf Marathon!
If you have any questions and would like more information for the Club Heroes Golf Marathon, please contact
Events Director, Laura Blaker, lblaker@bgcbloomington.org
Executive Director, Jeff Baldwin, jbaldwin@bgcbloomington.org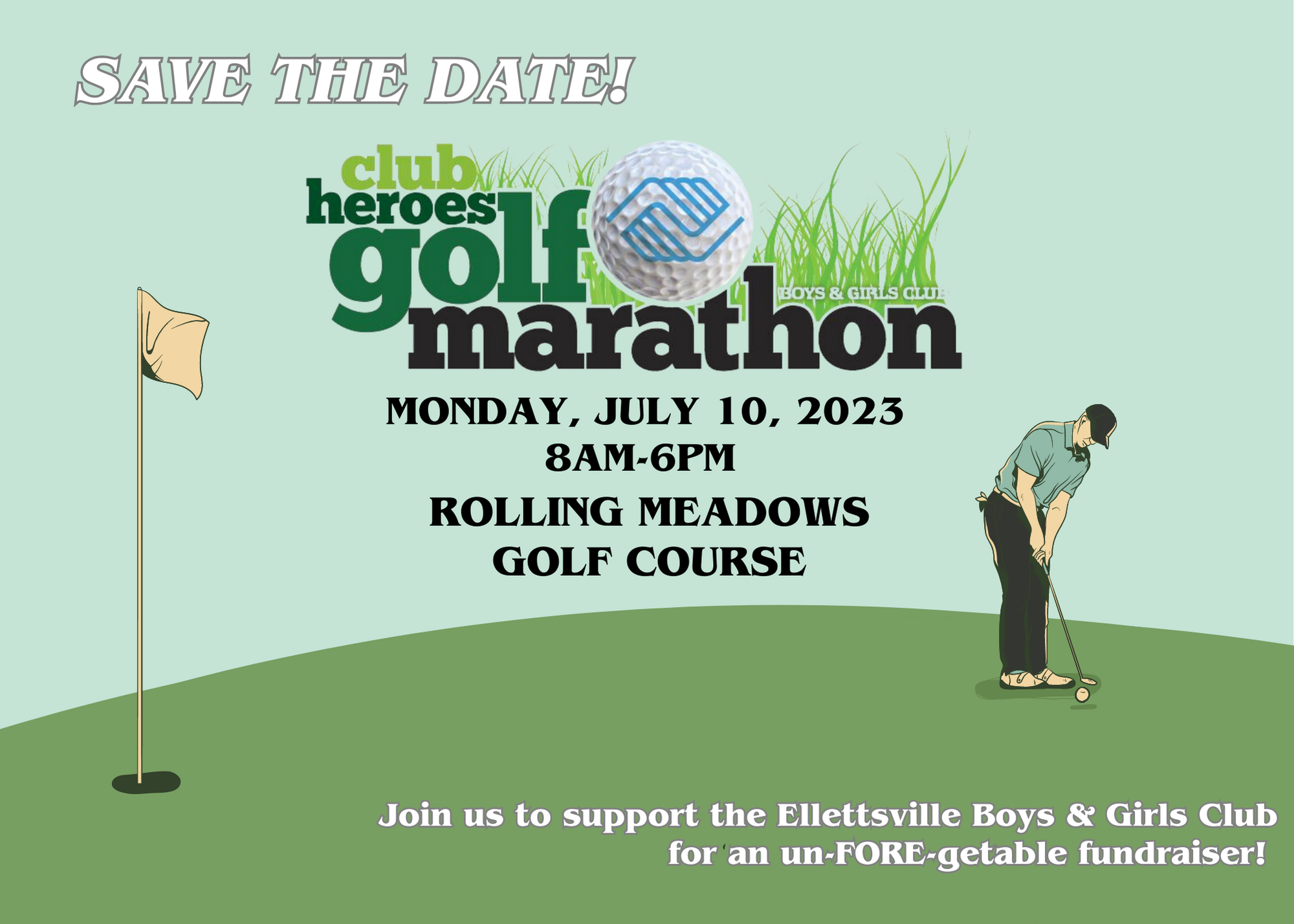 EVENT INFORMATION
Check-in will be from 7:15 – 7:45 a.m. with an 8:00 a.m. shotgun start. Beginning hole determinations will be assigned by the Rolling Meadows staff and indicated in your assigned golf cart. While teams may play as many holes as they choose, play must be concluded before 6:00 p.m. If a team plays 100 holes or more combined, a special prize and public recognition will beawarded. Teams must check-out once they are finished playing.
There will be 18 teams consisting of two golfers each (36 golfers).   Each golfer will receive his/her own golf cart. All participants will also receive a gift bag.
While there is no registration fee to participate, each team is asked to make every effort to raise a minimum of $2,000.00 ($1,000.00/golfer). All proceeds will benefit the members of the Boys & Girls Club in Ellettsville. Each team will have a web-based fundraising page dedicated to their fundraising efforts to assist with social media and email solicitations. Additionally, all teams will be provided an electronic pledge form that can be utilized. Prizes and public recognitions will be awarded to the top fundraising teams.
A beverage cart will be operational during the event, and each golfer will receive two complimentary drink tickets to enjoy a limited beverage menu. Additionally, breakfast and lunch will be provided.
WHAT IS THE 

CLUB HEROES GOLF MARATHON

 EVENT?
The Club Heroes Golf Marathon is an annual event where funds to support world-class programming at the Ellettsville Club are raised primarily through team fundraising, Hole Sponsorships, and Event Supporters. This specific event, typically held in the summer months, has seen various formations since 2012 – including a 4-person scramble and a
2-person marathon. 
The Ellettsville Boys & Girls Club serves as many as 227 kids and teens each day while providing world-class programming to nearly 630 members between the ages of 6 and 18 each year. The Club's focused-area programs provide young people the resources and support they need to achieve academic success, maintain healthy lifestyles and become caring, productive & responsible citizens.
The annual cost to serve a child is $720/year - however, the Ellettsville Club only charges $20/child each year to receive transformative and world-class programming!
The Club Heroes Golf Marathon helps offset the cost for a child to attend the Ellettsville Club for only $20/year. We must never lose sight of the relentless effort that goes into raising young people. Your support as a Club Hero and/or event donor in the Club Heroes Golf Marathon is the reason why our youth will succeed!
Every child has a story. For many, that story would not be complete without the Boys & Girls Club in Ellettsville!