ONB gives grant to Boys and Girls Clubs of Bloomington
June 21, 2016 | Bloomington Herald-Times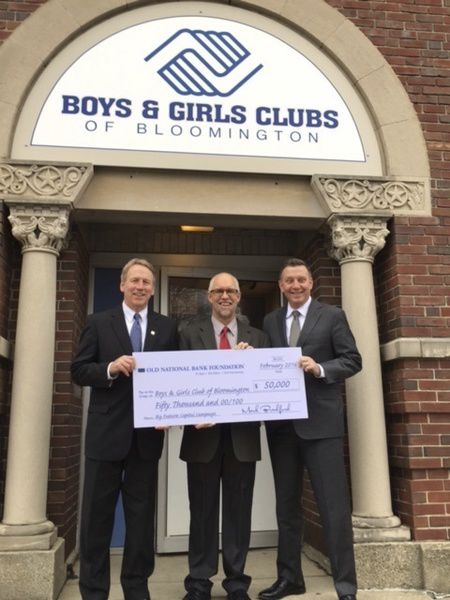 The Old National Bank Foundation is pleased to award a $50,000 grant to the The Boys & Girls Clubs of Bloomington for its BIG Futures Capital Campaign project. The project will renovate the Lincoln Street facility as well as acquire, renovate and expand the former IU Eye Clinic building to serve as the new clubhouse for the Crestmont neighborhood.
The Crestmont Club addresses challenges and concerns by specifically targeting disadvantaged families in Bloomington. The club provides emergency services to members by providing daily meals and a form of "after-school and summer shelter." The Club provides a place for parents to send their children while they provide for their families through employment and pursuit of educational degrees. This program addresses the "Community Development Needs Strategy," as it meets a "priority non-housing community need" through established youth services support goals.
"Old National is pleased to partner with other community organizations and individuals to help make this important capital project a reality for the Boys & Girls Clubs of Bloomington," said Mark Bradford, Old National Region CEO. "These renovated facilities will aid the Boys & Girls Clubs of Bloomington in servicing and supporting our local youth and their families who are vitally important to the future of our community."
About the Boys & Girls Clubs of Bloomington
The mission of the Boys & Girls Clubs of Bloomington is to empower all young people, especially those who need us most, to reach their full potential as caring, productive, and responsible citizens. The Club has three locations in Monroe County: Lincoln Street downtown Bloomington, Crestmont in the Bloomington Housing Authority, and Ellettsville. The Club serves as many as 400 youth between the ages 6 and 18 daily and over 1,400 annually through after-school, summer, and community outreach programs that focus on academic success & career exploration, good character & active citizenship, and healthy lifestyles. In its 60th year of operation in Monroe County, the Club launched the BIG Futures Capital Campaign in April 2016 to raise $6,000,000 for renovations of the Lincoln Street Unit as well as relocation and expansion of its Crestmont Unit. The project is projected to serve at least 200 more kids each day. To find out more go to www.bgcbloomington.org.
About the Old National Bank Foundation
This year the Old National Bank Foundation celebrates its 10th anniversary which was launched in May 2006. Since the inception of the ONB Foundation, more than $10 million has been awarded in partnership with over 1,500 nonprofit organizations. The Foundation makes contributions to IRS-designated 501(c)(3) nonprofit organizations to fund large scope and large impact programs and/or projects. The Foundation is part of Old National's overall charitable giving initiative, which enables them to support programs that improve quality of life in areas of Indiana, Illinois, Kentucky and Michigan where their clients, associates and shareholders live and work.