Strawberry Shortcake Festival
May 2, 2019 @ 10:30 am

-

2:30 pm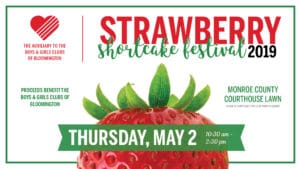 It's time for the annual Strawberry Shortcake Festival, hosted by the Auxilary to the Boys & Girls Clubs of Bloomington! Join us on the Courthouse Lawn on Thursday, May 2 from 10:30 a.m. – 2:30 p.m. and enjoy the fruits of spring!
Enjoy the Strawberry Festival without leaving work! Order a pre-sale kit for your place of business, your customers or clients, your friends, your family, your child's classroom, or anyone else important in your life and have it delivered (to businesses and organizations ONLY). All orders must be received by Friday, April 26th.
$60 Pre-Sale Kits include 10 large servings – strawberries, ice cream, shortcake, whipped topping, bowls and spoons!
Kits will be delivered on Wednesday, May 1st from 9 am – 1 pm. Or they can be picked up at Twin Lakes Recreation Center during that time. Please mark delivery or pick-up in the form below.