Read How 12 Members Found Their Spark at the Club…Thanks To Donors Like YOU!

DAY 12: Corey is a 12-year-old member at the Boys & Girls Club. While he has been a member for a few years, his daily attendance is few and far between as his father could usually pick him up after school. In fact, it was usual for Corey to go several days in-between attending the Club after-school. It wasn't until his father got a new job near Spencer, which required longer working hours, that Corey's attendance at the Club grew significantly for after-school programming. Being on the older side compared to most of our members, Corey often felt out-of-place and uncomfortable with his surroundings. Often quiet and reserved, Corey was content not participating in programming and would simply read a book or work on homework until his father arrived later in the evening.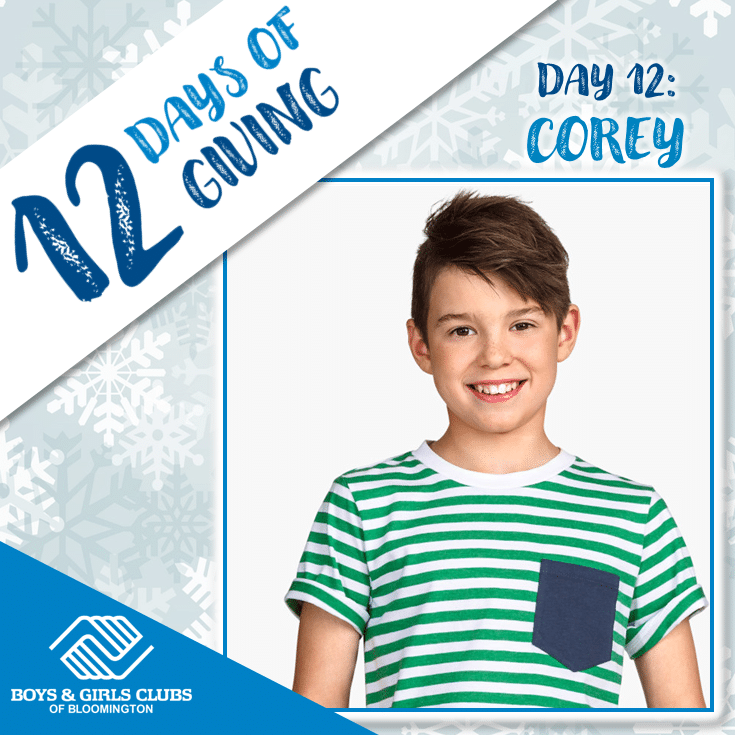 One week, Corey was invited to attend a Passport to Manhood seminar at the Club…and he would never be the same again from that point on. He listened intently as the other members share their personal stories, struggles, successes, goals, and so forth. Finally, Corey let his guard down and shared some of his insight with the group. It was a powerful moment to finally see Corey accept his surroundings and feel comfortable enough to let those around him in his life. We were amazed that Corey wanted to be a doctor when he grows up! He had never shared that dream with us until he participated in Passport to Manhood. Since his involvement with Passport to Manhood, Corey has been different at the Club – he is more open, participates in programming, communicates with his peers and helps the younger members with projects and games. He exemplifies the CPRRS tenets of the Club and is a role model to his peers. Thanks to DONORS LIKE YOU, Boys & Girls Clubs of Bloomington continues to help members like Corey find their spark – a place to accomplish a dream! 
DAY 11: Jeremy is a 13-year-old member at the Boys & Girls Club and a perennial attender for summer camp programming. Despite his longevity as a Club Member, Jeremy has been shy for quite some time. Even though he has been coming to the Club consistently because his father believes Jeremy has already grown so much because of the Club's efforts, Jeremy still keeps to himself more times than not. However, this past summer was Jeremy's breakthrough as he participated in the Teen Club's Pancake Breakfast at BJ's Restaurant. Jeremy instantly latched on to this initiative, attended every planning meeting, and took charge of organizing other logistics that were important to the event's success. In essence, Jeremy became one of the event's leaders and a "go-to" person to tackle a job.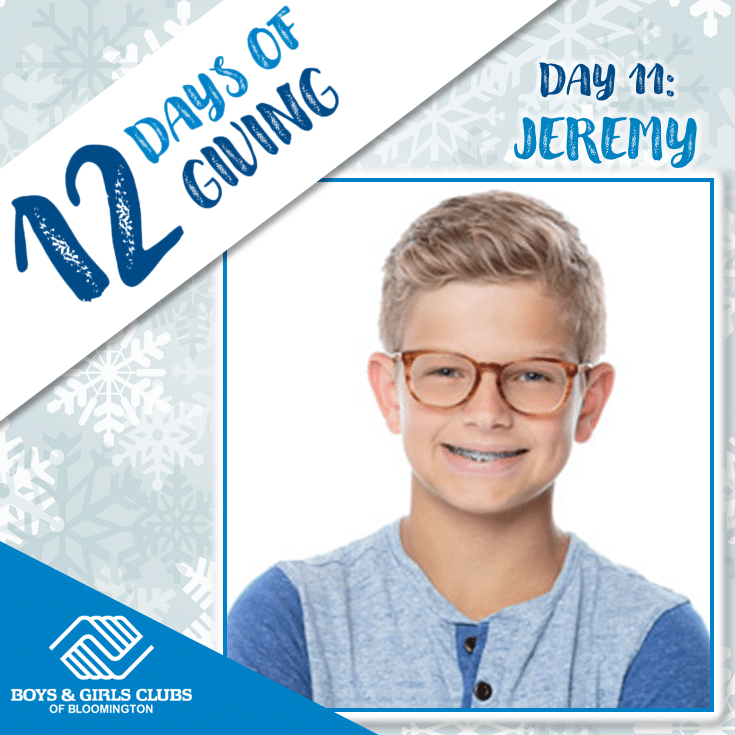 At the event, Jeremy's newfound confidence, smile and openness were on full display as he was welcoming guests, taking orders and cheering on his peers – all of which were complete opposites of his usual behavior. Jeremy's dad attended the event and chose to sit and observe his son's miraculous behavior change; he could not believe how Jeremy was responding at the Pancake Breakfast! When asked his thoughts on how well Jeremy was doing, he teared up and shared how happy he has been with the Boys & Girls Club. He said that a year ago, Jeremy could not even order his own drink at a restaurant because he was so nervous to talk to people. The Club provided a safe and encouraging environment for Jeremy to make friends and truly shine at this event! Thanks to DONORS LIKE YOU, Boys & Girls Clubs of Bloomington continues to help members like Jeremy find their spark – a willingness to lead by example!
DAY 10: Ty is an 11-year-old member at the Boys & Girls Club. Ty has an intellectual disability which limits his speech and social interactions. When first attending the Club in 2017, Ty didn't speak to staff or other members and sat quietly with his head down everyday. When spoken to, Ty would stare blankly at whomever was speaking to him before looking back down. In September of this past year, Ty's behavior changed tremendously. After a field trip to the F.A.R. Art Gallery in downtown Bloomington, Ty's love for art was discovered. The next week, Club Staff had paper, paint, and markers sitting out in the Teen Center when he arrived. Almost immediately, he began painting animals, drawing scenes from his favorite movies, and coloring pictures of staff members labeled by name.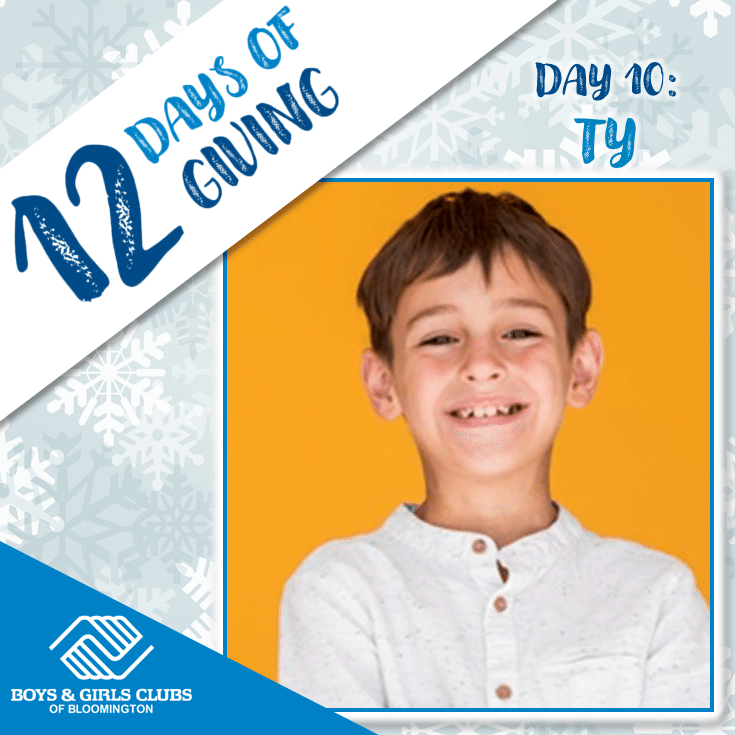 His spark for creativity was lit by attending a simple field trip. His reinvigorated presence at the Club has spawned his increased participation in other programming while now even addressing everyone by name. It has been a complete transformation for Ty! From sports to art, card games to dancing – Ty does something that amazes us every time he steps foot into the Club…he has a special place in the hearts of all who meet him. But through all of his progress and success, finally hearing his warm "Hello" is the best part of the day, everyday. Thanks to DONORS LIKE YOU, Boys & Girls Clubs of Bloomington continues to help members like Ty find their spark – creativity to fuel imagination!
DAY 9: Maddie is a 10-year-old member of the Boys & Girls Club. Several months ago, Maddie's aunt – who had served as a positive role model and basically a best friend to Maddie – suddenly passed away leaving her absolutely grief-stricken. She stopped communicating with friends and family, no longer participated in Club Basketball (which is loved and was great at), would often and suddenly cry, and isolated herself away from other people. It was a completely different Maddie. With the blessing of her grandmother – who was raining Maddie, we invited Maddie to join SMART Girls at the Club. At the beginning, Maddie did not contribute much, but as the sessions went on – you could see Maddie listening more intently to the messaging.
During one of the sessions, another one of our members, Michaela, discussed the passing of her grandpa and how that affected her. This was the avenue that needed to open for Maddie to feel comfortable enough to want to open up about her own aunt's passing. The very next week, Maddie started discussing her aunt – not so much about her passing, but more about what they used to do together, what she enjoyed most about the time they spent together, and things that Maddie did that her aunt enjoyed watching her do – like Basketball. While there were tears, the process of Maddie learning how to overcome her grief and struggles was set in motion. Fast forward a month or so later, Maddie was back on the Basketball court doing what she loved to do at the Club! SMART Girls was the needed catalyst for Maddie to cope with her grief and reset her place at the Club. Thanks to DONORS LIKE YOU, Boys & Girls Clubs of Bloomington continues to help members like Maddie find their spark – a place to grow!
DAY 8: Jared is a 7-year-old member at the Boys & Girls Club who is full of immense energy. Traditionally, he struggles maintaining his emotions during physical activities or in group settings; he gets so involved in the activity that he often works himself up into a frenzy. When he gets worked up and does not know how to handle his feelings, he often explodes and is inconsolable. When Jared is to that level of an emotional downpour, it is difficult – if not impossible – to calm him down. He has had a difficult life at home…having to move to new apartments frequently with his brother and two sisters. Jared loves coming to the Club after school each day, but as a young person, he is still learning how to manage his emotions and find the best version of himself in a safe, steady environment.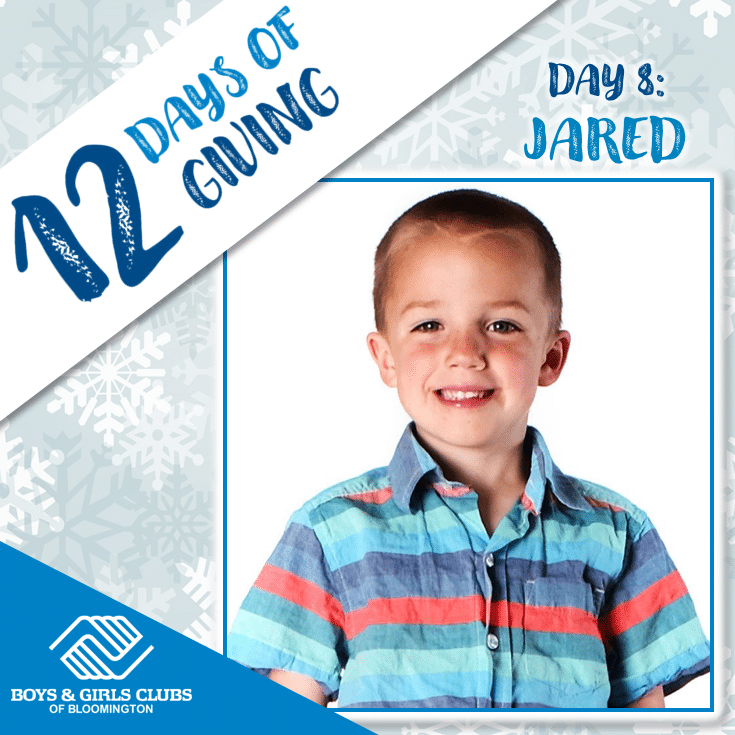 Recently, Jared participated in a Yoga demonstration at the Club where the instructor taught deep-breathing techniques to compliment the variances of stretches. One day when Jared checked-in at the Club, it was evident that he was having a rough day. Jared started playing Basketball upstairs and got worked up as he usually does. However, instead of acting out like he normally would, we noticed that Jared started the breathing exercises he learned during Yoga. Recognizing that he was struggling, he removed himself from the court, found a seat on the bleachers and simply took a few minutes for himself to calm down! It was so powerful to see a program's simple teachings like how to deep-breathe was having a positive and lasting effect for Jared to manage his emotions. Since then, while Jared is still working on it – he is becoming a different person and a more enjoyable presence to be around. Thanks to DONORS LIKE YOU, Boys & Girls Clubs of Bloomington continues to help members like Jared find their spark – a safe place to become the best version of yourself!
DAY 7: Mackenzie is a 12-year-old member at the Boys & Girls Club. She has been a part of the Club since she was nine, but now being one of the older members at the Club, Mackenzie often wished to just go straight home or hang-out with her friends after school as opposed to coming to the Club every day. Her parents have relied on the Club's after-school service because they both work until 6:30 each evening, and they wanted a safe place for Mackenzie to go to each day. As time went on, Club Staff could slowly see her start to disengage with the programming and lose interest in being a member at the Club. Mackenzie has always been well-behaved and very respectful while at the Club, but now being one of the older members, Mackenzie was starting to feel bored and out-of-place.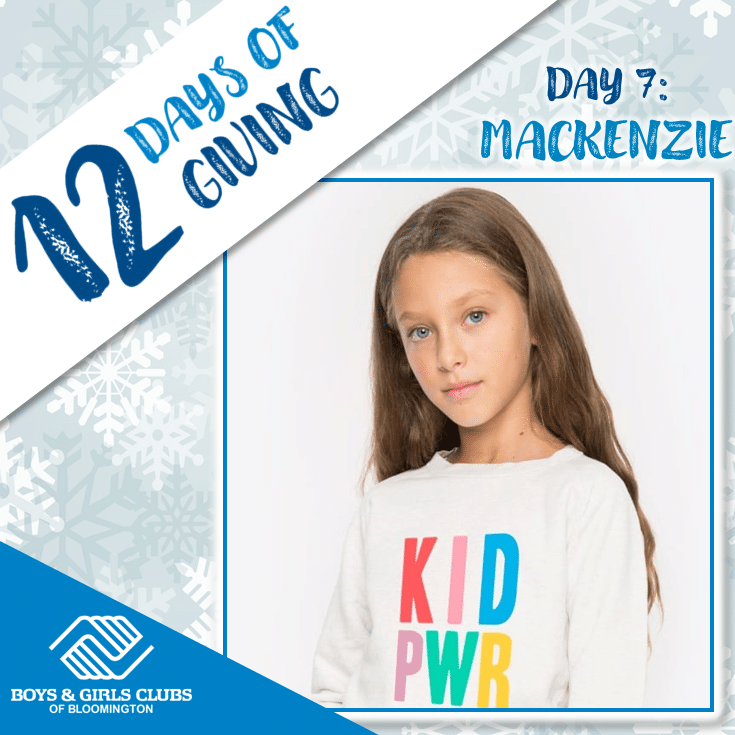 Recognizing this, Mackenzie was asked what she enjoys doing at home. She responded in that she enjoys helping her mother prepare dinner and set the table for her family each night. In an "AH-HA" moment, it was recognized that Mackenzie would the perfect monitor for the K-5 snack program…and Mackenzie attached to it instantly! She now helps Club Staff organize the milk and snacks for our younger members to enjoy and ensures that the tables are cleaned off once snack time is over. She now feels a revived purpose for being at the Club – that being to help the younger members during snack time. It is so special to see her renewed excitement for being a member at the Ellettsville Club. Thanks to DONORS LIKE YOU, Boys & Girls Clubs of Bloomington continues to help members like Mackenzie find their spark – a passion to help and serve others!
DAY 6: Tanner is an 11-year-old member at the Boys & Girls Club. He is full of positive energy! He is always helping others, always willing to engage with programming, and always just a happy kid. However, Tanner has significant hesitations with physical activities. He does not have confidence in this area as he feels as though others are watching him and making judgements. When he learned that the Club would be participating in the National Fitness Competition, he grew very apprehensive about participating. National Fitness Competition allows members to compete in seven individual events, which are formatted similar to a track meet. Members set goals for themselves and then have the opportunity to reflect on their outcomes. Club staff encouraged Tanner to participate and helped him walk through his fears until he felt more comfortable.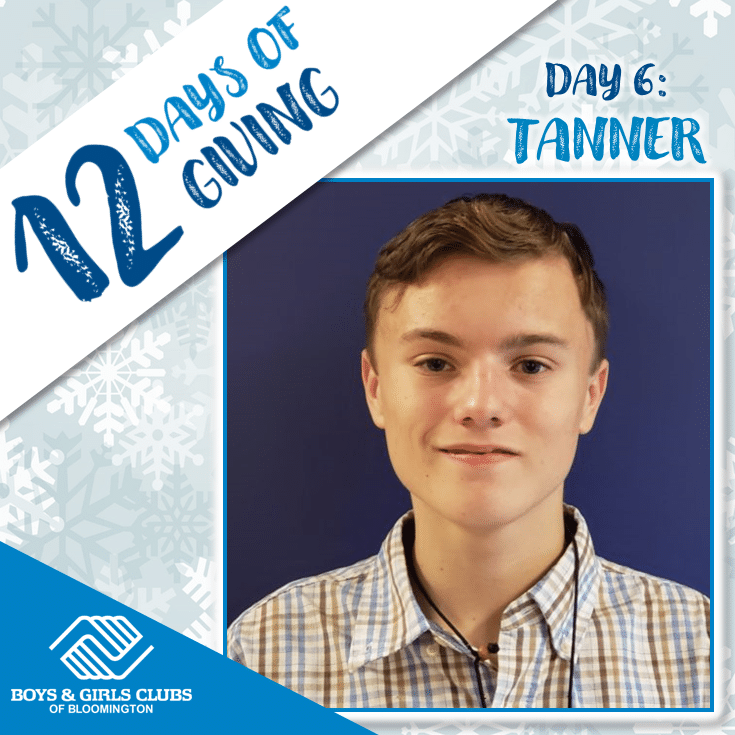 Tanner was still hesitant, but he felt confident enough to choose to participate. He had his usual positive attitude during the event and even though he was still a little intimidated and afraid, he completed all events to the best of his ability. He even did better in the Sit-Up Challenge than he was expecting which made him so excited! By the end of the day, Tanner felt so proud of himself! He had pushed himself farther than he thought he could and faced his fears to step out of his comfort zone. He succeeded – and he even had some fun, too! He has now set goals for himself to work on throughout the year for each event so that next year, his results will be even higher! Thanks to DONORS LIKE YOU, the Boys & Girls Clubs of Bloomington continues to help members like Tanner find their spark – perseverance and confidence!
DAY 5: Conner is an 8-year-old member of the Boys & Girls Club. Art Club is very popular at the Club – and Lincoln Street's program is no exception! Conner participates in Art Club weekly and has shown a great interest in the history of certain art pieces. While Conner has never known with certainty what he wants to be when he grows up, he has always had an appreciation for art and storytelling. Recently, the Art Club taught members how to make slideshow presentations while incorporating the history of a specific painting – combining art, history, and technology skills – and created a project for each member to pursue. The goal was for each member to present the history of a famous painter or painting to the rest of the Art Club using the slideshow software.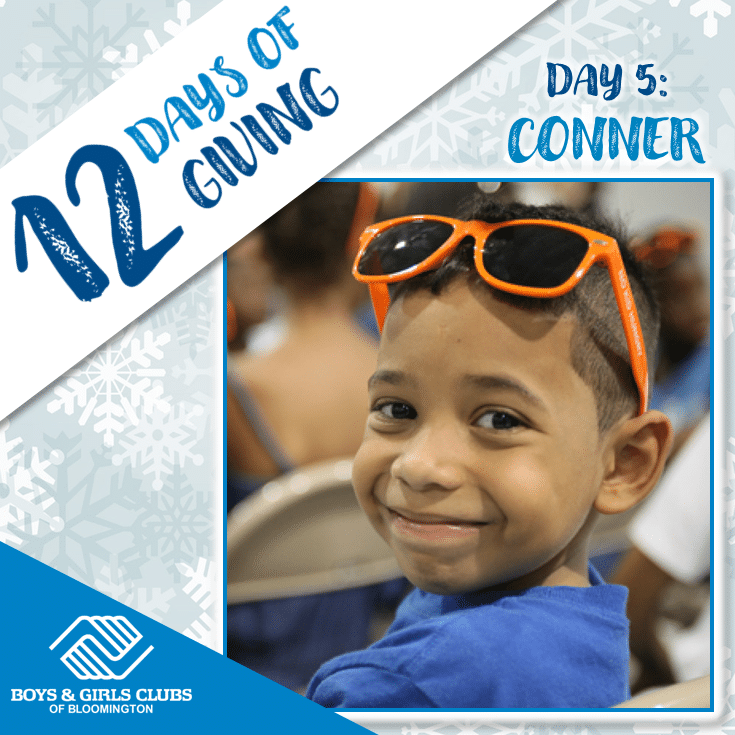 No other Art Club member tackled the project more than Conner. He likes art in school, but he did not have an avenue to learn more about artists or select paintings until he started at the Club. For his presentation, Conner chose to research the Mona Lisa. He read about Leonardo da Vinci and his historic painting along with other research concerning the Mona Lisa. You could literally see Conner's enthusiasm and passion spill out during his presentation.He shined during this presentation as he embraced new technology with his will to learn. He now wants to be in art education when he grows up so he can help others learn about the history of artists and artwork, like the Mona Lisa! Thanks to DONORS LIKE YOU, Boys & Girls Clubs of Bloomington continues to help members like Conner find their spark – a future career path!
DAY 4: BE CARING is one of the tenets of the Boys & Girls Clubs of Bloomington. Melissa, a 13-year-old member of the Club, is the perfect example of how learning how to care and show care to another person can make a positive difference and leave a lasting impact. Melissa is a fire-ball and can come off as being "too much" for her peers to handle at times. Melissa comes from a large family setting with siblings all competing for attention. Melissa's overwhelming behavior was her way of simply wanting to be heard. Staff guided Melissa to recognize that these outward behaviors could actually be pushing her friends at the Club away, so she worked with Club Staff on how she could better handle her emotions while showing more interest and care towards others.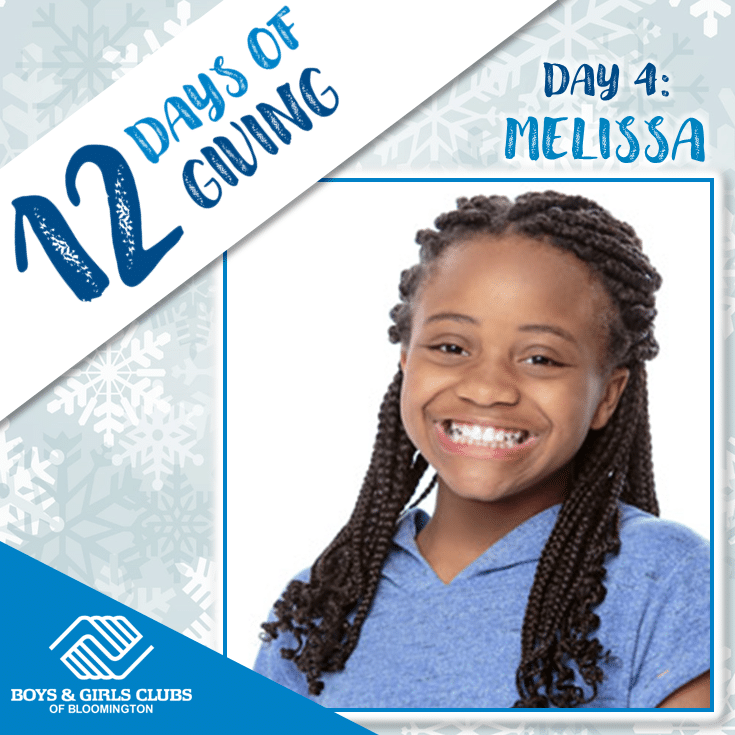 Incidentally, this is a practice that she also started using at home with her siblings! The changes in Melissa's behavior since working with Club Staff have been incredible. There is a noticeable difference in the way that Melissa treats others and it is helping her to build deep meaningful friendships. In fact, Melissa joined the Volunteer Club and led the effort to tape messages of kindness all throughout the Club! Additionally, Melissa now asks her friends to share about themselves first before she excitedly shares her stories. She can also now recognize when her emotions are reverting back to her old, more self-centered, behaviors and she asks for help navigating those emotions productively instead of acting out. Every day, Melissa is growing into a more caring and compassionate person towards others. It is thanks to DONORS LIKE YOU, that Melissa has found her spark at the Boys & Girls Clubs of Bloomington – care, connection and friendship!
DAY 3: Isiah is a 9-year-old member at the Boys & Girls Club. Isiah has a tendency to "push the envelope" with his behavior each day. He is not a misbehaved member, but definitely likes to see how far he can push it. He also can be a bit of an instigator among his peers. He struggles being patient and gets frustrated when he communicates with his peers and they do not understand what he wants right away. At the Club, staff have been working with Isiah all year to learn how to keep his cool when he is frustrated and influence his peers in a positive way, instead of instigate negative behaviors. One specific day, that hard work with Isiah paid off. It was pouring outside, so we had our members participate in a game of Cross the Lava – a situational, problem-solving game that requires teamwork.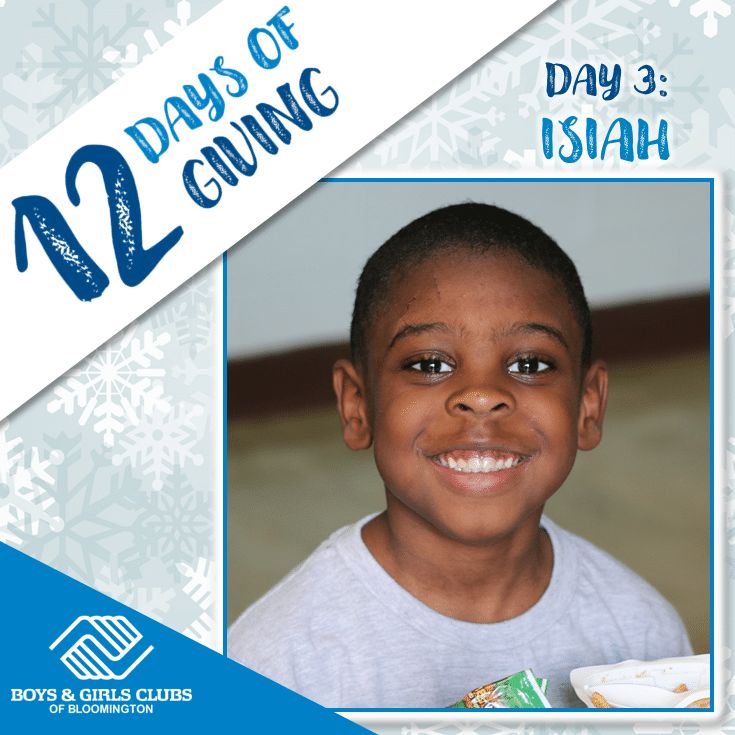 This is also a game that calls for members to work together and cross a pretend river of lava. The keys to the game are that members must stay connected in some form or fashion, and they must move across a river of lava by stepping on small pieces of squared-carpet to get to one end of the room to the other. If one member breaks the connection or accidentally steps off a carpet piece, they have to start over again. It is a difficult game that requires communication and patience – traits that Isiah can struggle with.
The group had tried two or three times, but ultimately failed in their efforts to cross the lava. As Isiah had been practicing at the Club, Isiah kept his cool. And he actually even rallied the group together. He presented a new plan and patiently led the group to successfully achieving the goal. It was incredible to see Isiah's growth as he patiently and clearly took charge of a game! He saw where he could help and, in a positive way, led his team to victory! He is a born leader and the Club is teaching him to keep his cool so he can lead with compassion and good communication. Thanks to DONORS LIKE YOU, Boys & Girls Clubs of Bloomington continues to help members like Isiah find their spark – a passion to lead by example!
DAY 2: While LEGO League has been an incredibly popular program at the Club for years, 2019 was the first year of the program at the Ellettsville Club.. No surprise – it was an instant hit with the Ellettsville Club kids. Members – like 10-year-old Zoe – quickly connected with the challenge of building interactive robots. Mr. John spearheaded the effort at the Ellettsville Club and also led Ellettsville's LEGO League team to their first competition this past November in Columbus, IN! Before LEGO League found its home in Ellettsville, Zoe was primarily interested in drawing and had very little understanding of what LEGO League actually was. In fact, she thought it was initially just a club to build things out of Legos. Once Zoe found out more about the cutting-edge program, she signed up.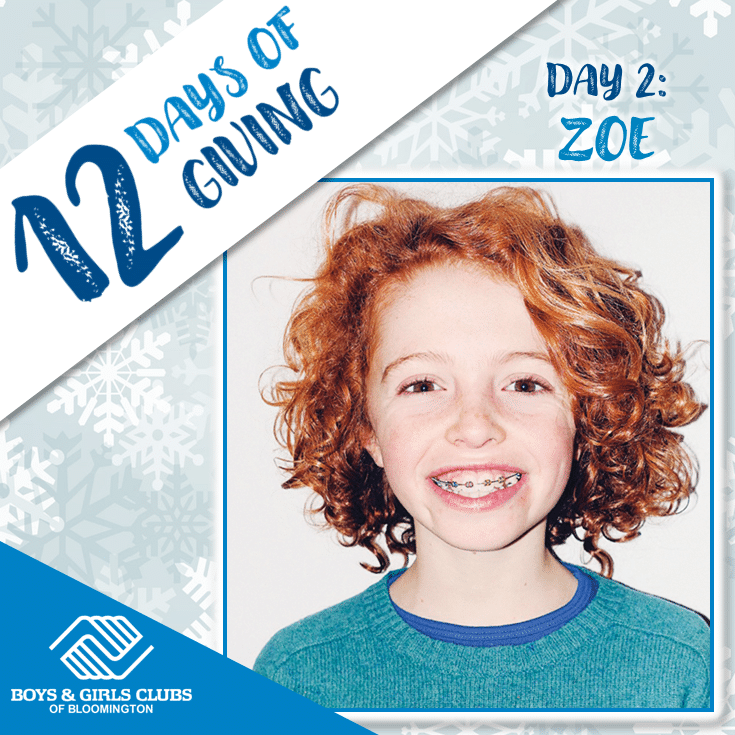 Now…Zoe loves building robots for LEGO League – in fact, she was viewed as a leader among her peers as the Club prepped for their first competition! Once the LEGO League competition had ended, Zoe was so excited to share her experience. "LEGO League was so cool and so much fun! I learned a lot, and I have ideas on how we can do even more!" Zoe's mother echoed Zoe's excitement. "It was remarkable to see the work that went into preparing for LEGO League – but the kids absolutely loved it. This is such a fascinating program for kids – they are actually building robots that operate with a programmed goal. It's incredible!" Thanks to DONORS LIKE YOU, the Boys & Girls Clubs of Bloomington continues to help members like Zoe find their spark – a passion for STEM!
DAY 1: Sammie is an 11-year-old member at the Boys & Girls Club. Sammie comes from a single-parent home and her mother needed some extra time to work in the evenings. So, Sammie enrolled at the Club. When she first started attending the Club last year, she was immensely shy, would often keep her head down and would say very little to those around her. No matter the program, Sammie had a difficult time finding her comfort zone.  Among other activities, Sammie is now part of the new Loud & Proud Club – a Good Character & Active Citizenship program that focuses on public speaking to help improve a member's self-image, self-esteem and ability to speak to an audience. Studies suggest that public speaking is the #1 fear reported by most people and is an obvious hurdle of self-confidence.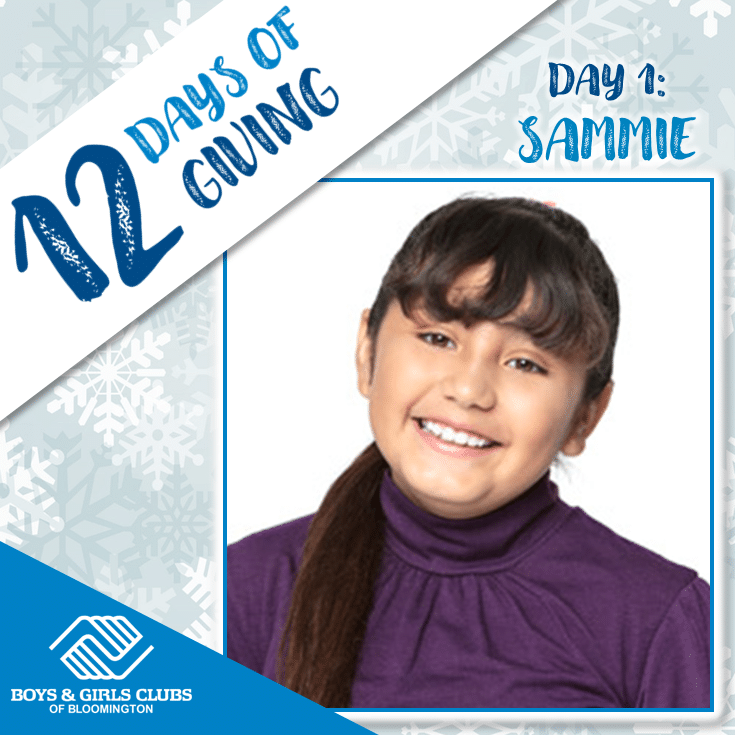 For Club members, like Sammie, to make a choice to participate in a public speaking program is truly remarkable…especially for how shy Sammie tends to be. During her participation in this program, Club Staff have recently noticed a positive change in Sammie that exists even when she is not participating in the Loud & Proud Club. Sammie's demeanor has totally changed when she speaks to people, her confidence has taken a new positive leap and she is more open to those around her – she has finally found her place at the Club! Thanks to DONORS LIKE YOU, the Boys & Girls Clubs of Bloomington continues to help members like Sammie find their spark – a voice and a place to belong!