Please note that all Club members have been required to wear masks since the Club reopened earlier this year.
Some of the photos used in the 12 Days of Giving series may reflect images from our pre-COVID world. 
DAY 12 (December 31) | 
CARTER & BRAYDON
Carter (12-years-old) and Braydon (10-years-old) are brothers who have been attending the Lincoln Street Club for the last several years. Their lives have always been full of change and transition. Since they have started attending the Club, they have moved three times to live with three different guardians – their father, their mother and now their grandmother.
Just as they started to grow accustomed to their new home, they would be uprooted once again.
It was no surprise that both boys struggled to trust others and would not allow themselves to rely on anyone. In fact, the Club was one of the only consistent places in their lives. Club staff have gone above and beyond to connect with Carter and Braydon to provide guidance and comfort while serving as reliable adult figures in
their lives.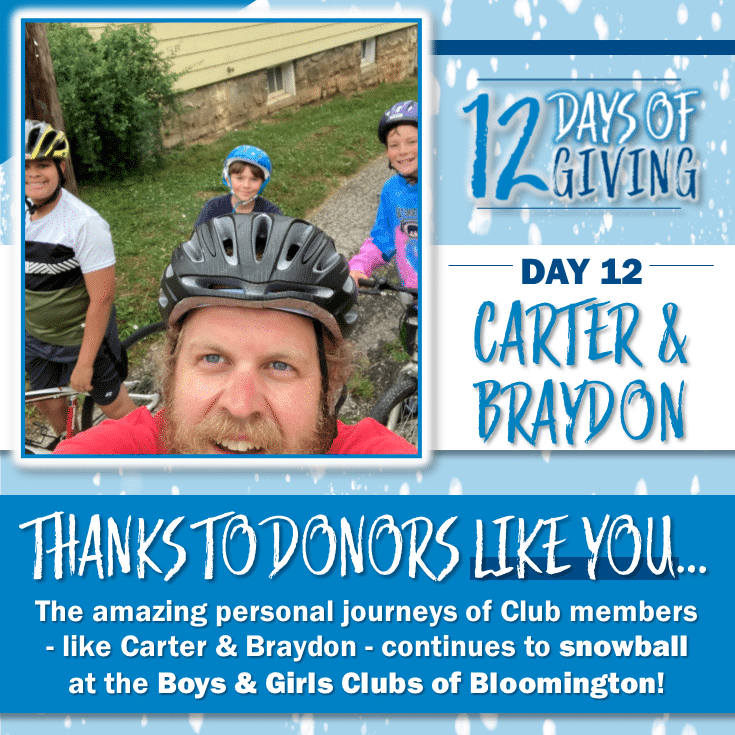 Over the five years they have been at the Club, staff have seen significant growth in both boys because of this outreach – both boys genuinely loved coming to the Club each day.
In March, schools went virtual and the Club closed its doors for in-person programming temporarily. Club staff knew there were certain kids that this drastic change would negatively impact more than others, and Braydon and Carter were at the top of that list. They had both made significant progress at the Club, and staff were concerned that this break-in-service would cause a sharp decline in their growth.
Club staff stayed connected to the boys via the Virtual Club, but it wasn't quite the same. As soon as the Lincoln Street Club reopened, Mr. Neil reached out to make sure Carter and Braydon had a place at the Club – but it was a struggle to reach them.
Mr. Neil had learned that, once again, their home life had shifted and they were living with a new relative.
When the connection with Carter and Braydon was finally made, Mr. Neil helped to get them both enrolled for the Summer program. On their first day back at the Club, Mr. Neil and another Club staff member took special time to take the two boys out on a Club Riders bike ride
around Bloomington.
In order to participate in Club Riders, members must show that they can be responsible and confident to ride around town. For Carter and Braydon, this bike ride helped assure them that (while the times may have changed) nothing had changed at the Club. Mr. Neil trusted them and knew they took participating in Club Riders seriously.
With all the frequent changes in their lives – in addition to the change that came with the pandemic – Carter and Braydon have true stability at the Club. It was evident to staff that despite the brief separation from in-person Club programming, Braydon and Carter continued to use the lessons learned at the Club when their lives were disrupted once again. It was fantastic to see them both continuing to grow into wonderful young men!
THANKS TO DONORS LIKE YOU…
the amazing personal journeys of Club members – like Braydon and Carter – continues to SNOWBALL as they mature
into the next generation of community leaders.
DAY 11 (December 30) | TARAH
10-year-old Tarah was a rollercoaster full of emotion.
As a member of the Ferguson Crestmont Club, Tarah first came to the Club last year and brought with her a significant negative attitude. Using vulgar words and showing disrespect to Club staff, Tarah's "good days" at the Club were few and far between.
Unfortunately, this was not all Tarah's fault as her home life is less than ideal. Living in a multi-family household, Tarah often feels unheard and unseen to those around her. Tarah was striving for attention and she was not getting what she
needed at home.
To combat these feelings and in an effort to gain control, Tarah would frequently lash out verbally towards other Club members and staff. She would often make fun of others and
ignore directions.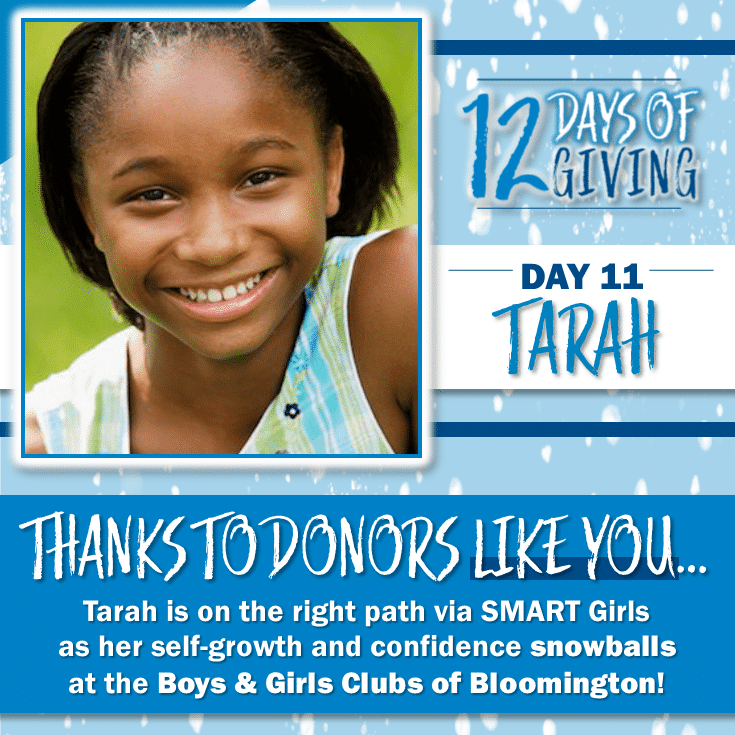 Simply put: Tarah lacked happiness and love in her life – and it was clear that she was craving guidance,
but she did not know how to open up or ask for help.
Noticing her subtle cry for help, Tarah was encouraged to participate in SMART Girls, a world-class program for young females at the Club that teaches the importance of eating right, staying physically fit, getting good health care, and developing positive relationships. It was in this small group setting that Tarah started speaking about herself in a more constructive manner; she would share with the group her fears of being left alone or having to move houses again.
She was finally being heard, and Tarah's demeanor took a positive turn. After several "sessions" of SMART Girls gatherings, Tarah's attitude flipped a switch! She was becoming respectful of others while smiling much more! It was such a joy to see Tarah's enthusiasm for the Club – especially the SMART Girls "Club" – which truly gave her purpose.
Now, Tarah will openly engage in other Club programming and takes much enjoyment in helping younger members with their homework. The Boys & Girls Club helped Tarah learn how to communicate and work with others while providing her the life guidance she was so desperately seeking.
THANKS TO DONORS LIKE YOU…
Tarah is on the right path via SMART Girls programming as her personal growth continues to SNOWBALL
at the Boys & Girls Club.
DAY 10 (December 29) | LUCAS
For many kids, learning Math in a traditional school setting can be quite difficult. As staff across the Boys & Girls Clubs of Bloomington have seen firsthand during the past several months, learning Math in an eLearning environment can be even more difficult for kids to fully comprehend and find success.
Lucas is a 9-year-old member at the Ellettsville Club. Lucas is a great kid who loved coming to the Club each day after-school to fully engage in the world-class programs that are offered. However, Club staff noticed a drastic change in Lucas' demeanor when programming shifted to an all-day eLearning curriculum during the pandemic. Specifically, Lucas was experiencing great difficulty during that time as he was struggling with Math.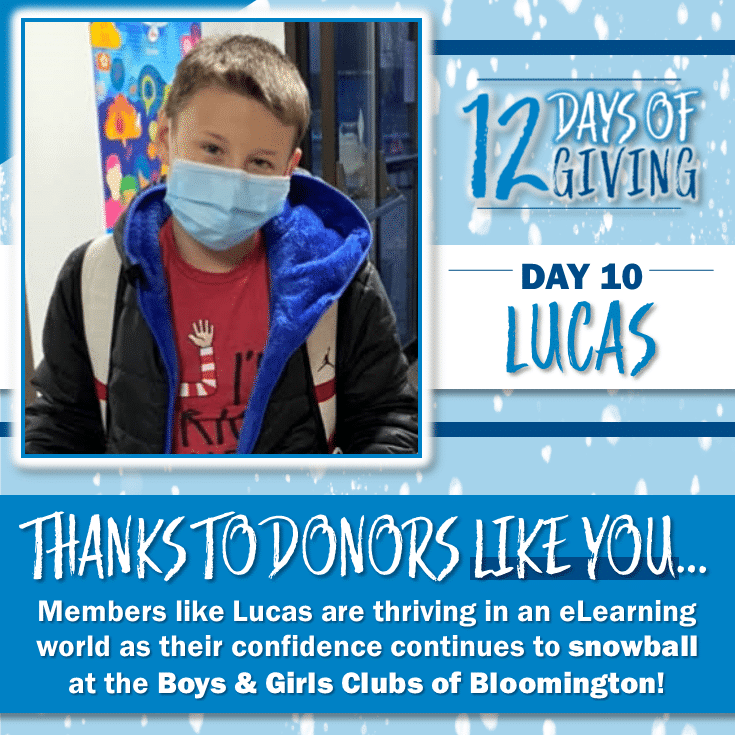 This difficulty was compounded with the fact that his teacher not being able to help him when he needed special attention.
Club staff noticed that Lucas was working incredibly hard learning his Multiplication Tables while also trying to grasp Area and Perimeter work – so the Club turned eLearning into a fun learning opportunity by teaching Math Tricks – an Academic Success programming component! After teaching Lucas several Multiplication strategies (such as the trick with 9's on fingers), he has blossomed and improved greatly!
Lucas was letting the stress of a "new normal" situation cloud his general enjoyment of learning, and Math Tricks took the stress away so that Lucas could focus on learning in a relaxed and engaging environment. Over the past few months, Club staff have seen Lucas use these learning strategies in order to help with other aspects of Math – such as working with Geometry – and his eLearning test scores have improved a full letter grade!
Lucas has become far more confident with eLearning throughout the semester – all he needed was a touch of magic that makes learning at the Club a world-class opportunity!
THANKS TO DONORS LIKE YOU…
members like Lucas are thriving in an eLearning world as their confidence continues to SNOWBALL at the Boys & Girls Club.
DAY 9 (December 28) | BRENDAN
9-year-old Brendan entered the Lincoln Street Club during the Fall of 2019 full of excitement and energy! He was not shy about playing games, communicating with others, or having a great time with those around him. However, all of the excitement and energy that Brendan would build eventually led to minor – but quite frequent – behavior problems.
Brendan is full of energy so he was naturally drawn to programs with high levels of physical activity, like Dodgeball for example. While he loved participating in these types of programs, they only seemed to get Brendan so wound-up that he would get out of control which would then lead to his behavior issues.
One day, Mr. Kevin had an idea. Mr. Kevin introduced Brendan to some physical Healthy Lifestyles programs at the Club that would interest him, but would be more structured and low energy – programs like Gardening Club and Crocheting.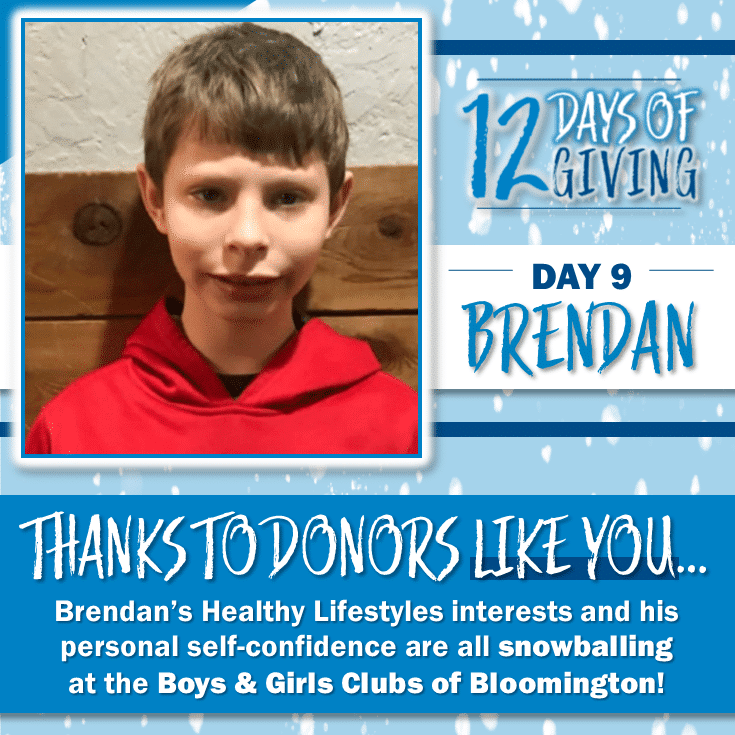 These programs were just what Brendan needed to find his internal balance. The level of manual labor and concentration required in Gardening Club and Crochet were just what was needed to keep Brendan engaged at the Club while maintaining proper behavior. In fact, he was very successful with these kinds of programs, and now Brendan participates in these programs each time they are
available at the Club!
He is someone who Club staff have come to rely on to help others in those specific programs as well. The leadership Brendan has been given in these programs has given him more confidence in himself as a role model and his behavior has greatly improved.
Gardening and Crochet Club both helped Brendan become a more caring, productive, and respectful Club member and young man!
THANKS TO DONORS LIKE YOU…
Brendan's Healthy Lifestyles interests and his personal self-confidence are SNOWBALLING at the Boys & Girls Club!
DAY 8 (December 27) | ERIC
Ms. Hadley had turned the Art Room into the most popular place at the Ferguson Crestmont Club during her time. It was a room inside of the Club that every member wanted to be in!
On March 13th, however, COVID changed things for everyone and the Art Room was suddenly quiet.
When the Club closed its doors temporarily for in-person programming, Ms. Hadley's responsibilities shifted to the Community Food and Supply Drive. Part of the Food and Supply Drive was collecting and distributing art kits to Club youth in addition to groceries and urgent supplies that families needed. The highlights for Ms. Hadley during this difficult time were the few short moments she got to see a familiar Club member through the window or on their porch from a distance while doing a drop-off. One member in particular was 11-year-old Eric, who was known to oscillate from being a rambunctious ball of energy to drawing quietly with intense focus and care.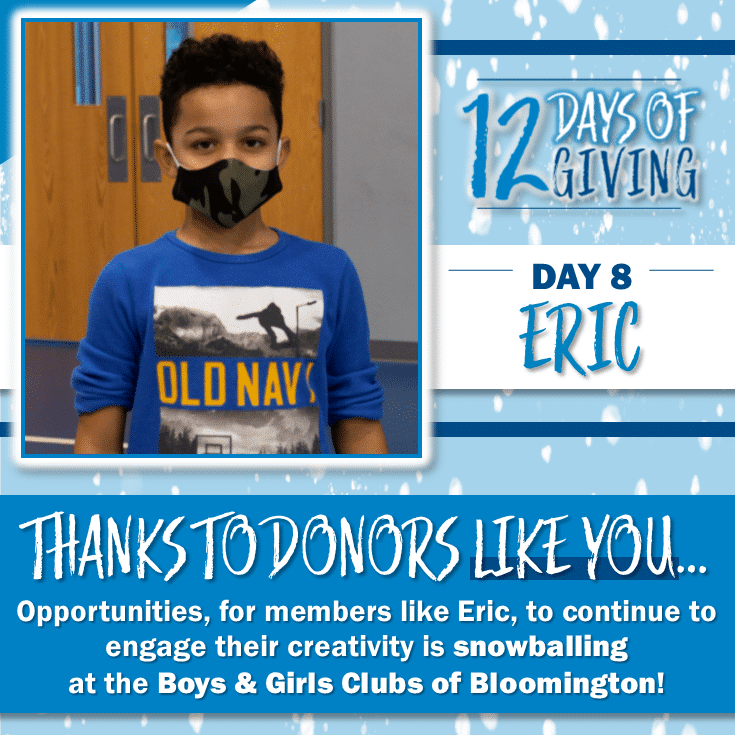 Each week, Ms. Hadley would say a quick hello to Eric and his younger brother as they helped their mother
carry in the delivered groceries.
One week, Ms. Hadley asked Eric if he had been using his art kit, and he excitedly yelled "YES" while running back into the house! Eric came back with a huge and prideful smile on his face with a paper in his hand. It was a drawing of Superman with a
Boys & Girls Club t-shirt on!
Ms. Hadley commended him on his drawing and his imagination and encouraged him to keep creating artwork until they could be together inside the Club again. She asked Eric if she could keep his masterpiece, and he smiled enthusiastically giving his approval.
After returning back to the Club after her delivery route later that day, Ms. Hadley hung Eric's picture in her office. The picture served as a simple – but important – reminder that even in our darkest days, the world can still shine through a child's eyes.
THANKS TO DONORS LIKE YOU…
the Community Food & Supply Drive provided relief to families while also providing Club members – like Eric – an opportunity
to FURTHER ENGAGE their creativity.
DAY 7 (December 26) | MELODY
The Club uses meaningful connections with caring adults and fun learning activities to help kids gain the tools they need to become caring, productive, responsible citizens.
Melody is a 7-year-old member at the Ellettsville Club. Club staff knew that Melody struggled with spelling and writing at school. Melody desperately wanted to improve, but her confidence in her abilities in these areas was rapidly declining as time went on and fears that she would eventually give up started growing.
One day, Melody was by herself practicing her writing on a white board during Power Hour (academic time) at the Club – she did not like for others to see her struggling. When Ms. Allison noticed Melody practicing her letters, she decided to sit down with Melody and offer some assistance. Needing some guidance but not knowing how to begin, Melody asked, "What are some things that I can write about?"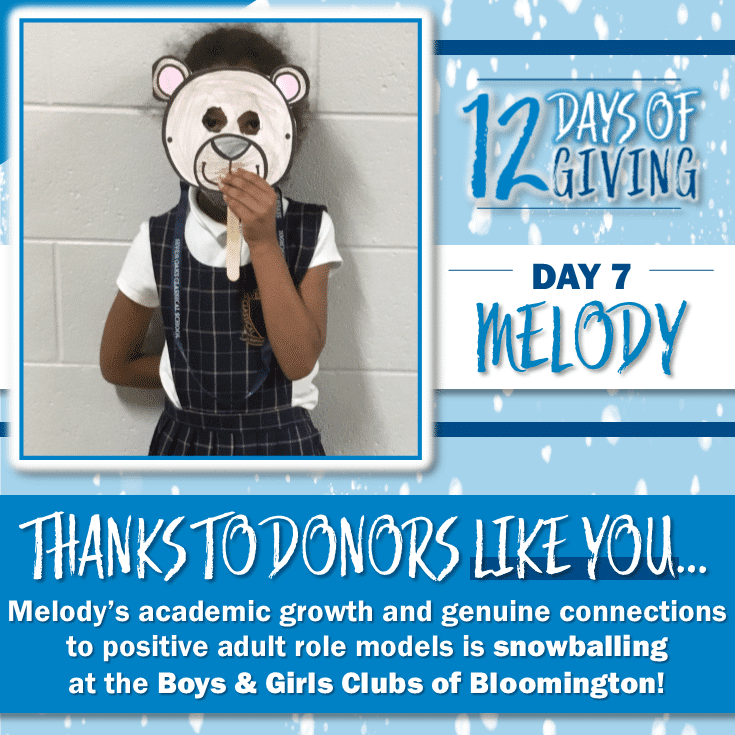 Ms. Allison knew that this was the perfect opportunity to not only help guide Melody in her writing abilities, but to also connect with her
as a positive role model.
Ms. Allison pondered Melody's question and suggested, "Why don't I ask you a question about yourself and then you can write down the answer for me to see?" Melody was very excited about this game! Ms. Allison asked a series of questions like, "When is your birthday?" "What are the names of your family members?" "What is your favorite season?" "What is your favorite animal?"
It wasn't long until Melody stopped worrying about writing the letters and simply focused on providing the answers. All she needed was a fun and engaging environment to show that she could actually write! Melody and Ms. Allison spent the next 30 minutes practicing letters and writing while asking each other silly questions – they even started running out of questions to ask!
Learning how to write words is an important skill that Melody worked on that specific day, but having a genuine connection with a caring adult mentor – like Ms. Allison – will have just as big of an impact on Melody's life.
THANKS TO DONORS LIKE YOU…
Melody's academic growth and connection to positive role models is SNOWBALLING at the Boys & Girls Club!
DAY 6 (December 25) | ZEKE
Zeke is an 8-year-old member at the Ferguson Crestmont Club. Late last fall when Zeke first entered the Club, the staff was notified that he was significantly behind his peers in school. Because of this notification from his school, Zeke was enrolled in the Club's Indiana Kids Academic Success Program in an effort to get him up-to-speed with where he should be as an 8-year-old.
During pre-testing activities, it was discovered that Zeke's academic issues went far beyond simply being behind his peers…Zeke could barely read or spell at all. He had zero confidence in his abilities and had lost hope that he would ever "be smart like the other kids" in his class. Zeke would grow visibly upset and would essentially shut-down when he was prompted to read sentences aloud or if the program he was participating in contained written components.
Nevertheless, Zeke went forward with Indiana Kids after being reassured by Mr. Forrest, who oversees the academic program at the Ferguson Crestmont Club, that this type of activity would help him grow academically.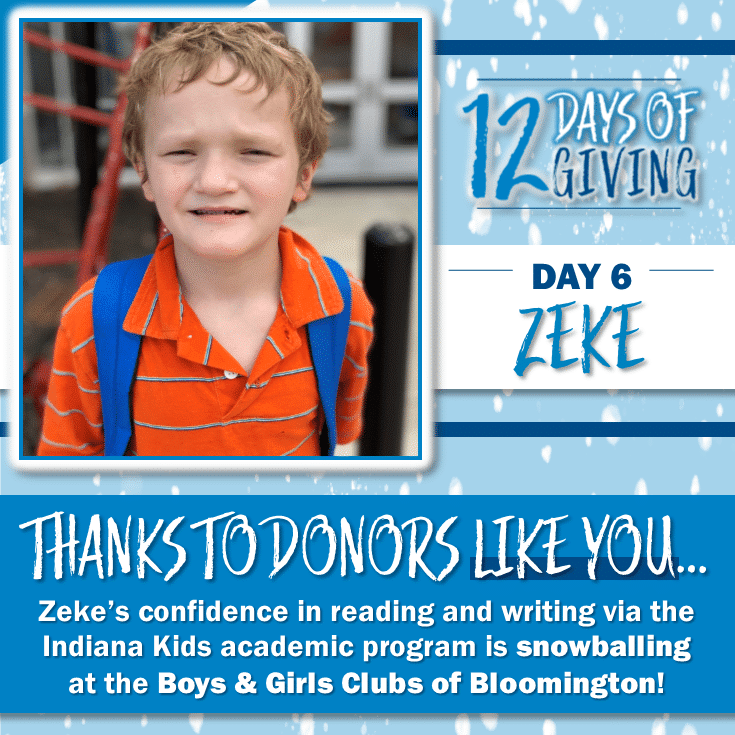 After six weeks of programming, one-on-one tutoring, specialized activities to address reading and writing deficiencies, and the Club's post-COVID reorganization and reengagement with the Indiana Kids curriculum, Zeke's improvement was astounding! Not only could Zeke read beginner books, but he even won a spelling bee competition! The smile that was painted on his face after this significant achievement was memorable and priceless for Mr. Forrest and other Club staff who had seen a child with zero confidence grow into a success story – not just academically, but personally as well.
By engaging with reading comprehension and spelling programs through Indiana Kids, members like Zeke are empowered each day with a sense of responsibility to improve their academic capabilities.
THANKS TO DONORS LIKE YOU…
Zeke's growth and confidence in reading and writing via the Indiana Kids Academic Success program is SNOWBALLING
at the Boys & Girls Club!
DAY 5 (December 24) | ALLISON
Even before she became a member, Allison's school had
warned the Ellettsville Club about her.
They were concerned about her enrollment at the Club because the troubled 13-year-old was declared a flight risk; she had to be escorted from class-to-class each day in fear that she would take off. Additionally, Allison displayed a constant negative attitude towards adults or authority figures. At the root of her apparent issues, Allison was experiencing a troubling homelife where she would self-harm and frequently run away from home. Her one and only guardian was struggling to keep Allison safe and happy, so she turned to the Club for help.
Once Allison was a member, it did not take long for her volatile temper to show. The first time she became upset, she told Club staff that she was going to punch someone. Ms. Maggie asked Allison to follow her into the Membership Room where she could calm down and resolve this conflict with a more positive outcome.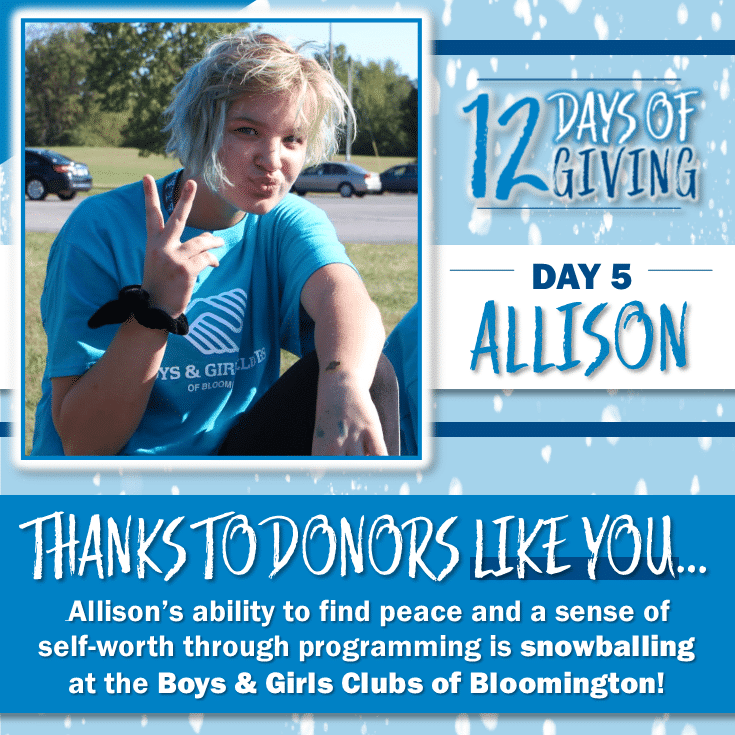 Ms. Maggie asked Allison what she needed to more effectively communicate her feelings. Did she need to yell? Did she need to color? Did she want to sit in a comfortable bean bag chair and vent? Did she want to listen to music? Did she want to talk calmly? These are Membership Room techniques that are proven effective and available to all members who need to take a mental,
emotional, or physical break.
Allison said that she simply wanted to be left alone and was not ready to talk. Ms. Maggie respected her wishes and told Allison that she was just around the corner. Towards the end of the day, the traditionally reserved Allison walked up to Ms. Maggie, whispered "thank you," and reached out for a hug. The wall Allison had built around herself was slowly coming down.
Ms. Maggie then conceived an idea for Allison to convey her feelings through journaling. Allison was given a notebook that was specifically hers to use when she needed a break in the Membership Room. Understanding that Allison was not ready to actually talk about her feelings, Ms. Maggie believed this was the next best avenue for Allison to convey how she was feeling.
Come to find out, this was the avenue that Allison needed in her life – a simple stress relieving technique that helped her explain her feelings. Sometimes, she would willingly share what she had written down with Ms. Maggie – which was a strong indication that Allison was beginning to feel safe, understood and heard at the Club – and she started engaging in other Club programming.
Once her coping strategy was discovered, Ms. Maggie noticed that Allison was even becoming a role model to other members at the Club by helping pass out the daily snack to the younger members, and she started participating in the Club's Friday Teen Nights! Allison had found her inner peace – and a place to truly belong at the Club.
THANKS TO DONORS LIKE YOU…
Allison's ability to find peace and a sense of self-worth through Academic Success programming
is SNOWBALLING at the Boys & Girls Club!
DAY 4 (December 23) | KESEAN
Kesean, a 10-year-old member of the Lincoln Street Club, is a daily attender and would be described universally as a bright and engaged child. He is an active participant in most Club programs that are offered each day and typically has a big smile on his face. While he is a good kid, academics do not come easy to Kesean. In fact, he relies heavily on one-on-one tutoring just to keep his grades up.
When the Club was forced to close its doors earlier this spring and it was learned that the school system was shifting to an eLearning curriculum, Club staff instantly feared for Kesean's academic trajectory. He always took so much pride in his school work, but those who were closest to Kesean knew that he would struggle immensely with eLearning. When the Club opened back up in August, it was wonderful to see Kesean and his sister, Y'Mira, walk through the doors of the Club.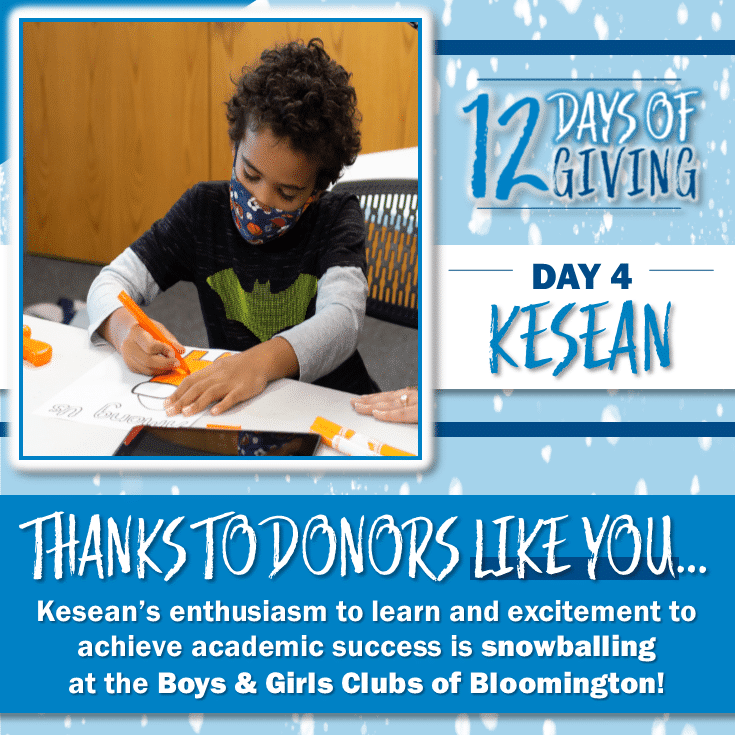 Unfortunately – during the school shut down, fears were realized as it was discovered that Kesean had fallen significantly behind in his school work and his reading. Recognizing the urgency, Mr. Jack wasted no time in helping Kesean get back on track. Each and every day, Mr. Jack would run upstairs to Kesean's pod to spend some time with him on his homework, one-on-one. After a few days of working together, it was evident that this academic engagement did a world of good for Kesean as Mr. Jack no longer had to run upstairs to encourage Kesean into getting busy with his school work! Now, after Kesean checks-in at the Club and goes to his pod to get his snack, he willingly walks downstairs with his homework in-hand and asks for Mr. Jack himself! One day, Kesean came downstairs to show Mr. Jack that his homework was already completed – which surprised everyone!
Then came the moment of true impact: instead of running back upstairs to rejoin a different Club activity, Kesean asked Mr. Jack to pick out a book for him to read so that he could become one of the best readers in his class! Kesean wants to be great at everything he does, and the Club has enabled him to find academic success. The first 30 or 45 minutes of Kesean's Club time each day is now dedicated to improving his school work and reading skills; he recognizes that he is responsible for his grades and his learning, and he knows there is help available if he needs it.
THANKS TO DONORS LIKE YOU…
Kesean's enthusiasm to learn and excitement to achieve academic growth is SNOWBALLING at the Boys & Girls Club!
DAY 3 (December 22) | JASON
Jason is an 8-year-old who has been a member of the Ellettsville Club since he was first eligible two years ago. When Jason first started, he was very shy and did not make friends easily; he would often struggle when things didn't go as planned, and he was very reserved in trusting the staff. Jason was perfectly content simply being left alone – or so it seemed.
As time passed, staff discovered that Jason had a passion for engineering; Jason loves experimenting with Legos, Playdoh, and anything else that he can use to create something. Ms. Maggie noticed his interests and connected him to specialized programs where Jason's imagination could literally come to life. Slowly, he started to connect with other members and the staff through STEM programming! Because of the care and attention of Club staff, programming for Jason has been tailored to ensure he is being exposed to some sort of STEM program each day – like Lego League and Makerspace!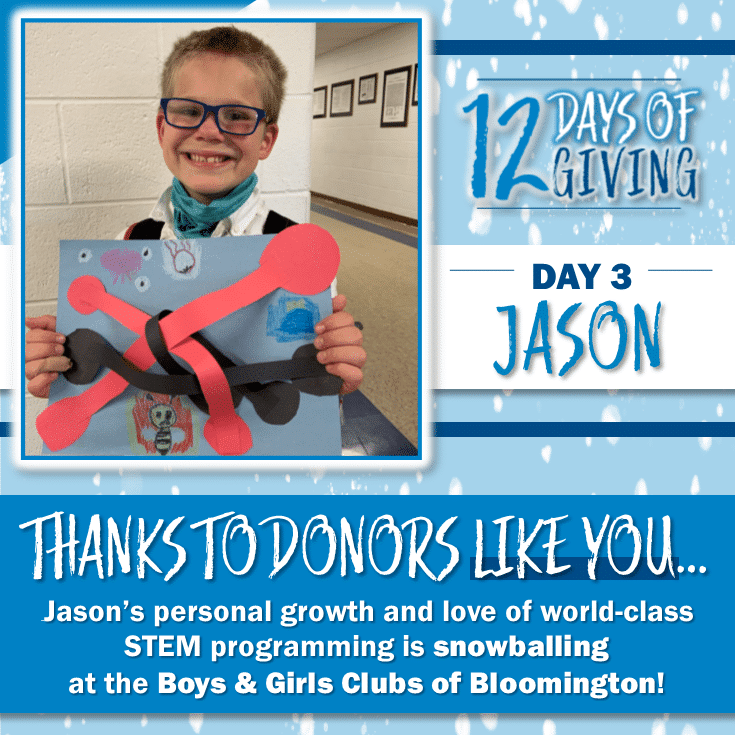 The once shy boy who would not speak to anyone will now – willingly – initiate conversation with anyone who is near him. In fact, Jason does not hesitate to lead STEM-related activities with other Club members! Not only has Jason's behavior improved, but he has made genuine connections with staff and friendships with other Club members.
One day, Ms. Maggie was sitting near Jason and asked him, "What do you want to be when you grow up?" Without hesitation, he smiled and said, "I want to work at the Boys & Girls Club in the STEM program so I can help kids like you have helped me!" After months of trying to find ways to connect with Jason and help him find his place at the Club, this heartfelt response brought genuine tears to
Ms. Maggie's eyes.
THANKS TO DONORS LIKE YOU…
Jason's personal growth is SNOWBALLING at the Boys & Girls Club with access to world-class STEM programming!
DAY 2 (December 21) | TANAE
This past year has been far from easy on anyone – and unfortunately, kids were not exempt from the affects of life-altering changes due to COVID.
6-year-old Tanae is a member of the Ferguson Crestmont Club. When the youth pod concept was first introduced at the Club earlier this year, Tanae – who is traditionally very quiet with an easily triggered, negative personality – did not like the changes and was clearly struggling. At first, her assigned youth pod was also attended by her best friend and her older sister. While this grouping initially helped Tanae overcome her fears, she still was unable to successfully manage her emotional outbursts.
When the youth pod model grew to safely accept more Club members, Tanae's best friend and sister were both removed from the pod because of their older age.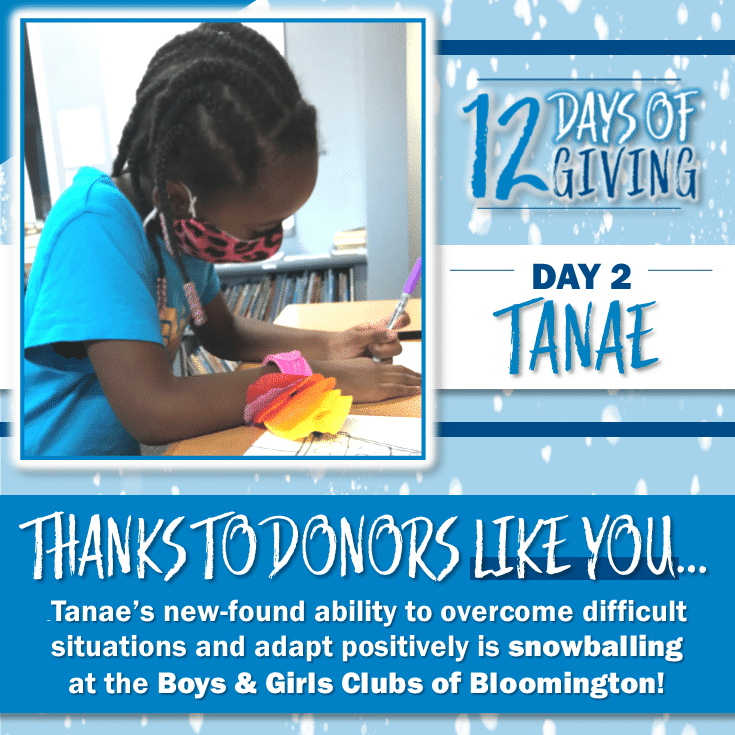 Staff were concerned that this dramatic change would trigger Tanae to pursue a downward spiral of behavioral issues. Expectantly, she was deeply upset with this change at first, but Club staff redirected Tanae to an activity where she could express herself in a much more efficient and productive manner. Staff encouraged Tanae to write down how she was feeling and why she was feeling that way.
Tanae was open to the activity and even put her own twist on it! She decided that instead of journaling, she was going to write her best friend (who was in a different pod) a letter when she was feeling sad. This was a perfect example of Tanae learning to cope with her emotions while turning a negative situation into a fun activity that she looked forward to engaging in each day at the Club. She especially loved making her own custom-made envelopes and also enjoyed drawing fun pictures for her best friend to enjoy. Her best friend soon started responding to Tanae with letters of her own and they became in-Club pen pals! They were both so excited to give and receive letters each day.
It was an important lesson for Tanae to learn how to adapt to situations outside of our control. This is a lesson we have all been re-learning during 2020! Tanae is excelling at the Club now all because she has learned how to turn a "bad day" into a fun opportunity!
THANKS TO DONORS LIKE YOU…
Tanae's new-found ability to overcome difficult situations and positively adapt is SNOWBALLING at the Boys & Girls Club!
DAY 1 (December 20) | JOSHUA
"Ms. Emily, I am MAD!"
This is how 9-year-old Joshua would begin most of his days at the Ellettsville Club with furrowed eyebrows, anger fuming out of his ears, and gripped fists.
"Well Joshua, what is wrong and how can I help?" Ms. Emily would reply in an effort to make him relax and feel more at ease. Nine out of ten times, a usual response from Joshua would be: "I am just angry, everything is wrong, and no one lets me do anything!" It is not that Joshua is a misbehaved child at the Child – he simply struggles communicating and recognizing when he needs to break-away from an activity to calm down before his emotions run over.
The Membership Room at the Ellettsville Club is a safe space for all members to utilize, and any member, like Joshua, can stop by at any time to take breaks, de-escalate, or talk things out with a staff member one-on-one at their leisure.
When Joshua would visit the Membership Room, there was never a time when he and Ms. Emily were not throwing a foam football back and forth while simply talking to each other in a relaxed environment. "Ms. Emily, did you know I have been playing football for three years now!" With excitement, Ms. Emily would engage Joshua further by asking, "Well what else don't I know about you?!"
Joshua would continue sharing with Ms. Emily several things about himself that makes him feel good. He even explained how much he loves helping others. "Ms. Emily, sometimes I get to be Ms. Babette's special helper during 3rd Grade's Power Hour! I get to pass out materials and everything!" Those furrowed eyebrows eventually softened as Joshua's wonderful smile started shining as he was explaining something that was very important to him – helping others.
Over time, Joshua did become less angry each day because he started developing the skills of expressing himself through words. He felt safe enough to share what was truly bothering him and learned how to turn his frustration into an opportunity to help others. These were simple, but important lessons he learned while conversing with Ms. Emily in the Membership Room.
But nothing showed the growth in Joshua's communication more than when he walked into the Membership Room where Ms. Emily was, grabbed their foam football, and asked her with his smile shining brightly, "Ms. Emily, how are YOU doing today?"
THANKS TO DONORS LIKE YOU…
Joshua's ability to communicate, grow, and help others is SNOWBALLING at the Boys & Girls Club!