Please note that not all photos are of the children featured in our stories to protect the privacy of our kids and families.
DAY 1 (December 20) | Tatiana
We start with one of our youngest Club members, Tatiana. She has been a member since the very first day she was eligible, her 6th birthday. She couldn't wait to join the Club. Tatiana is the youngest of 5 siblings. All her older siblings, many of her cousins, and lots of neighborhood friends all come to the Club. To Tatiana, there is no place cooler. Tatiana knows the Club is a fun place. A place to make friends. A place to try new things. A place to have caring adult mentors. And a place where she will be safe and belong. She doesn't know it is a place where she will get fed every day, learn to improve in school, and be introduced to many future career options – but it is all those things, too! Tatiana was SO excited to join the Club this year, and we were SO excited to welcome her to the Club family. We think it's the coolest place there is, too, Tatiana. Thanks to donors like you, Monroe County kids like Tatiana have access to the Club and all it offers. Thank you for giving!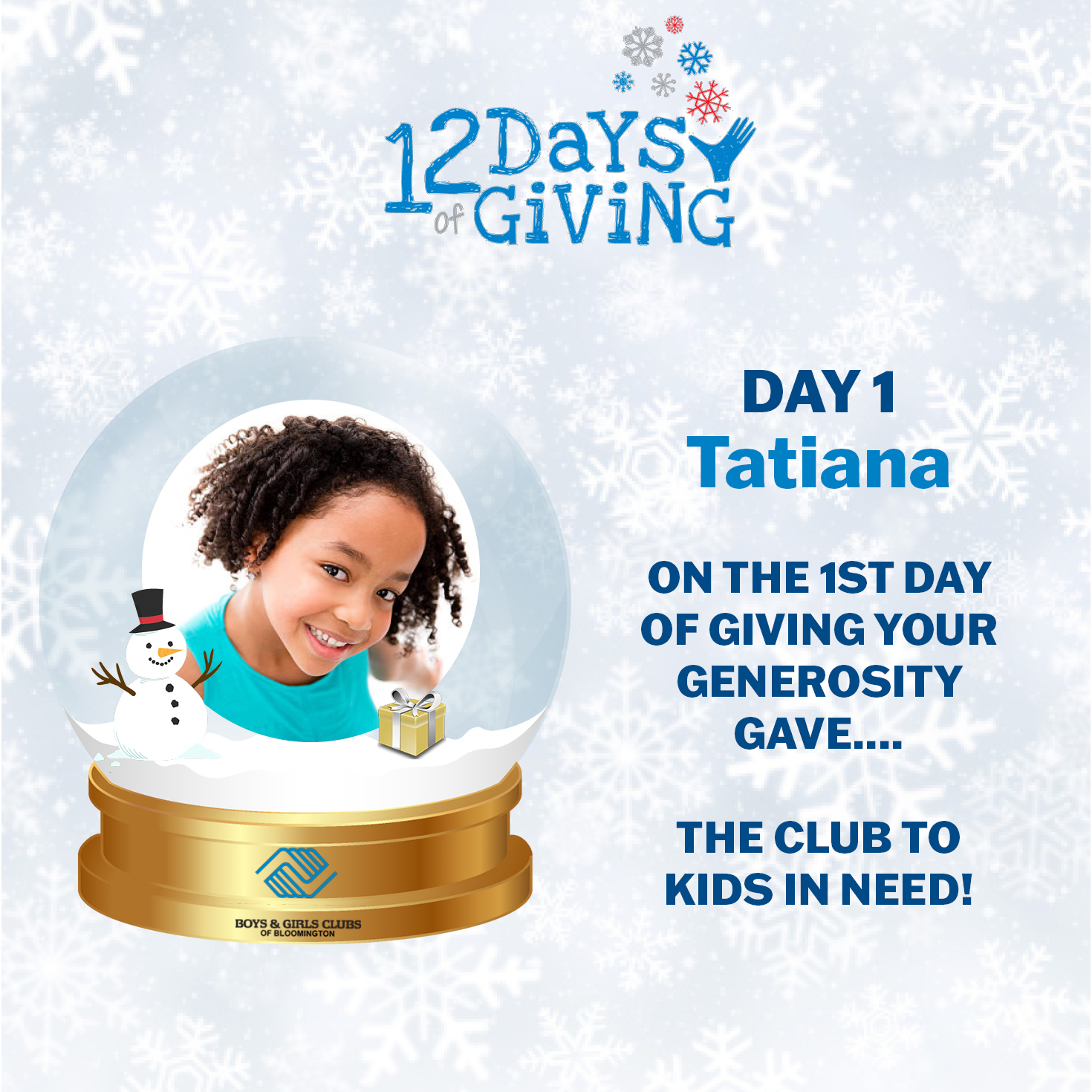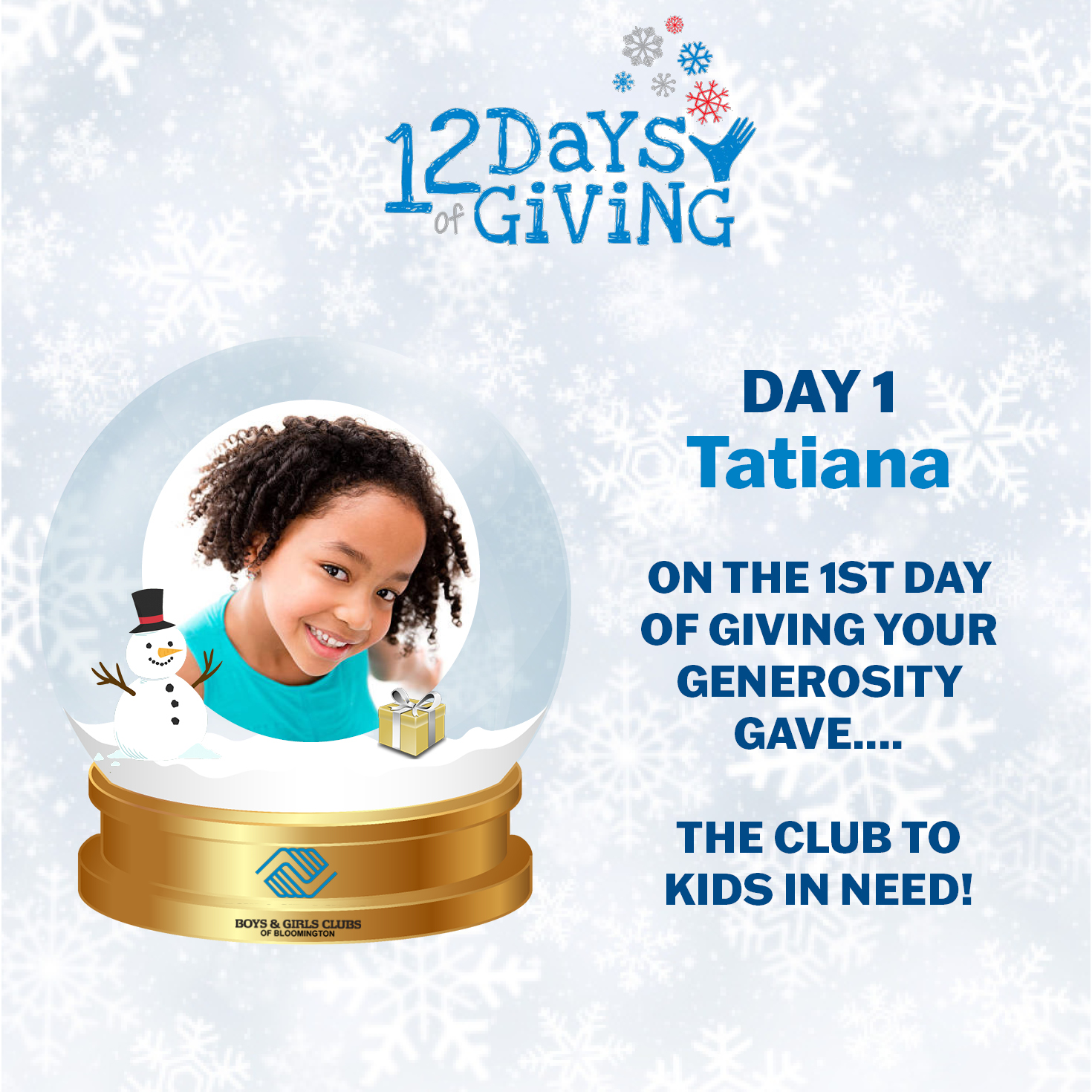 DAY 2 (December 21) | MARA
We continue with a 7 year old member. Mara is a member at the Club who always participated in everything new and different. She is bold, daring and willing to try new things. But the one bold thing she never did, was smile. You see Mara has dimples and freckles and is missing some of her front teeth and always felt so self-conscious when smiling. Miss Brooke noticed this and so she would go out of her way to tell Mara how pretty she looked. She would compliment her freckles, her hair, her eyes and other things that she knew Mara didn't like about herself. Slowly, other staff started chiming in too. And before long, kids were also giving Mara lots of compliments. One of the things the Club does to counter bullying is to practices saying kind things about one another. Finding each others differences and complimenting them. Finding each others strengths and celebrating them. When you see the good in people and learn to understand and appreciate the things we have that are different, it is an anecdote to bullying.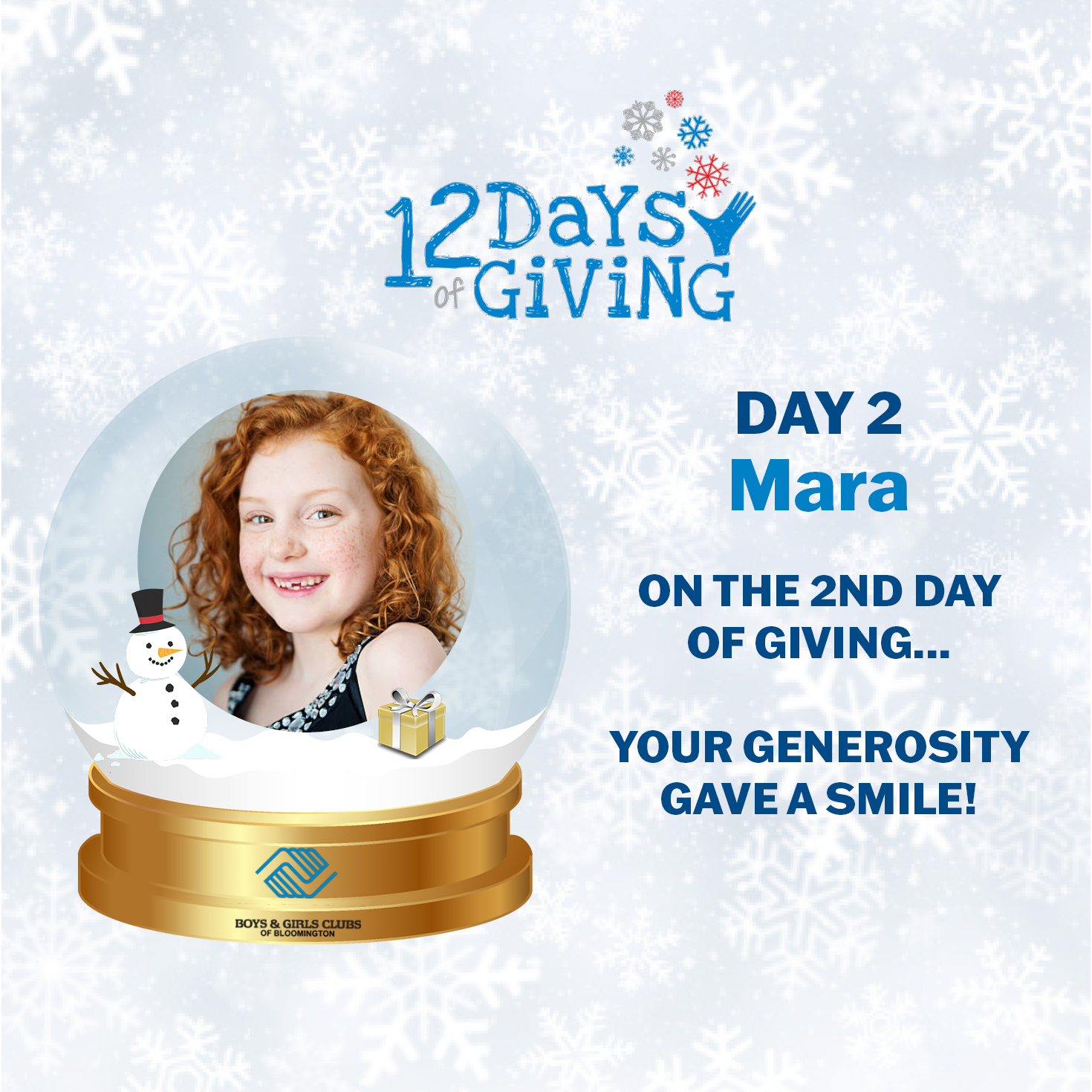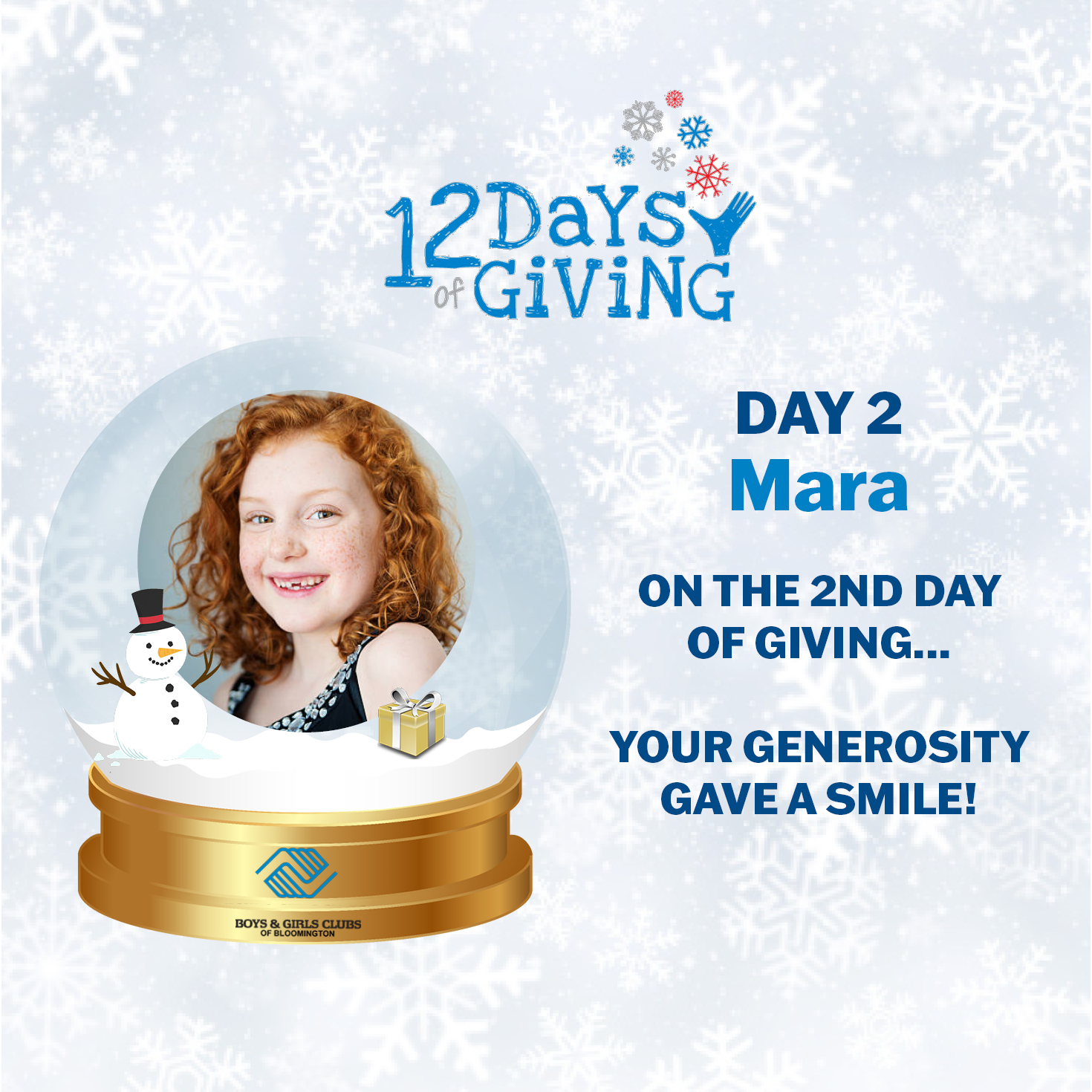 One day, the kids even made kindness buckets and spent all day "filling each other's buckets" with kind words. Soon, Mara was giggling and blushing when people would compliment her. Now, you'd never know she ever felt self-conscious. She smiles all the time! And she goes out of her way now to spread compliments and kindness to others so her smile becomes infectious to others, too. Thanks to donors like you, Monroe County kids like Mara receive the kind words of affirmation and and confidence building compliments they need to build self-esteem and learn to love and appreciate themselves and others. Thank you for giving!
DAY 3 (December 22) | NOAH
The member holding the gargantuan amount of garlic bulbs in the picture is named Noah. Noah had never been to a farm before. He didn't want to go help at Martin Hollow Farms this particular Friday because he thought it was too hot and he didn't think it sounded very fun. Maybe he was a little nervous about doing something he'd never done before. But the rest of the group was going and he didn't want to stay behind with the younger kids, so he went.
When he got there, his whole face lit up. "Wow!" he exclaimed, "This place is huge." He jumped off the Club bus, more excited now than nervous. The job today was to pull garlic. The staff and owners of Martin Hollow Farms, Bobbi and Jono, made this farm chore into a competitive game to see who could pull the most garlic.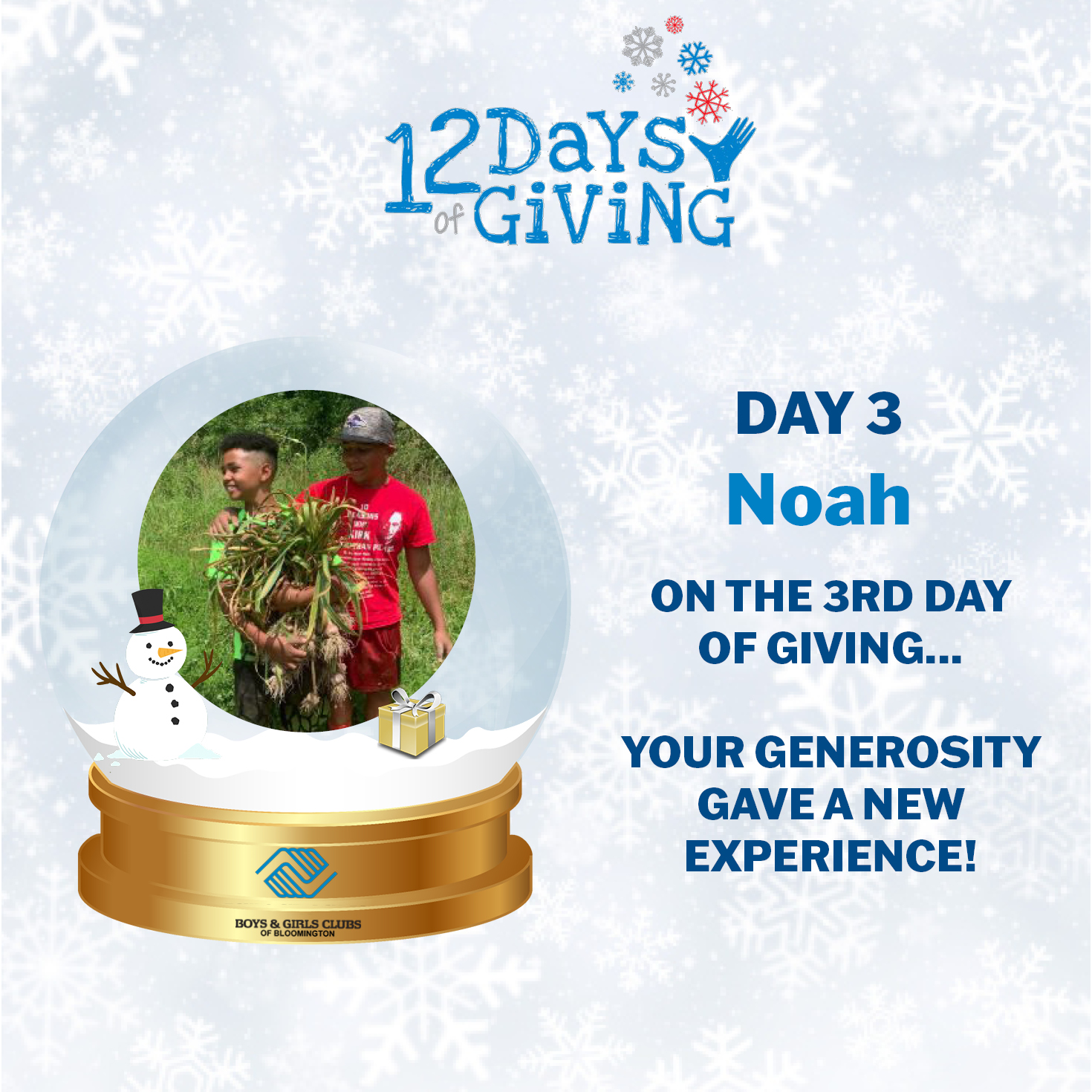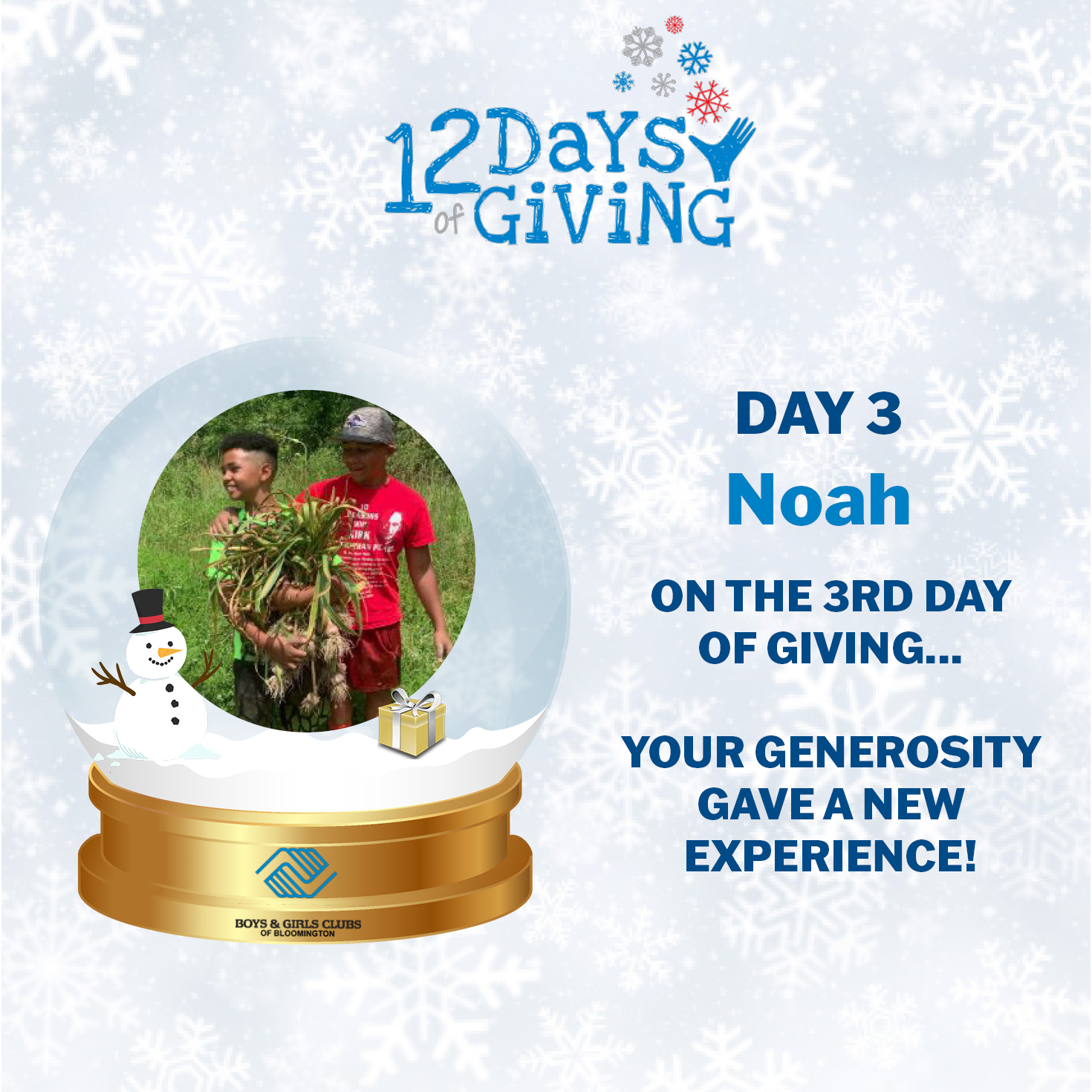 Noah is very competitive so he was sure he could win. He paid close attention as the farm owners taught them what to do. He wanted to get it right so he could win. As he learned what to do, he was so engaged and curious, asking a number of questions about how the farm works. Noah not only ended up having a much greater time than expected, but he and the others were able to provide a BIG boost of help for Bobbi and Jono, the owners of Martin Hollow Farms, by pulling a whole crop of garlic in about an hour! Noah was very proud to have helped Bobbi and Jono. This field trip taught Noah that new things can be fun and worth trying. It also gave him a chance to help others.
DAY 4 (December 23) | MORIAH
The Ferguson Crestmont Club started recruiting again for the Member Council this school year. Members who are 9 and older may turn in applications and sit on the council as officers. Pictured here is Moriah signing up for the Member Council call-out meeting to learn about how to serve her Club. She has always had a lot of ideas. But being a kid, she doesn't usually feel heard. At the Club, she has a chance not only to share her ideas, but to lead her peers. She jumped at the opportunity. Member Council had been Moriah's favorite part of the Club this year. Not only has she learned valuable leadership skills, but now, she feels HEARD.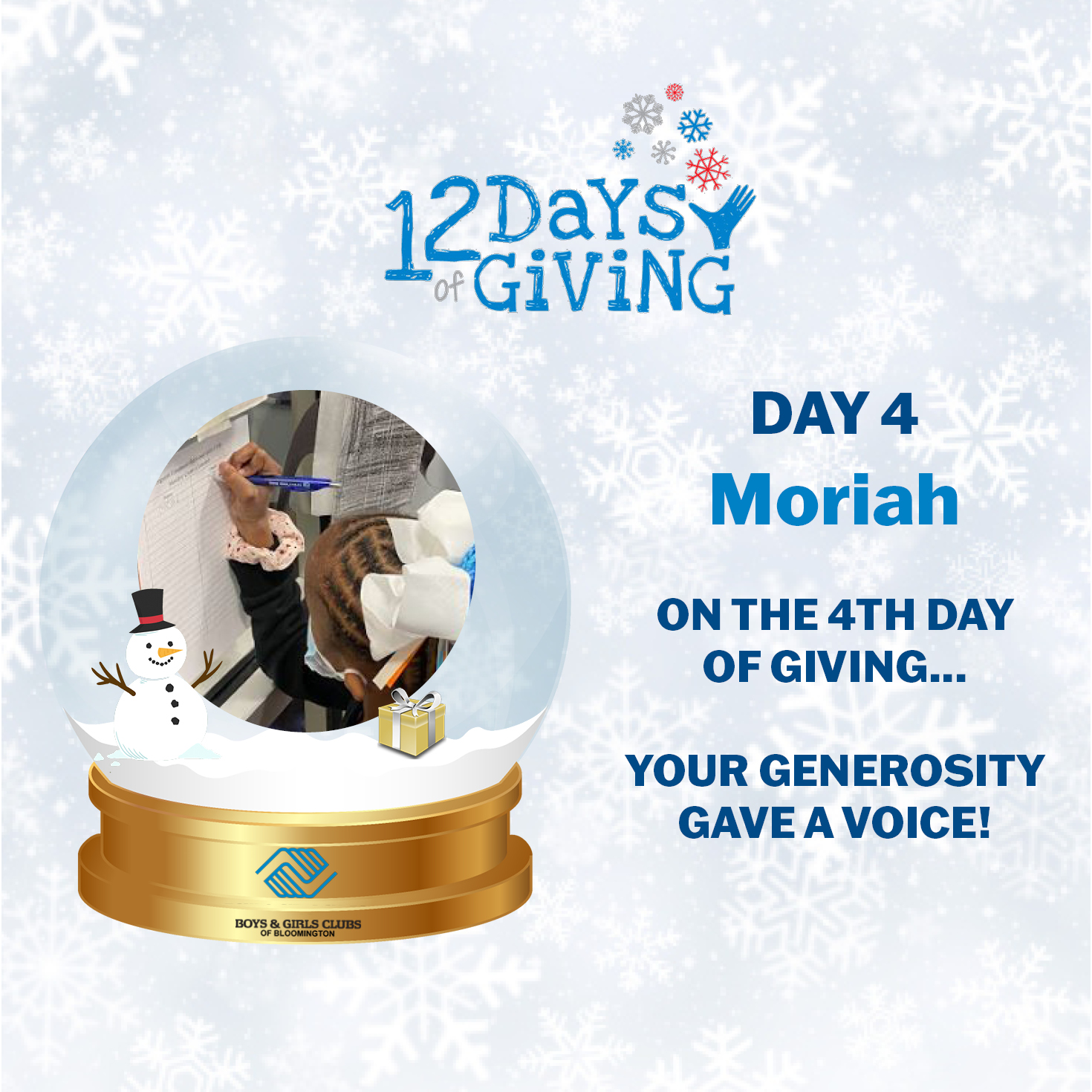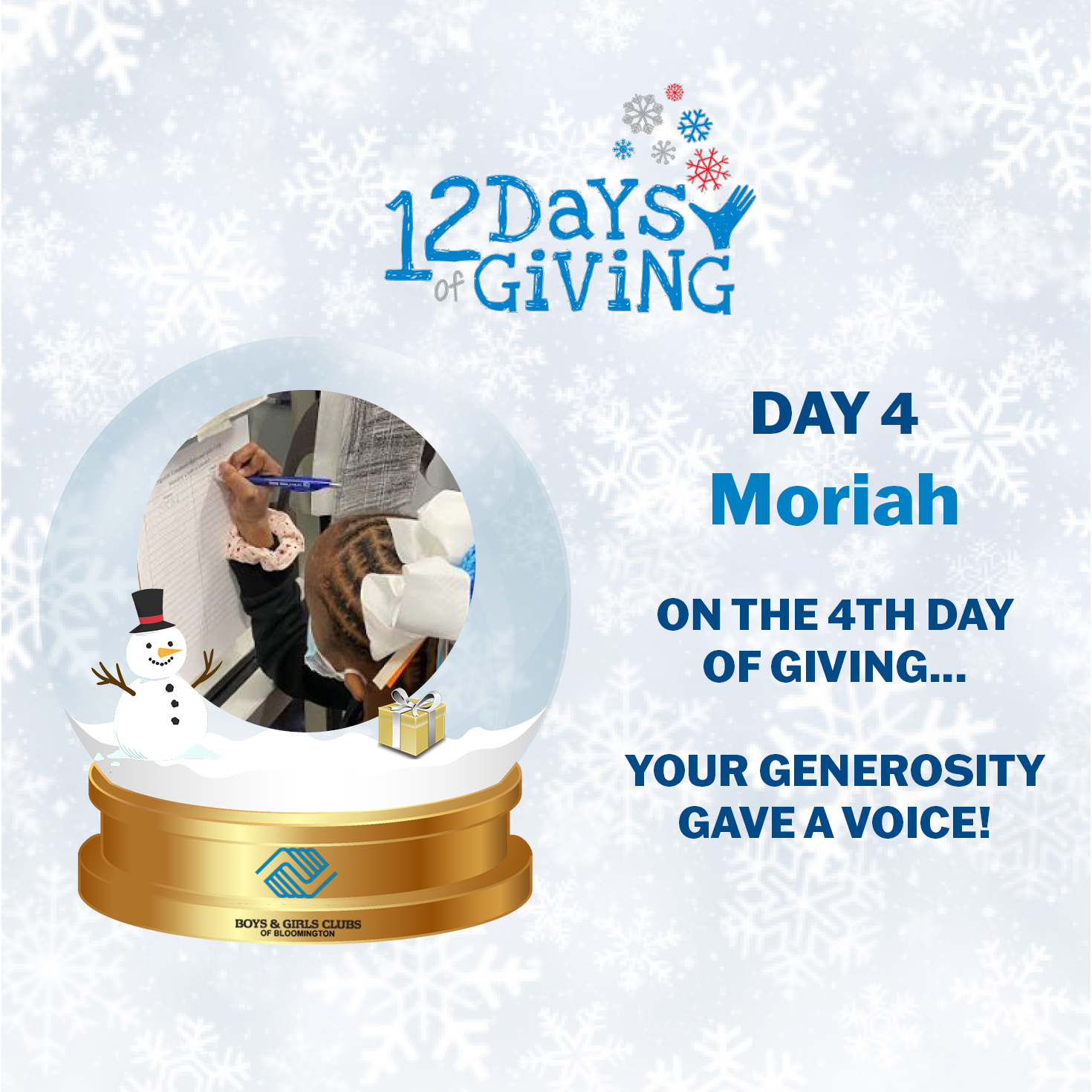 DAY 5 (December 24) | KAITLYN
Kaitlyn had struggled academically, the last few years especially. Her grandmother is her guardian and expressed concern to some staff about her grades and performance in the classroom. Kaitlyn has trouble focusing in school and doing her homework.
Kaitlyn works on her math problems in the homework center. She is able to play some catchy music mixes that she made herself as she completes the problems. Kaitlyn now makes very few errors on her homework because staff in the homework center are right there to help when she has questions. Having staff right next to her throughout the time she works on her assignments helps her stayed focused, too. With a little one-on-one attention from staff and freedom to listen to her own music while she works, she can get her work done quickly and correctly.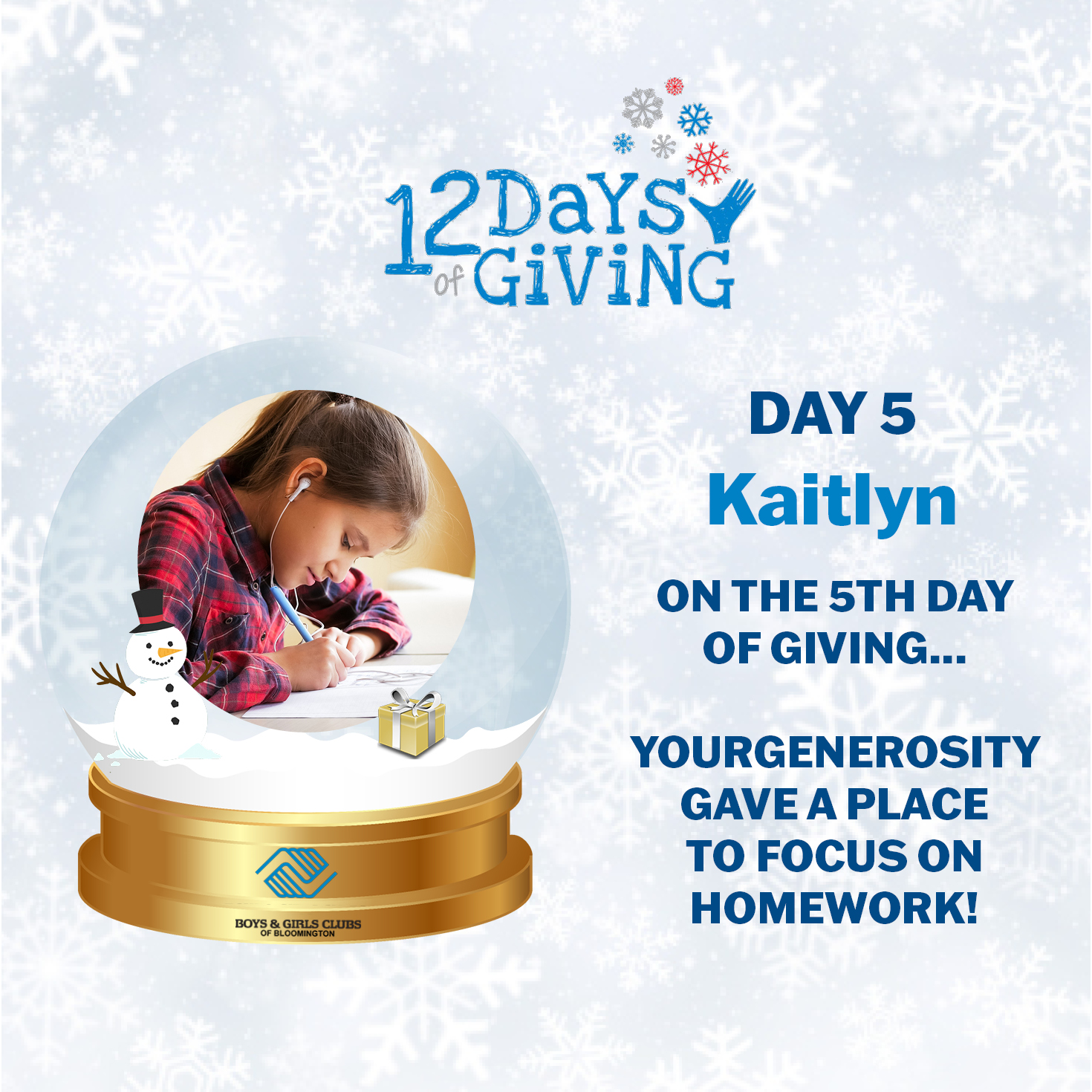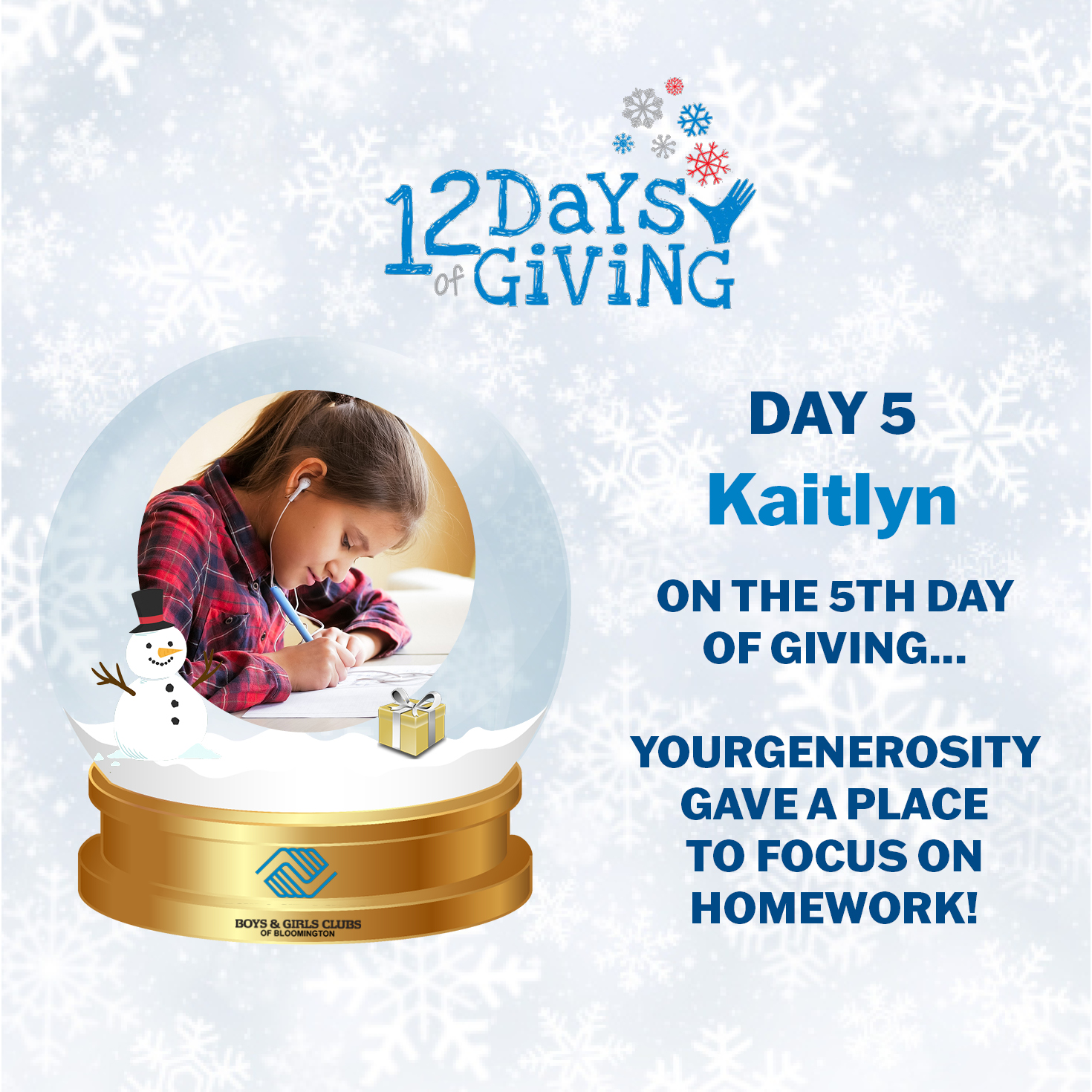 Kaitlyn made a comment one day as her grades were continuing to improve that a lot of adults in her life do not let her play music as she completes her assignments. Club staff told her that since she stays on track and accurately completes her homework, the music was an easy accommodation to make for her so that she feels like she has a place to focus and learn the way that is best for her.
DAY 6 (December 25) | KYLIE
Kylie is a 10-year-old member at the Ellettsville Club. Kylie comes from a single-parent home and her mother needed some extra time to work in the evenings. Her mother enrolled Kylie at the Club this year. When she first started attending the Club, she was immensely shy, would often keep her head down and would say very little to those around her. No matter the program, Kylie had a difficult time finding her comfort zone. One of the staff noticed she was having a hard time adjusting and worked with Kylie to find her place. Through that process, Kylie found a safe place to open up by taking part in the Science Club. Kylie gets to engage with science at an early age through fun, and often messy, experiments like making slime or rock candy, and exploding volcanoes or doing an egg drop. Science Club introduces kids to scientific methods, helps them to develop a love of science, and gives them the confidence to continue studying science further.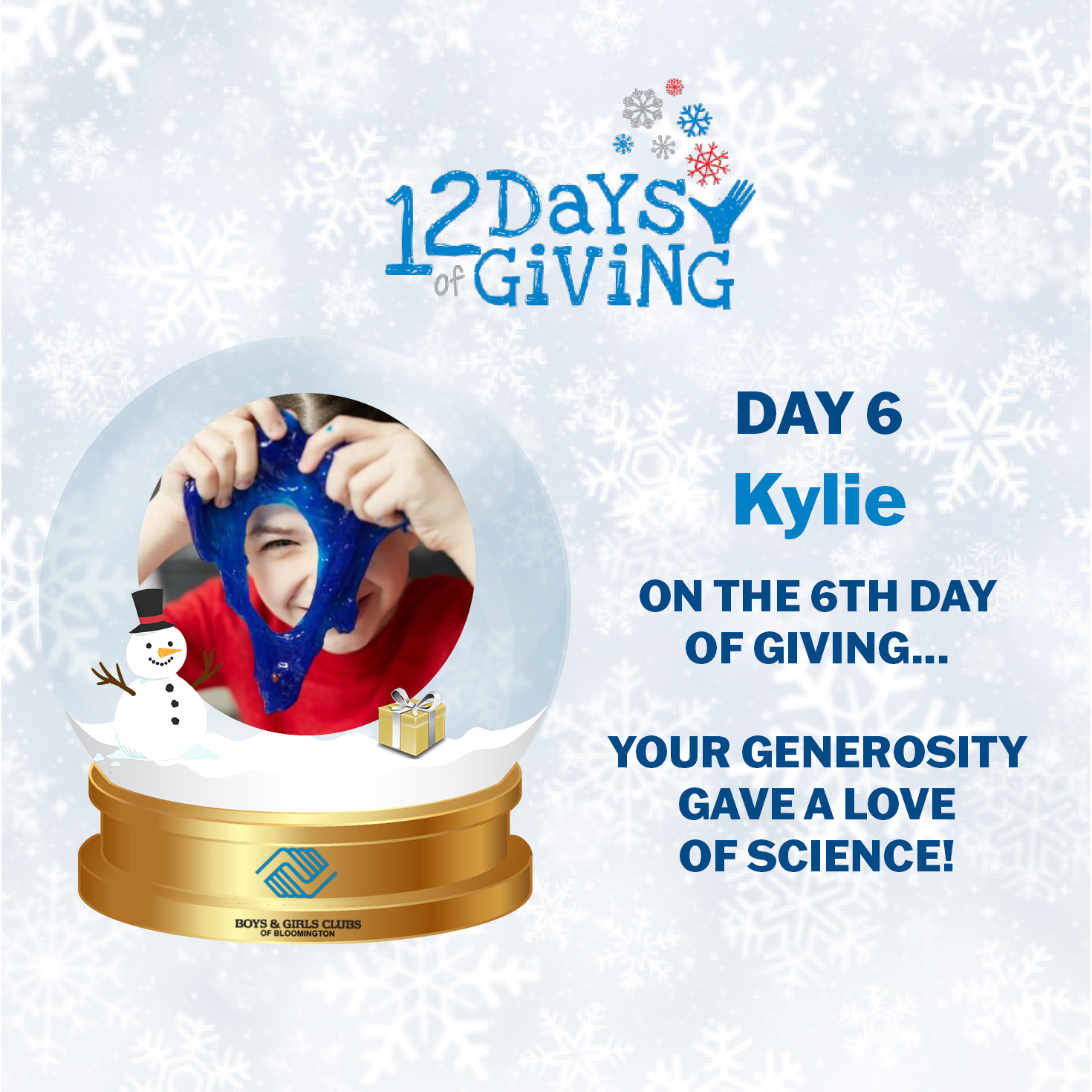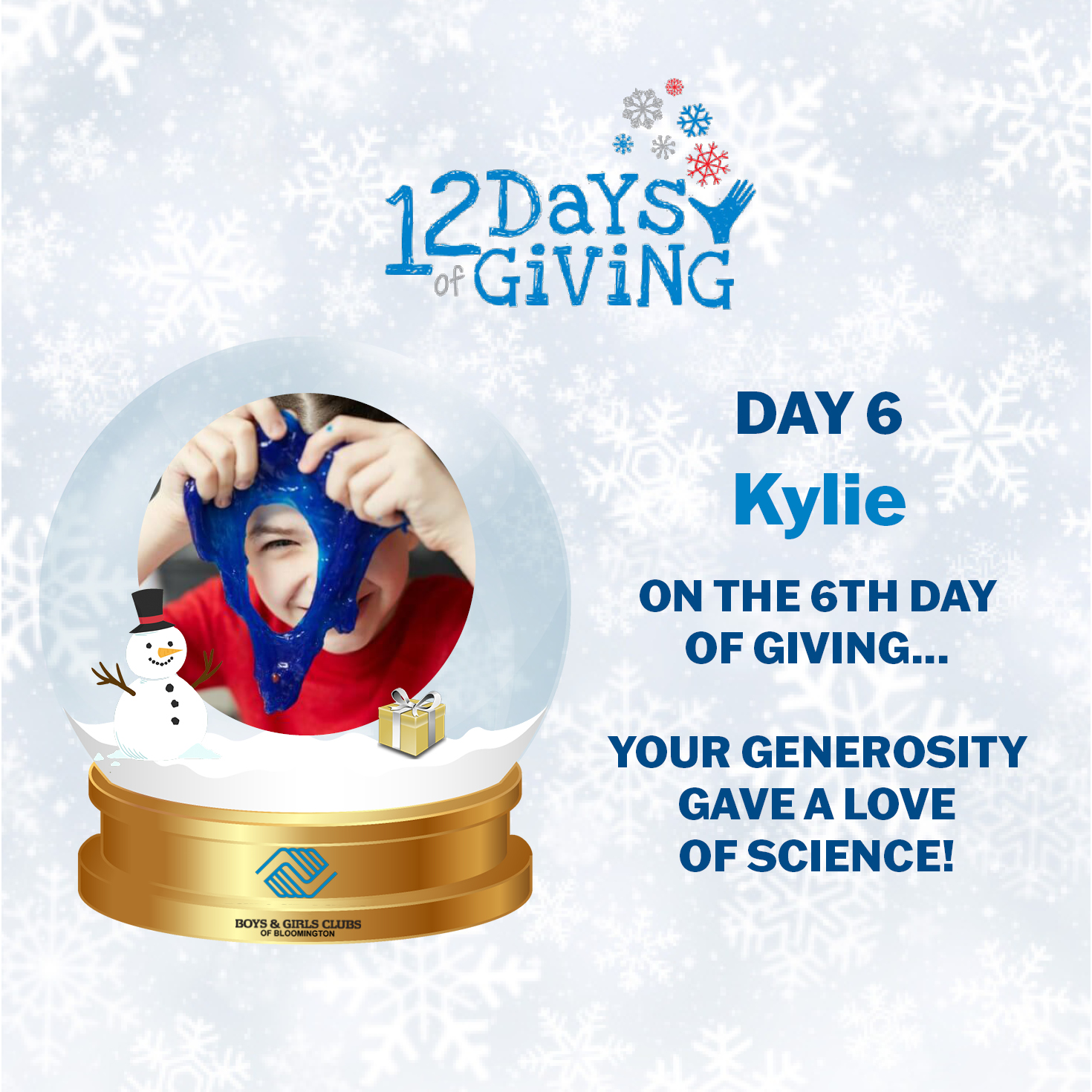 As Kylie participates in the Science Club, she continues to blossom. Club Staff have noticed a positive change in her and she is now excited to be at the Club each day. Kylie has learned that science is all around her and a part of her everyday life! But more importantly, she has found her place, and an aptitude and interest in science, at the Club.
DAY 7 (December 26) | JADE
Jade is a spunky 3rd grade member at the Ferguson Crestmont Club. Jade struggles being patient and gets frustrated when she communicates with her peers and they do not understand her right away. At the Club, staff have been working with Jade to teach her patience and how to work with her peers in a positive way.
One day, that hard work with Jade paid off. It was pouring outside, so members participated in a game of Cross the Lava – a situational game that calls for players to work together and cross a pretend river of lava. The keys to the game are that members must stay connected and they must move across a river of lava by stepping on carpet squares to get from one end of the room to the other. If one member breaks the connection or accidentally steps off a carpet piece, they have to start over. It is a difficult game that requires communication and patience – traits that Jade can struggle with.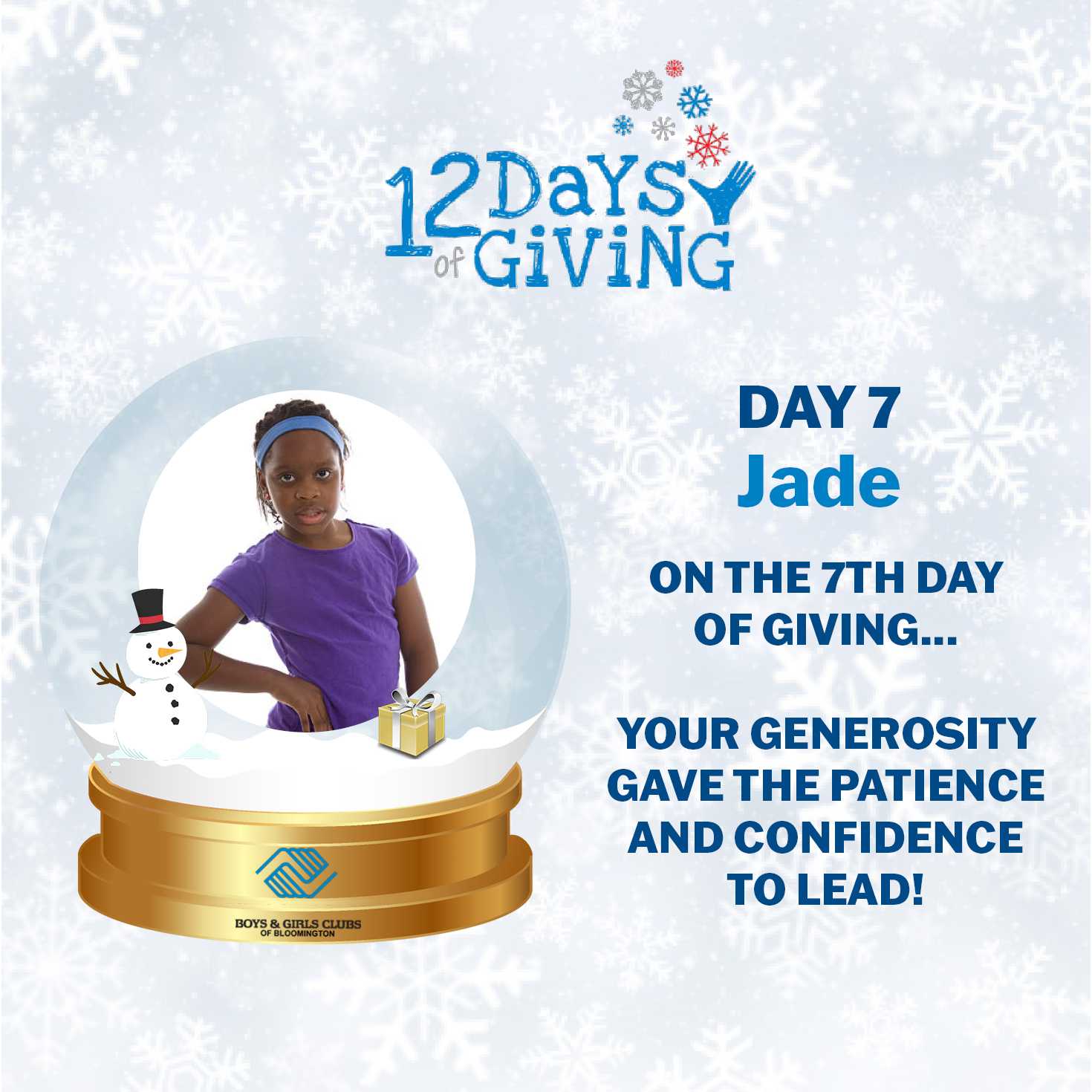 The group had tried two or three times, but ultimately failed in their efforts to cross the lava. As Jade had been practicing at the Club, she showed patience & encouragement that eventually rallied the group together. She helped present a new plan and patiently led the group to successfully achieving the goal. Jade stayed patient as she clearly took charge of a game! She saw that teamwork and patience goes a long way which led her team to victory! Because of the Club, Jade now sees herself as a leader.
DAY 8 (December 27) | BRIAN
Brian is an 11-year-old member at the Boys & Girls Club. He is full of positive energy! He is always helping others, always willing to engage with programming, and always just a happy kid. However, Brian was hesitant to participate in the National Fitness Competition. He does not always have confidence in himself as he feels as though others are watching him and making judgements. National Fitness Competition allows members to compete in seven individual events, which are formatted similar to a track meet. Members set goals for themselves and then have the opportunity to reflect on their outcomes. Club staff encouraged members, especially Brian to participate and helped him work through his fears until he felt more comfortable. Brian still showed some hesitation, but he felt confident enough to choose to participate. He had his usual positive attitude during the event and even though he was still a little intimidated and afraid, he completed all events to the best of his ability. He even did better in some of the challenges than he was expecting which made him so excited!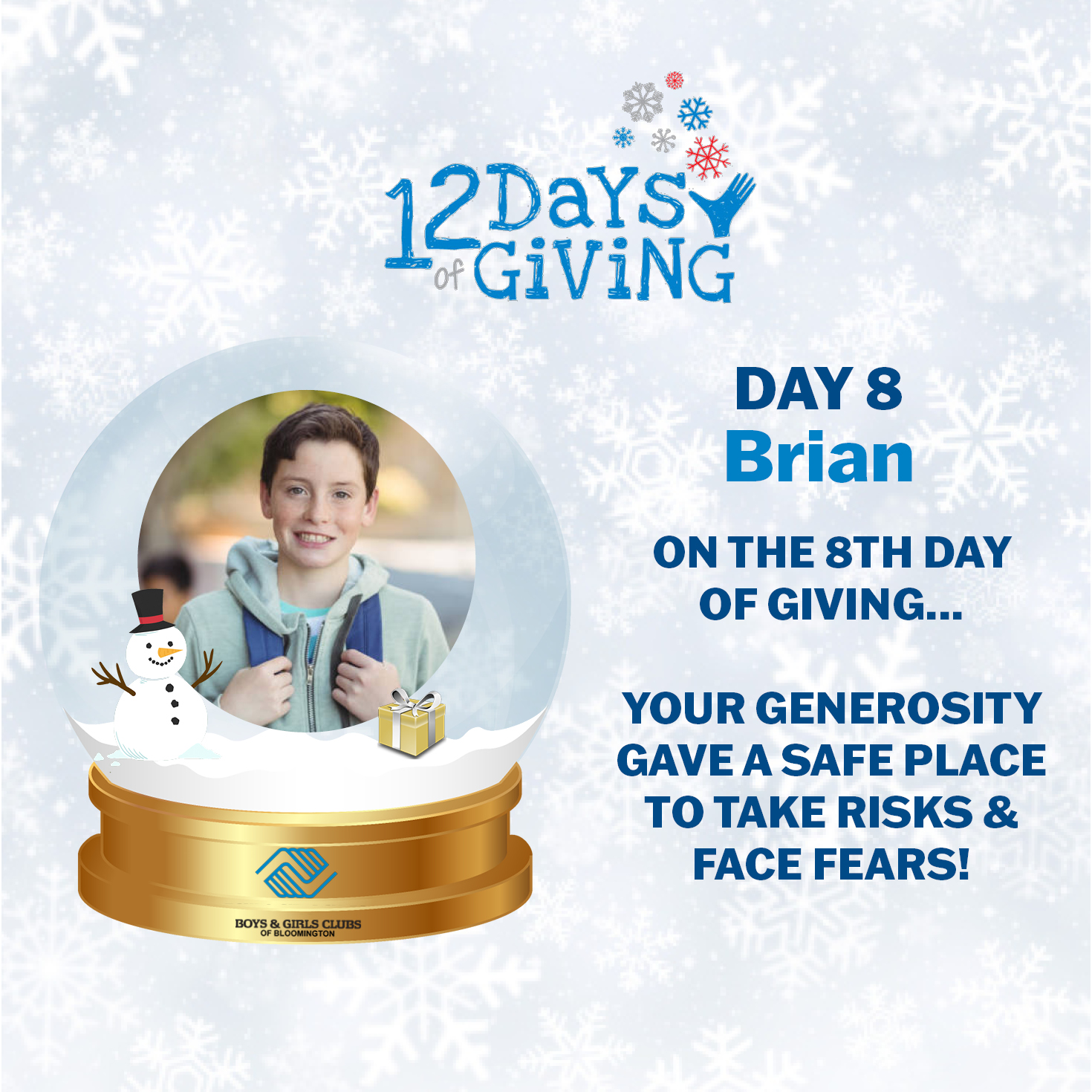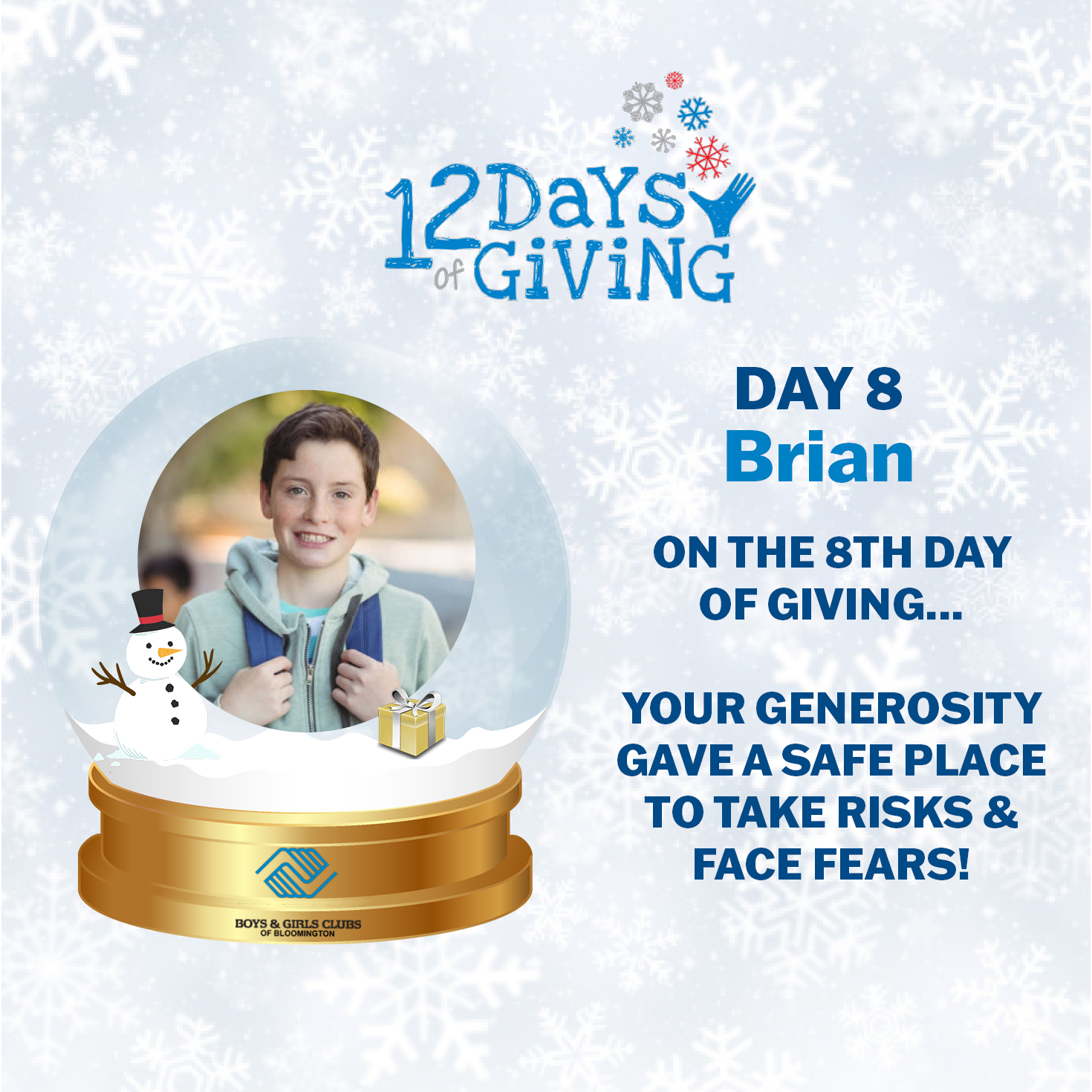 By the end of the day Brian felt proud. He had pushed himself farther than he thought he could and faced his fears to step out of his comfort zone. He succeeded – and he even had fun, too! He has now set goals for himself to work on throughout the year for each event so that next year, his results will be even better!
DAY 9 (December 28) | BENICIO & HARRISON
Benicio and Harrison (or Beni and Harry, as they like to be called) are the best of friends. Now they are. But that bond didn't develop immediately. Beni just moved to Bloomington from Puerto Rico this year and doesn't speak English very well yet and Harry had never met anyone who spoke Spanish. They didn't really have much to say to one another. That is, until Art Club. Beni LOVES art, and so does Harry. They sat by each other every day because they liked to share the nice paints. They looked at each other's work and appreciated the talent the other had. Slowly, they started connecting through their art. Sometimes they would paint on each other canvases. Other times they would both try to paint the same thing. Harry is even helping Beni work on his English.
Neither knows exactly what they want to be when they grow up, but they both are showing more of an interest in creative activities. The Art Club introduced them to their love of art.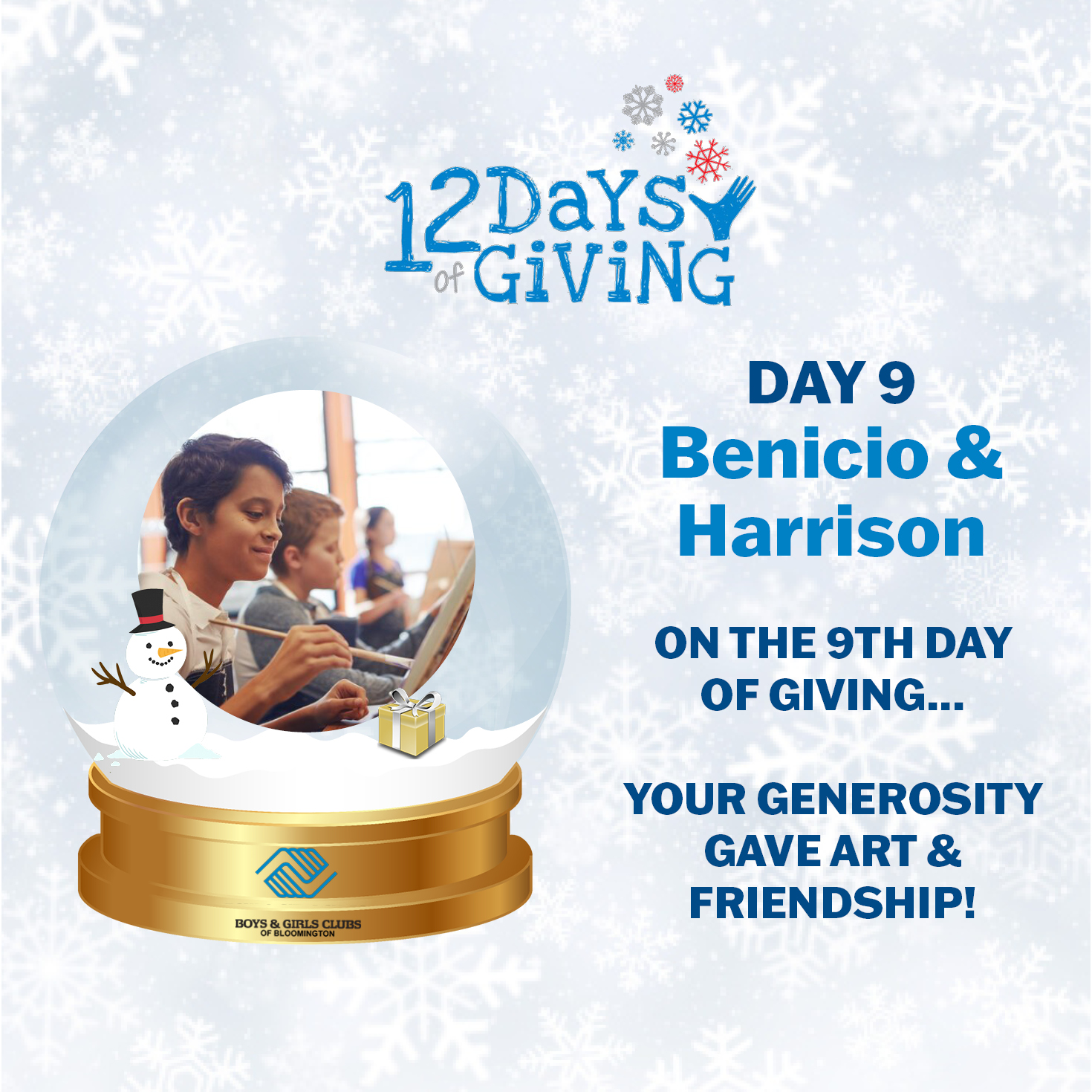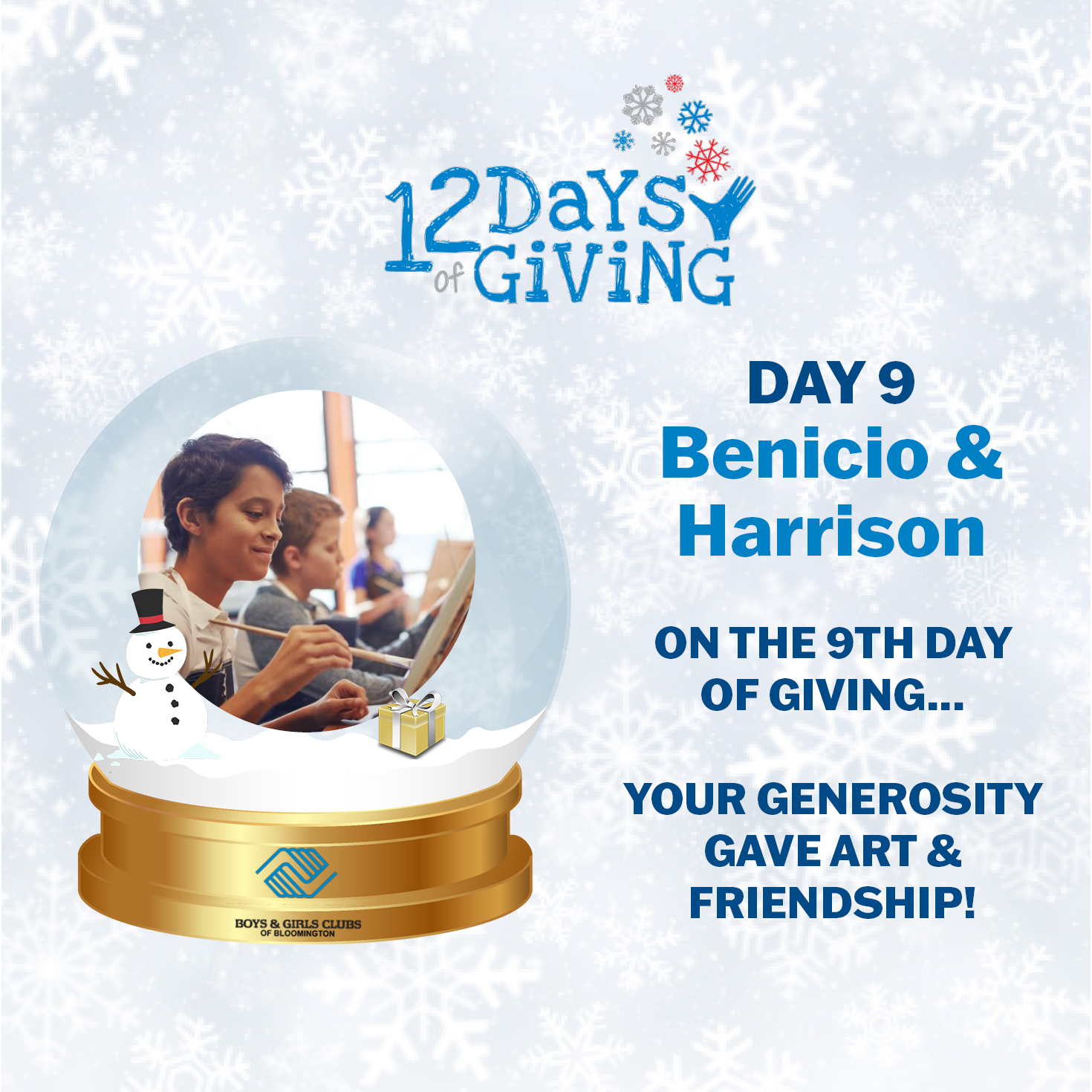 As they grow at the Club they will learn about the many different careers there are for people who are more creative and enjoy the arts. They learn about careers such as graphic design and architecture, as well as more traditional arts careers like writing and painting. One project taught them how to make slideshow presentations while incorporating the history of a specific painting – combining art, history, and technology skills. They did that project together about an artist from Puerto Rico, where Beni is from. At the Club Beni and Harry are learning that their creativity can be an asset in their future careers. They are also learning how to connect with others through art, even with those who are different from themselves.
DAY 10 (December 29) | EMPRESS
Empress is a Teen member at the Boys & Girls Club. She has been a part of the Club for a while, but is now one of the older members at the Club and is a Junior Leader. She often used to wish to just go straight home or hang-out with her friends after school as opposed to coming to the Club every day, but her family has relied on the Club's after-school service for years to give Empress a safe place to be. As time went on, Empress began to gain confidence in her role at the Club as a Junior Leader. She started looking forward to coming to the Club every day because she felt needed there. During the Holiday season this year, Empress loved showing off how creative she was with her Holidays outfits and Gingerbread house skills. She came up with the idea to have a Gingerbread house contest where a teen member would pair up with younger members on a team to make Gingerbread Houses. Her team won first place! She was so proud. 
Empress now really enjoys spending time at the Club, and comes every day! She feels a sense of purpose for being at the Club – not just for herself, but to help others. She takes great pride in helping other members use their creative skills and maintain a positive attitude. It is so special to see her renewed excitement for being a member at the Ferguson Crestmont Club and her growth as a Club leader.
DAY 11 (December 30) | GRACIE TURNER
Gracie Turner is a Club Alum and former Boys & Girls Clubs of Bloomington Youth of the Year. Gracie is a first generation college student attending her senior year now at Asbury University. She is a member of the Golf Team and is majoring in Film Production. Her dream is to be a producer or director and she is well on her way. Her dream started at the Club and your giving helped make it a reality!
WATCH THE VIDEO BELOW to see the dreams our kids have for their great futures. There is also a guest appearance at the end by Gracie!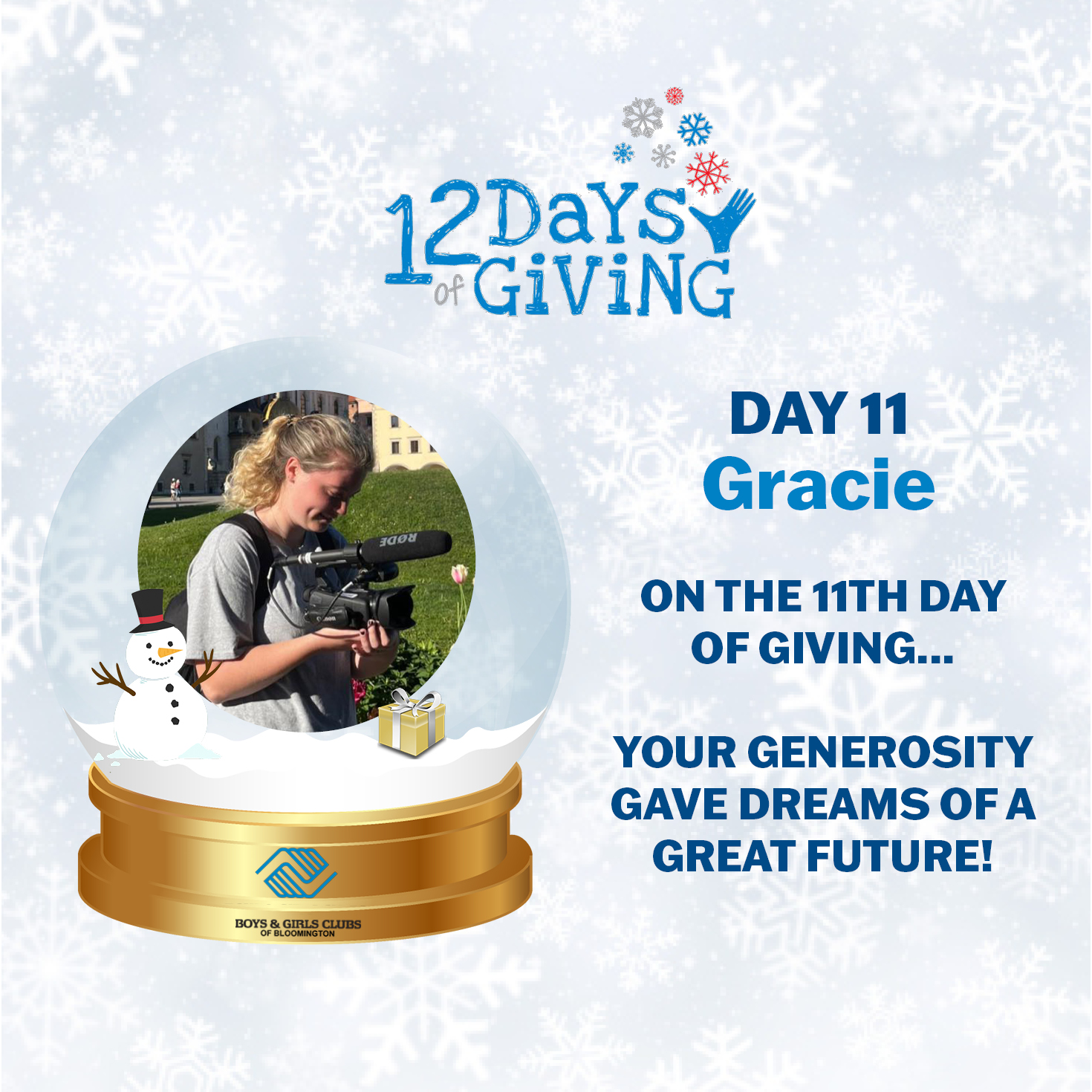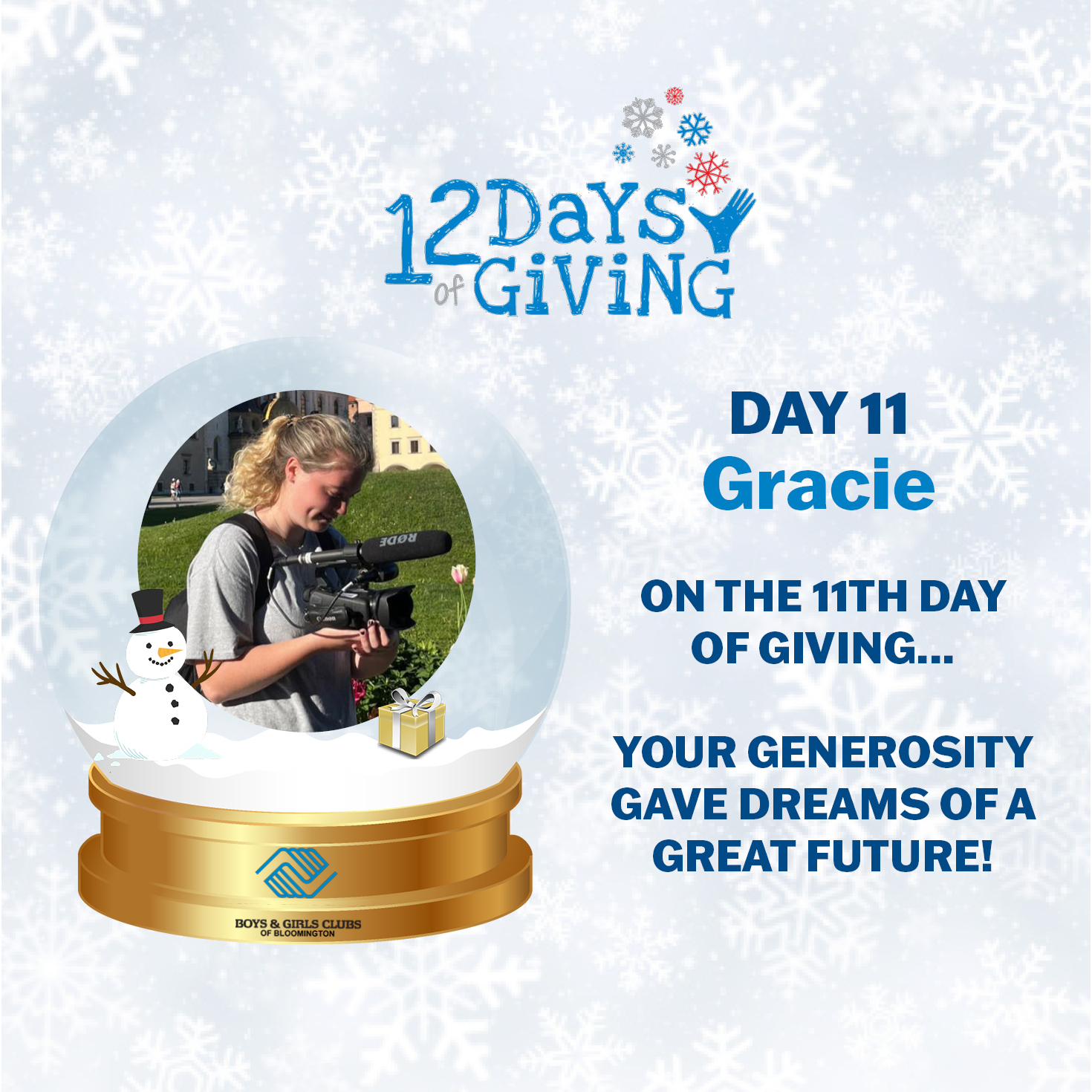 DAY 12 (December 31) | MADALYN McKENNEY
For the LAST Day of Giving for 2022 we thought we'd change it up and show you that the Club impacts the whole community and not just the kids who walk through our doors every day.
Meet Madalyn McKenney. She is the Owner of Mad 4 My Dog, a local Ellettsville business, and proud supporter of the Club. Madalyn first came to the Club when her children, Vaughn and Arlyn, needed a place to go after school 6 years ago. Vaughn, now 15, and Arlyn, now 13, participated at the Club for years which Madalyn says was a life saver as a newly single mom who was working to grow and expand her business. Madalyn doesn't do anything halfway, so when her kids joined the Club, Madalyn jumped in and joined, too. She was a volunteer with the Ellettsville Council for Youth and is now a Board Member at the Club and Chairs the Ellettsville Committee. Not only has the Club supported Madalyn and her children as Club members, the Club has been a way for Madalyn to give back to the community she grew up in and has always called home.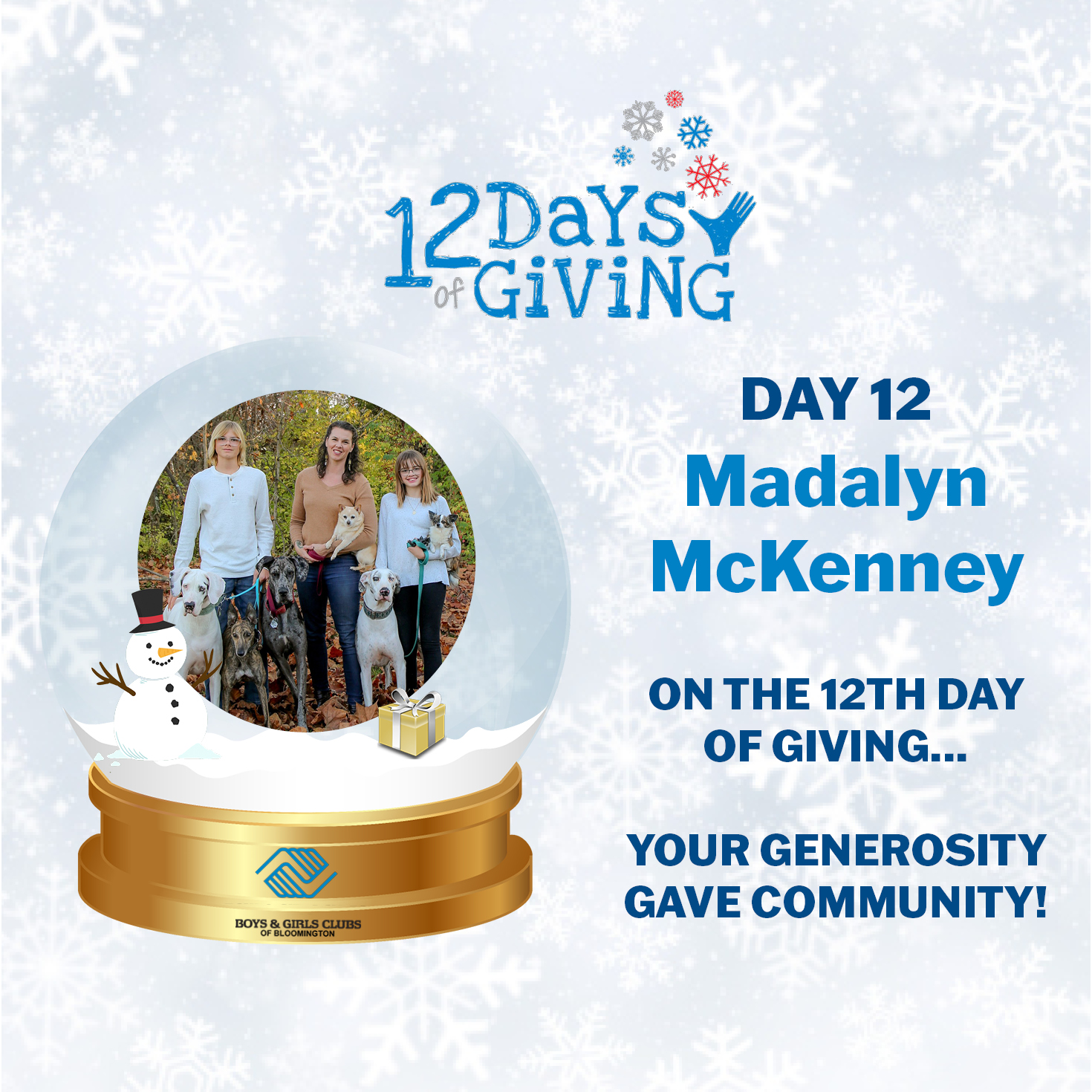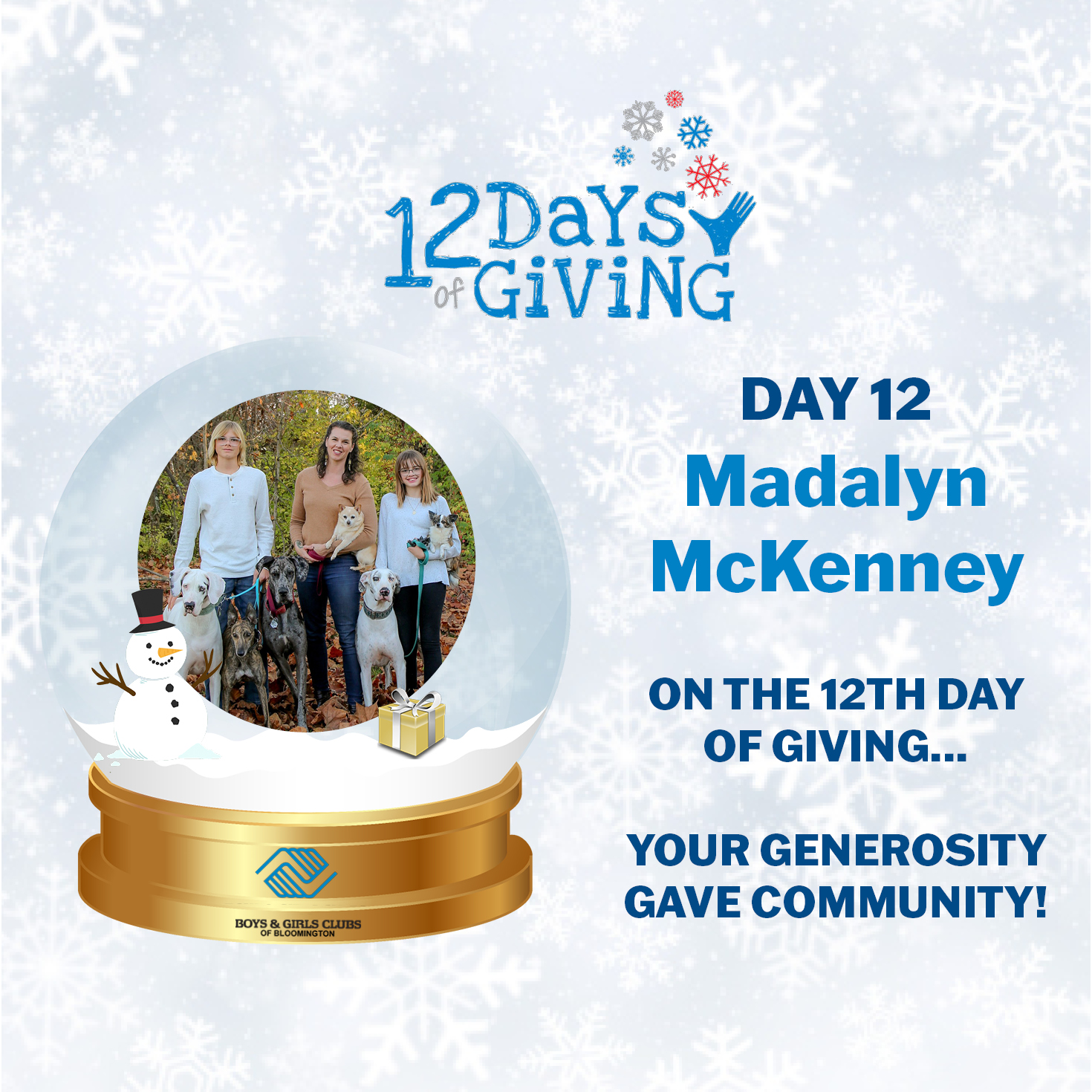 When you give, you not only support kids to reach their full potential, but you support their families to be able to participate fully in the community, work and contribute to society, and reach their full potential, too.
Did you know that every $1 given to the Club returns $9.60 back to the community in wages earned by parents and guardians who can maintain full-time employment or go back to school because the Club is there for their kids when school is out and in savings on childcare that can be spent elsewhere in our local economy?! That is a excellent investment! It is one you make every time you give to the Club, so THANK YOU!