Please note that not all photos are of the children featured in our stories.
Some of the photos used in the 12 Days of Giving series may reflect images from our pre-COVID world.
DAY 1 (December 20) |
Lethabo
Lethabo arrived to Bloomington after moving from another country with er mom. English is her second language and Mom's fourth. When Lethabo first started attending the Steve & Connie Ferguson Crestmont Club's Summer Center, she really struggled to understand social cues and had to practice being a kid in a brand new country and culture
The Club has a "buddy program" where new Club kids are paired with a buddy to help them learn about the Club, make friends, and feel comfortable. Sydney was once a new Club kids herself. She had moved from another state and knew what it was like to feel like an outsider. She volunteered to be Lethabo's buddy.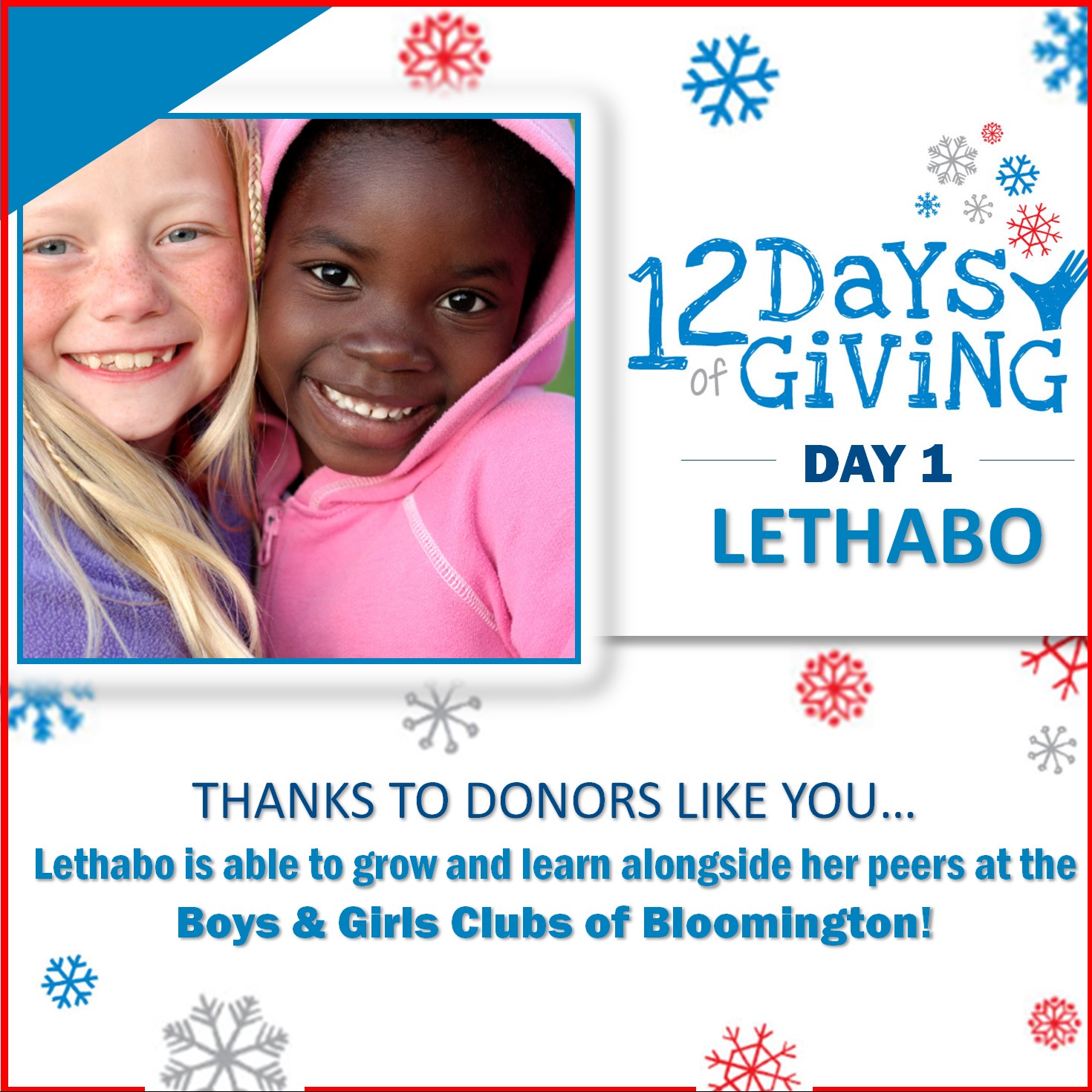 Since being at the Club as Sydney's buddy, Lethabo has come a long way towards feeling comfortable participating at the Club. She understands staff more clearly, her confidence in communicating has grown by leaps and bounds, she feels safe asking questions when she doesn't understand something or needs help, and Sydney has helped her make many new friends.
Thanks to the socialization opportunities provided in her time with the Boys & Girls Club, Lethabo has grown more aware of the cultural norms in Bloomington, and has really come out of her shell. She has had the opportunity to engage with kids from different schools, different backgrounds, and ultimately has grown into a leader among her peers…and her and Sydney are best friends!
Lethabo had a safe place to learn and grow thanks to YOUR generosity. The Club Buddy Program helps kids buddy-up and makes sure all kids are included.
Bo is a long-time member who has made some amazing progress while here at the Boys & Girls Club in Ellettsville. Bo began attending the Club as a first grade member who at times would get very frustrated with situations and peers. He would struggle with expressing his emotions or feelings, which would usually result in him getting mad and giving up. Whether it was during a game that adjusted the rules, a member who disagreed with him, or even an art project that wasn't done to his standards, he would struggle to move forward with the program because he was so angry that things were not going his way
Miss Emily is the Ellettsville Club's Member Inclusion Director. She works with kids, like Bo, to give them the tools they need to productively process their difficult emotions. After working with Miss Emily, Bo has learned to take a step back and think through why he is upset. As he has continued to use the tools Miss Emily is giving him, Bo is learning how to become more patient with himself and others. He has done a wonderful job recognizing when he is getting upset or overwhelmed. He knows he can approach a staff member, like Miss Emily, and explain why he is upset. Together, they productively work through the situation.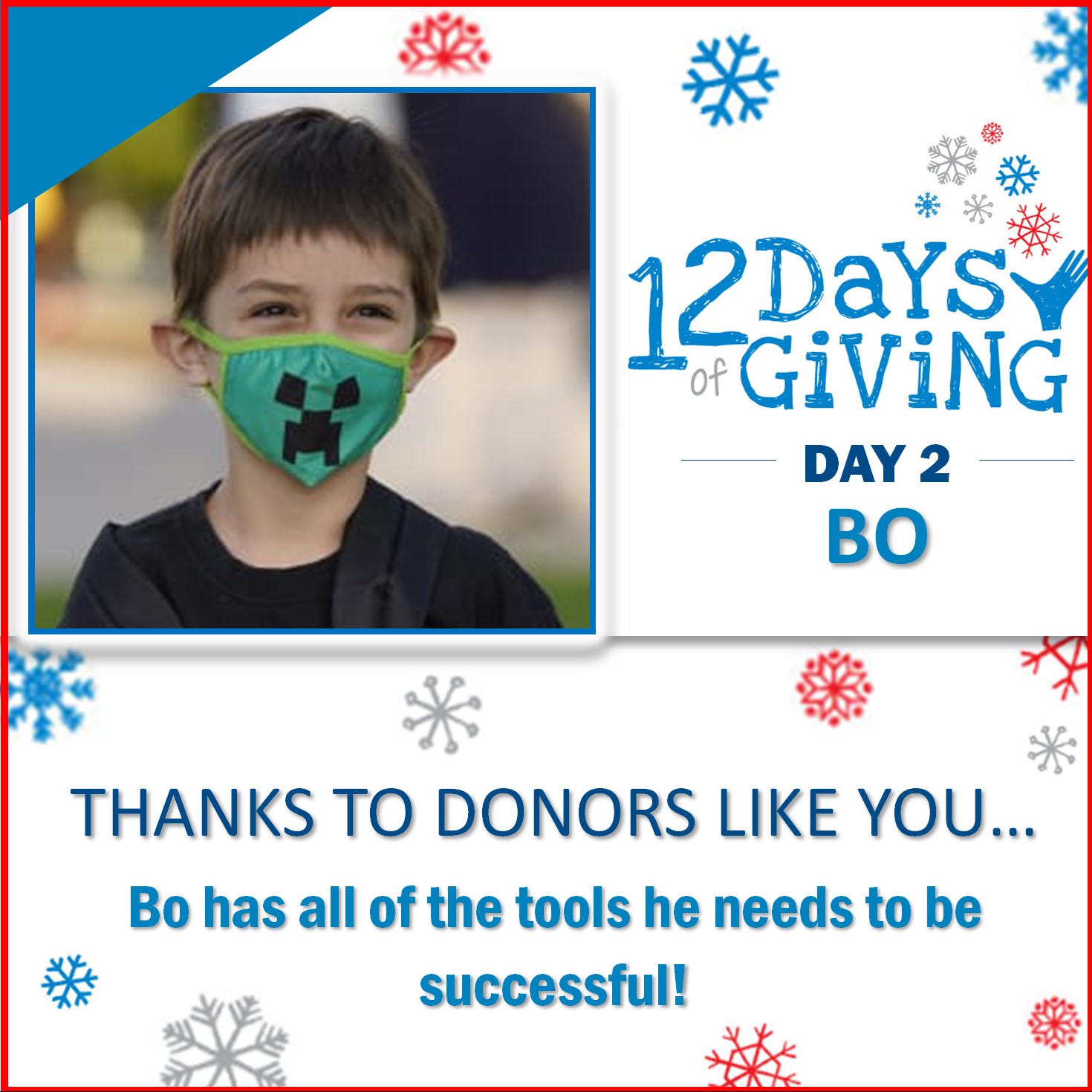 At first, this process was extremely difficult for Bo. Now, he has learned that when he gets frustrated with things not going his way, he has the tools he needs to respond positively. He is much more flexible and can take the needed time to console himself, relax, and focus his energy on something else without getting angry. The Club has given Bo the tools he needs to have success!
DAY 3 (December 22) |
AYLIN
Aylin is a member of the Steve & Connie Ferguson Crestmont Club. When she first began attending the Club, she wasn't sure what programs she wanted to try. She was shy and quiet and had a hard time communicating with other kids at the Club. During those early days, a staff member at the Club, Miss Erin, began to build a relationship with Aylin. Miss Erin encouraged Aylin to explore different programs at the Club just to try them, even if she wasn't sure she would like them.
Aylin took Miss Erin's advice. She was brave and even though she was nervous, she felt safe trying new programs at the Club with Miss Erin by her side. One of the program Aylin tried was the club's American Sign Language (ASL) program. This program was a perfect fit! Through the ASL program, Aylin discovered a passion for the language and a new way to communicate. Not only is learning a second language good for your brain, it's also a great way to expand yourcommunication skills. This is especially true for American Sign Language, which is the fifth most-used language in the U.S.
She was so excited to show staff and other kids what she learned. One thing Aylin really loves about ASL is that it allows her to include others that she meets who may not be able to hear. This program has helped Aylin express her care for others in a new way. Opportunities to learn a new language are one of the many examples of world-class programs available to kids like Aylin at the Boys & Girls Clubs of Bloomington – thanks to YOU!
DAY 4 (December 23) |
DEREK
Derek is a child attending the Lincoln Street Club, and he is someone that has taken full advantage of the Lincoln Street Club's Homework Center!
Derek would consistently work with a staff member on his math homework, where he needed assistance with his long division homework. When Derek first started attending the Homework Center, he would need help with almost every problem. He would often get frustrated with the time that he was spending on each problem, but he kept at it!
Before long, the staff at the Lincoln Street Club were able to help Derek master the processes involved in his math homework, and he gradually needed less and less hands-on help during the Homework Center. Now, he hardly ever needs staff assistance, and just uses the Homework Center as a quiet place to do his homework for the day!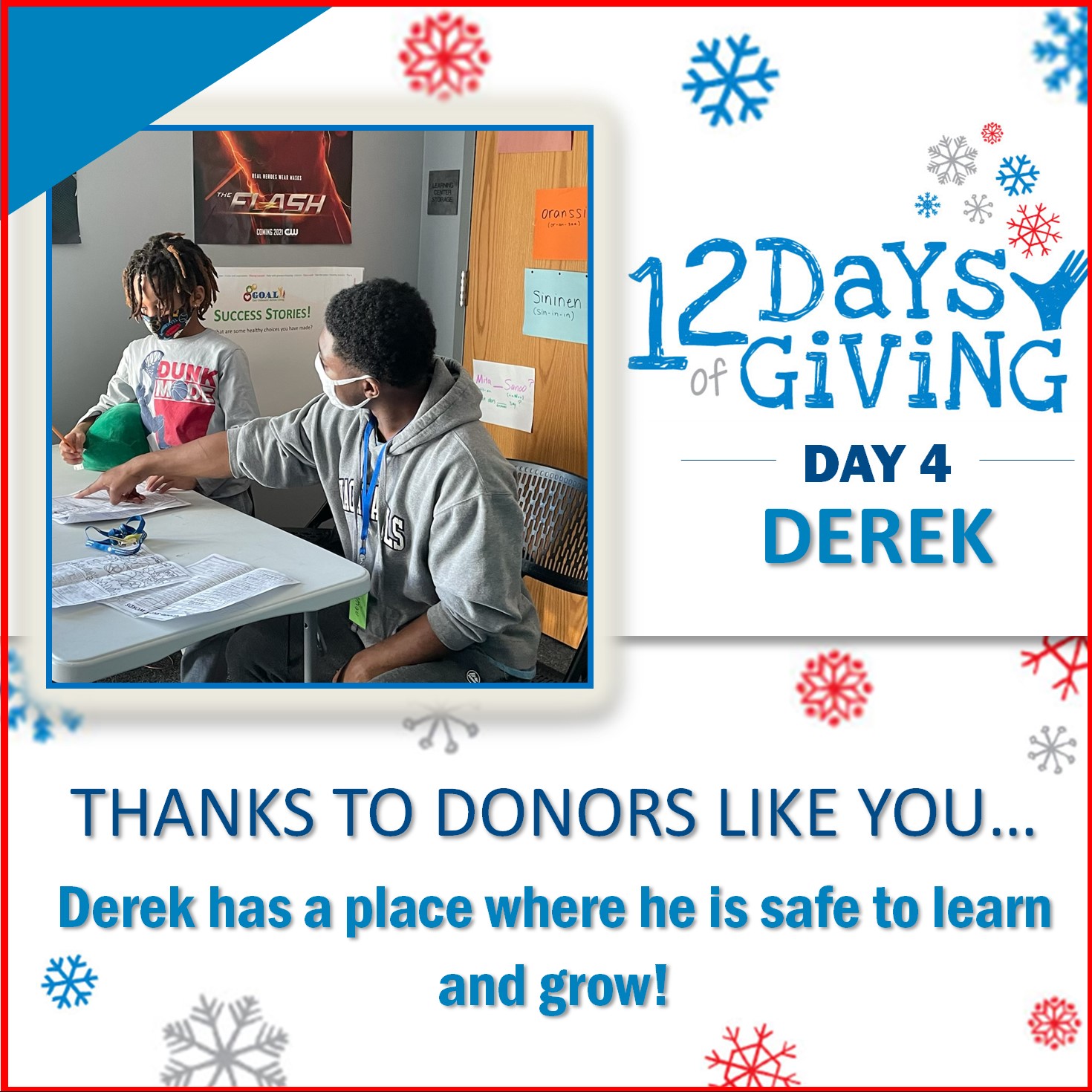 DAY 5 (December 24) |
D'MECCIO
D'Meccio is a member at the Steve & Connie Ferguson Crestmont Club. He joined the Chess Club and was very confident that he knew how to play chess and was going to be the best one in the room. He quickly found out otherwise. He was pretty surprised, disappointed, and a little embarrassed to find out that he had a lot to learn about chess. This normally outgoing and confident kid became very quiet. There was even a brief time where he wanted to quit the Chess Club, but Mr. Cornelius was not going to let D'Meccio quit. He helped D'Meccio work through his disappointment and took the time to teach, coach, and encourage him even when he was down on himself. Older members and members who had been playing chess for a while even helped encourage him and coached him along.
D'Meccio didn't give us, thanks to all the support he got from Mr. Cornelius and his Chess Club peers. He is quickly on his way to earning a t-shirt and being "red certified" – EXPLAIN! He's enthusiastic and seems to really be enjoying learning the names of the different pieces and how they move.
After finishing a chess activity, he proudly walked over to Mr. Cornelius, showed him the paper, and said, "Look, I did this all by myself! I didn't get any help." Pushing through and continuing to participate in chess, even when it was hard, has helped improve D'Meccio's confidence and has given him the tools he needs to overcome other obstacles that may come up in his life.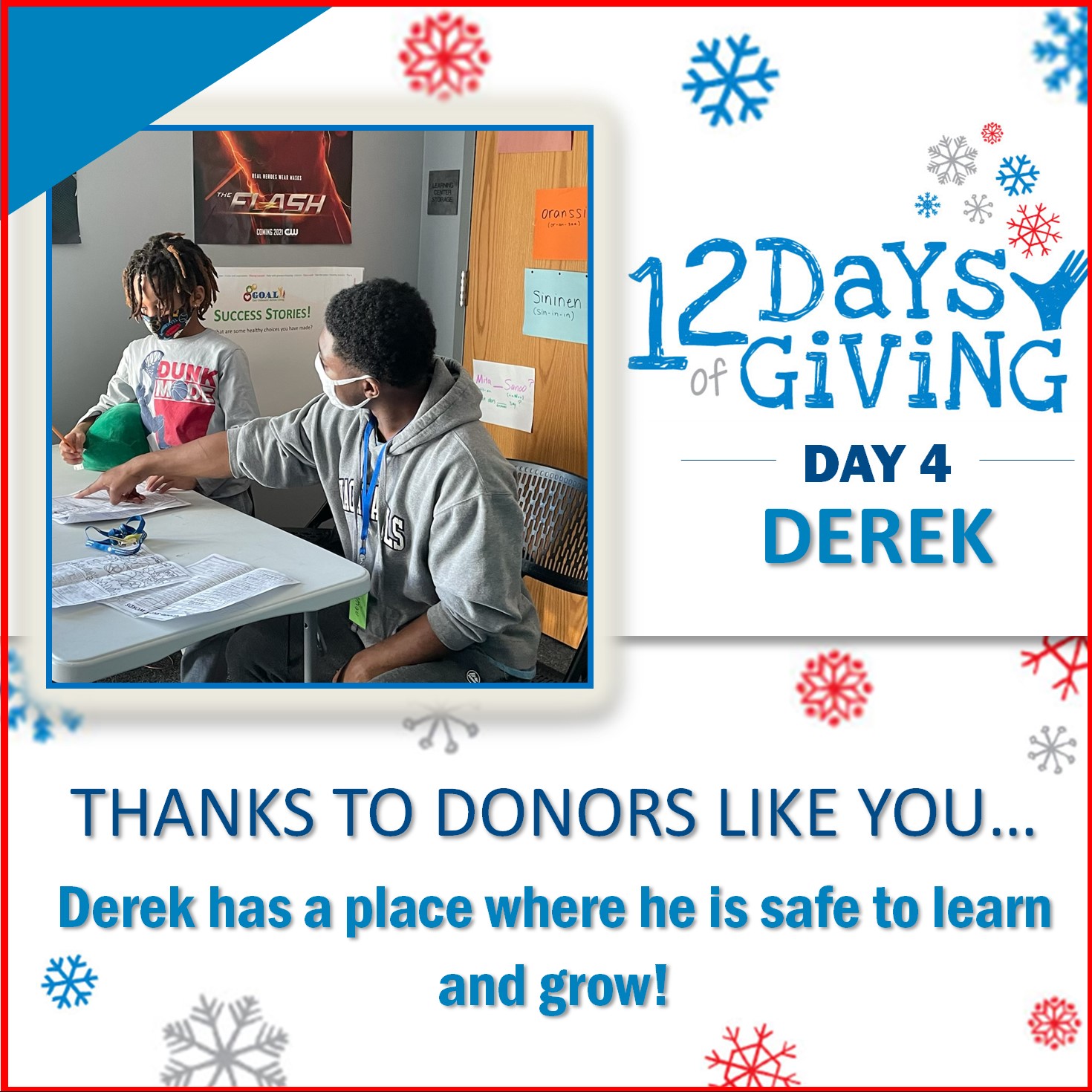 DAY 6 (December 25) |
GRAHAM
Camp Rock this year looked different from previous years, due the ongoing COVID-19 pandemic. One change was the addition of the Pod system that was being used in the Clubs at the time. Each pod at Camp Rock was made up of a small group of campers that were in a similar age group, and they were even able to name their own pods! 
One pod decided to name themselves "The Chickens", and one distinguished member of The Chickens was Graham! Graham was a model camper, always the first to step in and help other campers and the counselors, and he helped make The Chicken's a fun pod to be a part of! The addition of the pod system could have been difficult for the campers, but having campers like Graham and our amazing counselors let Camp Rock be as fun as possible! 
At Camp Rock, Graham was the lucky recipient of the first annual Chicken of the Year award! He was so responsible and helpful to our staff, working around the cluck to help wherever he could. He set an impeckable eggsample for the other campers, and could not be more deserving of the award!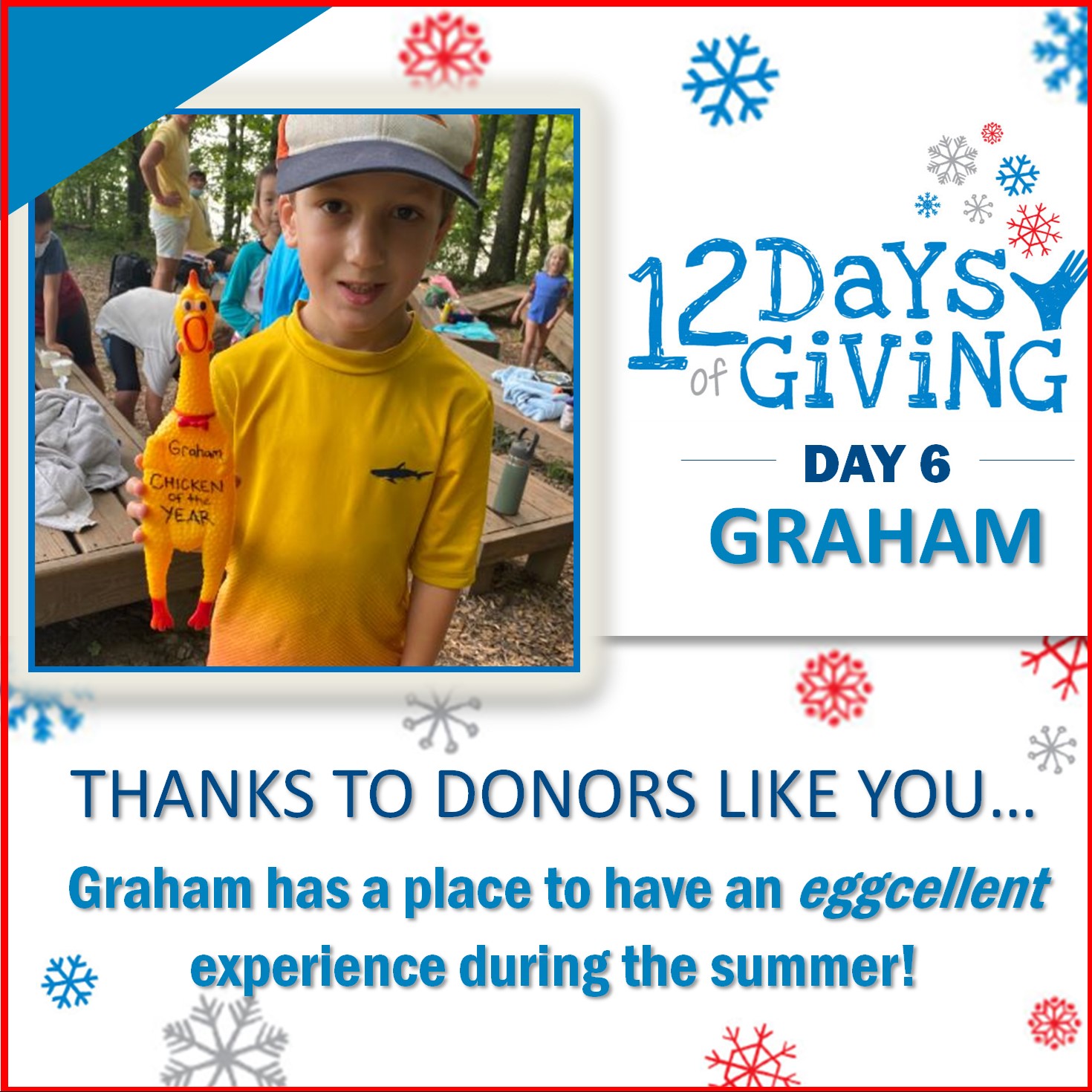 DAY 7 (December 26) |
STEPHEN
 The Lincoln Street Flag Football program for 4-6 graders started up again this fall semester. One of the players on the team, Stephen, had never played football before at all. He didn't know anything about the fundamentals of how to play or even how to throw or catch a football. He was a little nervous to be on the team, but he soon realized that Mr. Noah was there to help. He also saw that many of his fellow teammates were just learning, too. He started to feel more comfortable to try something new with Mr. Noah's coaching and his new teammates by his side. After about 8 weeks of hard work in practice, the team was ready to play its first game in the Boys & Girls Club of Bloomington Flag Football Turkeybowl Tournament that took place among the three Clubs during Thanksgiving Week Break Camp. They won three games in a row, going undefeated and winning the tournament. Mr. Noah says Stephen was nominated as Team Captain because of his leadership, discipline, and most importantly, sportsmanship. He grew a lot this semester and gained tremendous confidence in his ability to learn a new skill.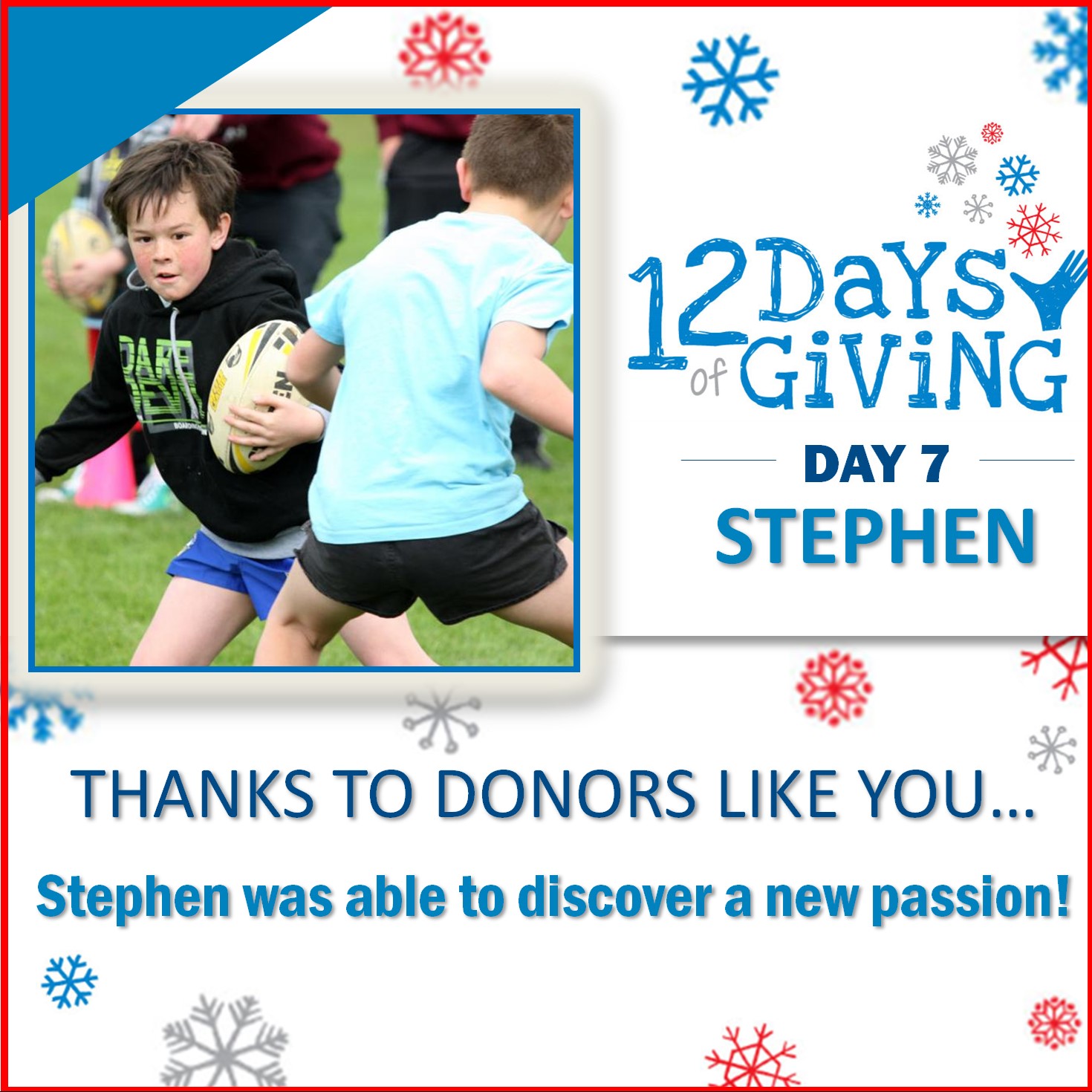 DAY 8 (December 27) |
CAMERON
Cameron just started coming to the Club this fall. Cameron wasn't sure that he would like the Club and told staff he didn't think he he'd be here long. Miss Nicole knew he was just nervous and worked hard to get him plugged in with other kids and the programs that he would enjoy. Soon, she realized that Cameron was interested in the arts. He chose to become involved with the Astounding Artists program, which is an art program at the Club where members study different prominent artists and then create work in their styles. Cameron really loves being involved with the program, and it shows! He hasn't missed a day at the Club since he joined the Astounding Artists program. He even had several pieces selected to be showcased in the Ferguson Crestmont Fall 2021 Art Show. He was very excited to show them off. Through this program, in part, Cameron has made many new friends and gained a lot of confidence. He has a positive attitude and is very respectful in his interactions with staff and fellow members. These days, he always arrives at the Club with a big smile and tells Miss Nicole he wants to stay at the Club forever!
#bgcbtown
#forthekids
#12daysofgiving
#tistheseason