MAKE YOUR DONATION BELOW TODAY!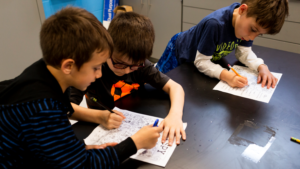 Opening opportunities!
That is what your giving does for hundreds of kids in Monroe County who would have to go home alone every day after-school without the Club.  The Boys & Girls Clubs of Bloomington serves as many as 620 of these kids and teens each day at our three locations - downtown Bloomington, in Ellettsville, and in Crestmont.  The Clubs serves kids ages 6 - 18.  Teen members are youth ages 13 to 18.  In 2022, the Club served more teens then ever before- 297 teens!
The Club is open to all kids and families that want quality out-of-school youth programming. Many families would not have another affordable options it if was not for th Club. 
40% of Club family households have a Total Annual Income AT or BELOW $40,000.
33% of Club family households are Single Parent Households.
SPONSOR A CHILD
You can support local youth through a gift to the Boys & Girls Clubs of Bloomington. The annual cost to the Club to serve a child each year is $720. This cost is much too high for many of the families we serve. This is why the Club charges just $20 a year for a child to receive our after-school programming. Your support fills the gap - opening opportunities to all kids in our community, especially those who need us most. Thank you!
SPONSOR 4 CHILDREN: $2,880
SPONSOR 3 CHILDREN: $2,160
SPONSOR 2 CHILDREN: $1,440
SPONSOR 1 CHILD: $720