Where Summer Lasts a Lifetime!
My favorite part about Camp Rock is all the fun outdoor activities and making new friends! Camp Rock has helped me fish like a pro, explore the outdoors and made my summer a lot better!
Anonymous
Camp Rock Member Survey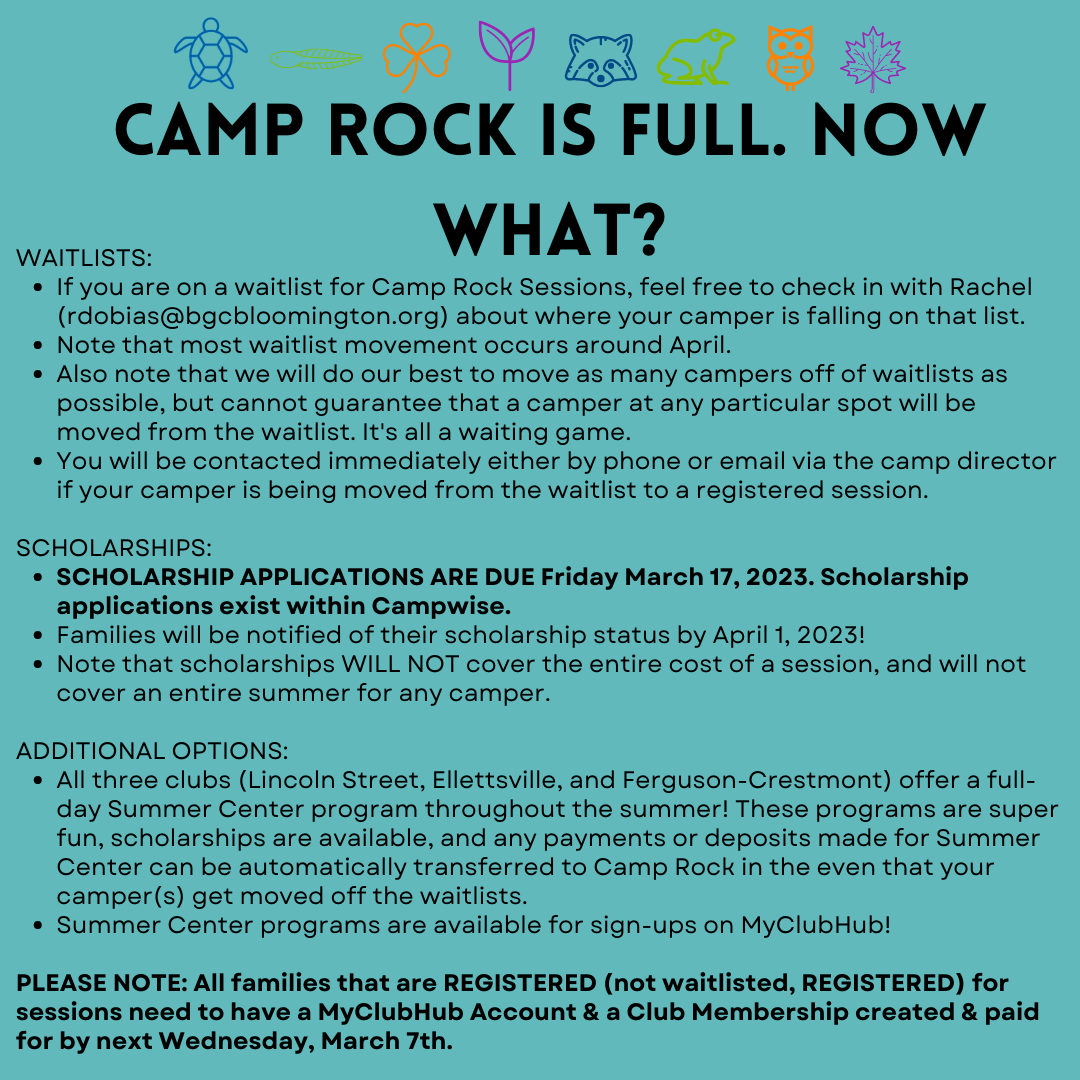 The Boys & Girls Clubs of Bloomington provides fun, educational camp options for Bloomington and Monroe County youth throughout the year. In addition to traditional Camp Rock summer programming, Camp Rock also offers Fall and Spring Break programming in partnership with the Lincoln Street Club.
Located on beautiful and scenic Lake Lemon, Camp Rock is an American Camp Association (ACA) Accredited Day Camp.
2023 Camp Registration is FULL!
Camp Rock is a traditional outdoor day-camp offering activities such as lakefront boating, swimming, arts, outdoor education, fishing, and hiking. Campers also enjoy weekly themes and special field trips. Camp Rock serves campers entering 1st-8th grades and offers a Counselor-In-Training (CIT) program for youth entering grades 9th-12th. Summer Day-Camp programs operate between 7:30 a.m. - 6:00 p.m. Drop-off is 7:30 - 8:45 a.m. and pick-up is 5:00 - 6:00 p.m. Camp facilities are not handicap accessible.
In order to register as a participant at Camp Rock,
all campers MUST be current Club members and pay the $20.00 annual membership fee. To learn how to become a member at the Boys & Girls Club, please call (812) 332-2970, or click here!
Registration for Camp Rock Summer Day-Camp opens annually on March 1st, and is hosted through our CampWise registration software.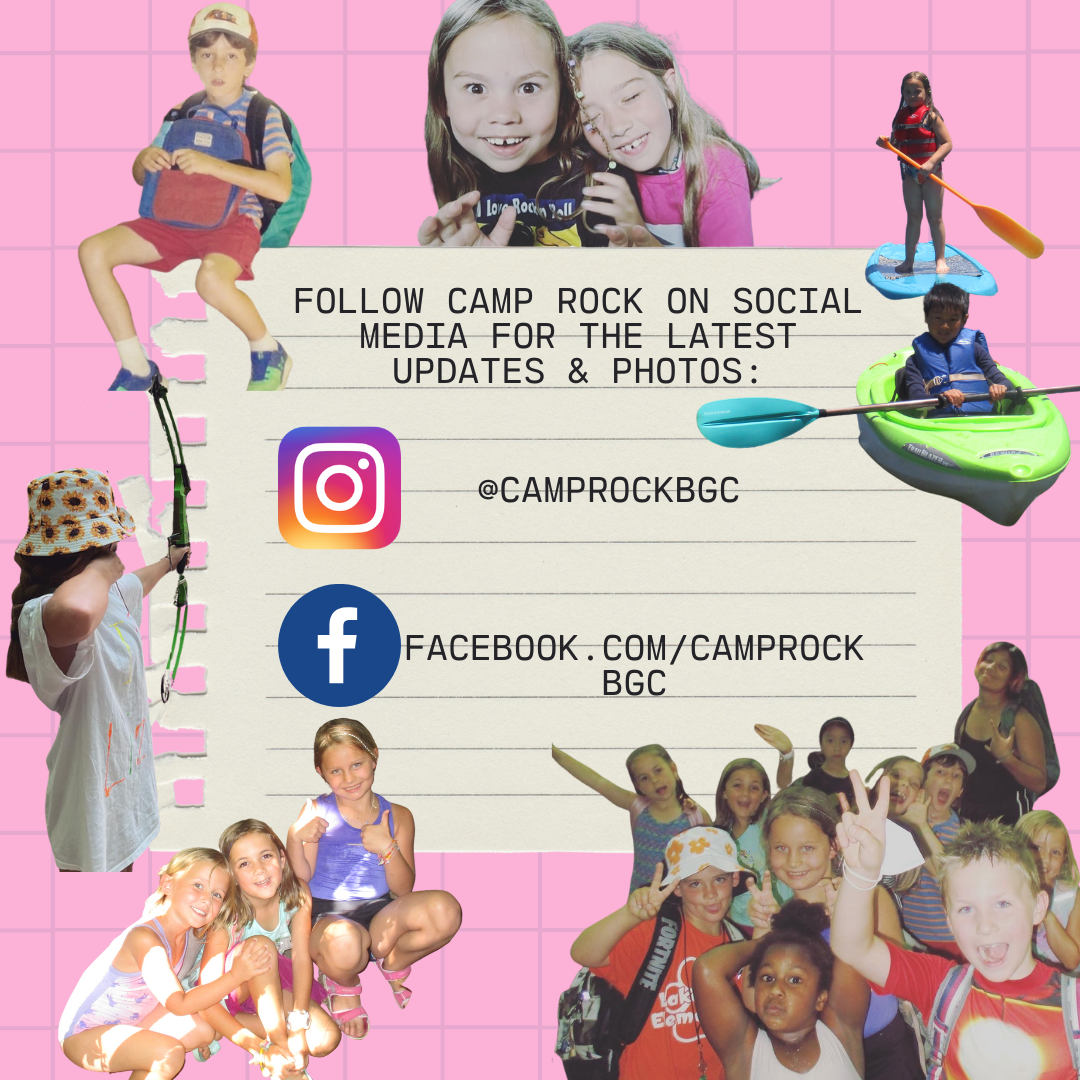 Weekly session price will be $185/week for 2023. 4-day weeks will be prorated to $148 per week. An $85 deposit per session is required to hold a camper's space in any session. Deposits are non-refundable.
2023 Camp Rock Registration Policies:
Campers MUST have an active 2022-2023 Lincoln Street (or Ferguson Crestmont/Ellettsville) membership on MyClubHub

within ONE WEEK of registering for Camp Rock sessions via Campwise. Campers without an active membership WILL BE REMOVED from the rosters on March 7th, 2023.
Remaining payment is due the FRIDAY TWO WEEKS before the start of the session.

Failure to make payment at this time will result in removal from the session roster.

Please refer to the Camp Rock calendar for payment dates!
Camp Rock Families have until Monday May 22nd to cancel any session of Camp Rock without penalty.

Reminder that deposits are not refundable for any reason

. Any sessions cancelled AFTER this date (with exceptions due to emergencies) will result in the family being responsible for paying for cancelled weeks in full. Families that do not pay for late cancellation weeks in full will not be permitted to attend remaining registered sessions in 2023 or future summers of Camp Rock.
Scholarship applications are available through CampWise and applications will be available starting March 1st. When applying for scholarships, it is strongly encouraged that families pay the $85/deposit per session to hold a given session! Scholarship applications will be due March 17th, 2023, and decisions will be made shortly after applications are due. However, many times camp sessions fill to capacity before scholarship awards are announced making it important to reserve a space for your camper by paying the $85 deposit upon submitting the scholarship application.  If in the event that a family does not receive a scholarship or the scholarship does not make camp financially possible, these deposits will be refunded.
Join us Saturday, April 22 2023 from 10:00 AM - 1 :00PM for
Spring Clean Up Day!!
Help us prepare Camp Rock for the best summer ever!